IDW Transformers: Windblade #6 Review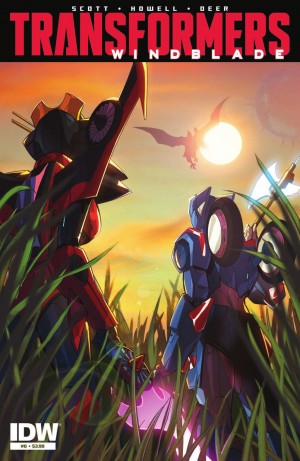 Thursday, August 20th, 2015 12:26pm CDT
Categories:
Comic Book News
,
Reviews
,
Site Articles
Posted by:
Va'al
Views:
36,944
Topic Options: View Discussion · Sign in or Join to reply
..and Some as Fierce as Beasts
(Spoiler free-ish)
Synopsis
BEAST WAR! On EUKARIS, the colonists are more than just robots in disguise—they're whole new breeds of Transformers! But while WINDBLADE and STARSCREAM struggle to gain allies on this brave new world, an ancient power seeks to force them off the planet!
Story
As the Velocitron arc ends, probably much too quickly even for its thematic elements, we venture to yet another colony, another part of the storyline, and yet another Titan in the ever-growing Transformers IDWverse, as Mairghread Scott delves into a Beast Wars tribute via planet Eukaris.
And indeed a Beast Wars tribute it is. Scott made no secret of her admiration and attachment to that particular era of Transformers fiction, even when we interviewed her (
here
), and those elements seep in quite naturally into the Onyx Prime-devout Eukaris inhabitants, outcasts, tribes and in-betweeners included.
The main plot, however, is Windblade's dealings with the beastformers, and how Cybertronians are perceived and received by them after the incidents of Galvatron's times back in the pre-Expansion period. And I'll admit, I particularly enjoyed the small moments between the single characters, and each of their voices, though everything felt a little too fast for a single issue.
There are plenty of subplots, too, with Starscream's machinations playing alongside Velocitron and Eukaris, and Rattrap not really revealing everything he knows to Windblade - perhaps too many subplots at time, even. The issue's main thread needed something entirely different to really set in, perhaps, even with the reactions of the various characters being reinforced and re-established. Plus, one or two of the conclusions are very satisfying.
Art
Corin Howell continues her art duties, on both line/pencilwork and inks, and brings a lot more Animated into it. If you've followed so far you've seen it already, but there are some explicit moments and references - along with some unfortunate minor inconsistencies in designs - that bring out the other most popular animation models of the TFverse.
Thomas Teyowisonte Deer brings to the show what some might find jarring in Howell's style (though not myself), by making sure that what is glorious about the art comes across as definitely so. The wider shots and panels, the contrasts between darker and lighter tones and scenes, the more active panels versus the diplomatic ones - it all comes together beautifully with the linework.
The lettering by Tom B. Long is wonderful, and there are some excellent noises that go along with Howell's style that I believe are both entirely suited and adding small tidbits of relief and contour, and some good Blackarachnia personalising. We have also seen most of the covers up to this point, with the stunning main Priscilla Tramontano one (thumbnailed), a savage variant by Casey Coller and Joana Lafuente, and yet another adorably apt RI
variant
by Agnes Garbowska.
Thoughts
Spoilerish ahead
Is this a bad issue? No. Not by any means. It does, however and unfortunately, suffer from a condition that several Transformers books seem to have caught of recent - a feeling of the story being rushed. Not sure why, not sure due to what, and definitely not sure of whether this is a result of Scott's multiple work commitments or the ending of the ongoing as it turns into Till All Are One in the new year.
That said, there are some wonderful references to the entire run of Beast Wars in here, as well as some moving moments for the new status of characters we are still coming to understand. As a writer who grew up with that era, and as a reader who did the same, the issue is full of smile (both of mirth and sadness), smirk and chuckle moments if you know where to look.
.
out of
Credit(s): IDW, Va'al
---
Got Transformers News? Let us know here!
Most Popular Transformers News
Most Recent Transformers News
News Categories:
Toy News
,
Movie Related News
,
Cartoon News
,
Comic Book News
,
Site News
,
Rumors
,
Event News
,
Digital Media News
,
Collectables
,
Sponsor News
,
Game News
,
Site Articles
,
Store News
,
Company News
,
People News
,
Press Releases
,
Reviews
,
Sightings
,
Unlicensed Products News
,
Auctions
,
Transtopia
,
Interviews
,
Knock Offs
,
Collector's Club News
,
Editorials
,
Heavy Metal War
,
Podcast
,
Contests
,
Book News
,
Top Lists
Re: IDW Transformers: Windblade #6 Review (1719518)
Posted by
Optimizzy
on August 20th, 2015 @ 12:52pm CDT
Yeah, I'm really thinking this is an example of so much story and so few pages. Not really her fault I think. Which is a shame. I'd really like to have seen these stories fleshed out over several issues. Like 3 months on Velocitron, 3 of Eukeris and so forth. Perhaps that's what I'll get in TAAO. Hope so.
Re: IDW Transformers: Windblade #6 Review (1719522)
Posted by
Va'al
on August 20th, 2015 @ 1:04pm CDT
Optimizzy wrote:Yeah, I'm really thinking this is an example of so much story and so few pages. Not really her fault I think. Which is a shame. I'd really like to have seen these stories fleshed out over several issues. Like 3 months on Velocitron, 3 of Eukeris and so forth. Perhaps that's what I'll get in TAAO. Hope so.
Pretty much, yes. Hopefully TAAO does expand on the Council without sacrificing too much in any event that may be decided at company level. I'd like Barber and Scott to have some time off from crossovers and the such.
Re: IDW Transformers: Windblade #6 Review (1719540)
Posted by
Tigertrack
on August 20th, 2015 @ 2:24pm CDT
The background action finding the planet of twin sparkers was my favorite part. Planet Micro sort of...
Just wanted to make sure if you didn't read it, I don't totally kill it for you yet.
Re: IDW Transformers: Windblade #6 Review (1719542)
Posted by
Xarmech
on August 20th, 2015 @ 2:35pm CDT
Corin Howell has really improved since issue #1. The first issue had characters with gaping mouths for no good reason, and some of Windblade's expressions gave me nightmares
. You gotta love the amount of emotion you see from Windblade when it comes to the Titans. First we see her tear up at seeing the neglected state at Velocitron's Titan, and then we see her heartbroken when Starscream
kills Chela
.
I wonder why Starscream bothered to save Windblade? I guess she's starting to grow on him like a worthy adversary.
One thing I don't understand is this whole winning points thing. I get that Windblade talked Velocitron into joining, and Starscream talked Devisiun into joining, but they seem just as likely to vote for one side as much as the other. The same story with Tigatron and Airazor who I'm assuming left their respective tribes due to their love for each other as each tribe is divided by their attribute except for Blackarachnia. It certainly is a twist to see the old spider go from a psychotic killer to a well respected leader.
I am rather depressed that we are not getting an in depth look at the colonies and their citizens though. I understand that this is because we are supposed to focus on Windblade, and in the Woman of Transformers Panel it was explained that this will be made up for in the "Till All Are One" series, which will focus on all the characters from the colonies, but it's hard to forgive this flaw as it will be a literal year until it will be resolved.
Re: IDW Transformers: Windblade #6 Review (1719543)
Posted by
D-Maximal_Primal
on August 20th, 2015 @ 2:41pm CDT
Yeah, this is a bit rushed for my liking. I can understand it due to the limited issues and the fact that we need to get to many colonies, but I would've preferred a bit more time on each, not just 1 or 2 issues
Re: IDW Transformers: Windblade #6 Review (1720926)
Posted by
King Kuuga
on August 26th, 2015 @ 4:08am CDT
I just read the issue. Some bullet points:
* I don't like them using Blackarachnia's Animated design. I feel like her Beast Machines body would have fit better in the soothsayer role. But whatever. Nobody has their actual designs anyway, because these are more mechanical beasts than organic. It's a small concern compared to the rest of it.
* While I would have liked to see the iconic Beast Wars characters brought back as the tribe leaders or delegates or whatever, I agree with what was said earlier about personality roles, and also I like seeing formerly toy-only characters get fiction, like in the other IDW Beast Wars books. I like Mairghread Scott's writing and I have confidence she can write them well, given the chance. We'll probably see more of the classic cast in TAAO. I wonder if there's a Megatron or equivalent on this planet......
* Starscream getting Divisiun off-screen is simultaneously hilarious and frustrating, because it further hammers in that the final issues of this series are being rushed like hell.
* EXPOSITIONAL DIALOG POWERS, ACTIVATE!
* That sweeping landscape shot is leaps and bounds above the character art style, holy crap. It's almost like two different artists at work.
* Chela is awesome! This is the first titan we've seen that isn't all blocky. He (she?) looks like a phoenix rising from the volcano, deliberately I'm sure. The sheer idea of a gold avian titan is pretty fantastic, and this design is so good.
*
Aaaaaand they killed Chela. SO MUCH FOR THAT AWESOME NEW CHARACTER.
This does not set up a very promising finale to the series, even if it's going to pick up in TAAO next year. I hope we can return to quality storytelling when they aren't trying to cram several issues' worth of storylines into one. Still, I enjoyed it for what it was, a good read, some nostalgia, and advancement of the story.
One thing I don't completely understand is Windblade and Starscream's little "competition" to recruit the colonies. I know Starscream wants an empire, and Windblade wants more of a republic, but I've never really understood how Starscream intends to create or exert control over this empire, or how the particular person to recruit the colonies tips the balance. Someone else said that the colonists are as likely to vote for Windblade as Starscream on interplanetary affairs, so I have never gotten the sensation from this series that it seems to want to generate, which is that Windblade making friendly with the colony worlds is the only thing standing in the way of a new Cybertronian Empire that will threaten the entire universe..