Review of iOS Arcade Game Transformers Bumblebee: Overdrive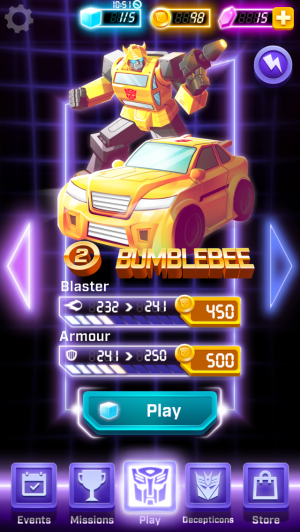 Friday, September 14th, 2018 1:25am CDT
Categories:
Reviews
,
Site Articles
,
Game News
Posted by:
Va'al
Views:
15,523
Topic Options: View Discussion · Sign in or Join to reply
Fellow Seibertronian
Nicorange
has taken the time to set up a review of the recently released iOS arcade style game Bumblebee: Overdrive - and we've formatted it below for all to read and enjoy! Take a look, and let us know what you think in the comments.
Nicorange wrote:Recently, Hasbro

released

a game called Bumblebee: Overdrive for IOS. It is a retro-arcade styled game, with 80's flair everywhere. So, without further ado, let's put the pedal to metal, and shove it into overdrive, because today I'll be taking a look at this wonderful game.

After finishing the tutorial (which i sadly don't have pictures of), you get sent to the "Play" menu. This is also where you start when you open the app. You can view all your characters and upgrade them.

There are three important parts to a character. Their level (To the left of their name), their "Blaster" which is how strong their shots are, and their "Armor", which controls how much damage they take. You spend coins to upgrade their stats, and crystals to level them up, both of which can be found while playing, but crystals are far and few in between. After all, Hasbro's still gotta make money!

The lighting bolt button allows you to access the Boosts menu.

You start off with the Magnet, Healing, Damage, and Score x2 upgrade. Defeating bosses allow you to upgrade and get new boosts.

To start playing, you just click the play button. It costs 1 energon cube to play each time, which refill every 20 minutes. Very disappointing when you really get into the game.

Here you can look at your missions. They can be fun goals to complete during play, or tediously annoying wastes of time.

This is where you can see the current event. Events seem to be glorified missions, so i hope Hasbro can make them more interesting.

This is the store. Pretty self explanatory. Spend real currency for digital currency.

This is my favourite page to look at. It shows you all the bosses, and there are some…. interesting choices. Like Tracer, who in game is just a Black Blackout. Weird boss choices aside, I just love that some obscure characters are getting some love. If only you were able to use them.

Now, onto the gameplay (Which is probably what you are here for)

The game is a top-down styled driving game and shooter. In vehicle mode, you get to drive around dodging cars, missiles, mines, and cracks in the road. In robot mode, you get to blast through nameless Seekers and avoid turrets and literally everything.

No, I am not exaggerating when I say you have to dodge everything. Running into all the stuff on the map (Yes, even the boxes) can kill you. That aside, the gameplay is fun and very addicting. Especially when you get a high score.

Also, sometimes during a level you encounter cars you have to smash. What is cool is that they are modeled after actual Decepticons! You can obliterate Offroad, destroy Dead End, ram Ruckus, and er- break down Breakdown. You have to avoid driving into their path (which is shown by an arrow), and smash them by ramming your character into the side of them.

When you reach a certain amount of points during a level, you get to fight a boss. Each boss is interesting and unique to fight. (Tracer spams attacks, Quake launches mines you have to make him drive over, Acid Storm, well I'm not going to spoil all of them!)

The bosses can be very frustrating to fight, so I recommend you use your first encounter with them to learn some of their attacks, but once you get the hang of it, they can become pretty easy.

Overall, this game is a very fun game to crack open and play for a bit. There are some things that I would like to see improved, like the amount of Energon you can have, or make Events a bit more interesting. Another gripe I have with this game, is that when playing on a phone, it is easy to lose your character. But putting all that aside, this game is a neat endless runner, made better by the inclusion of Transformers.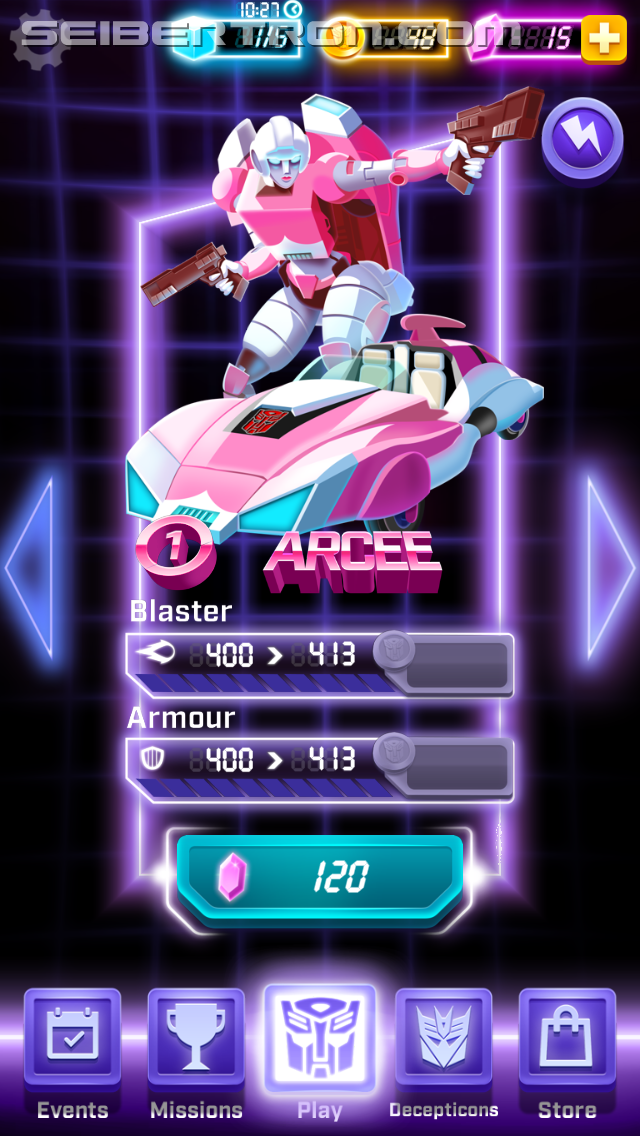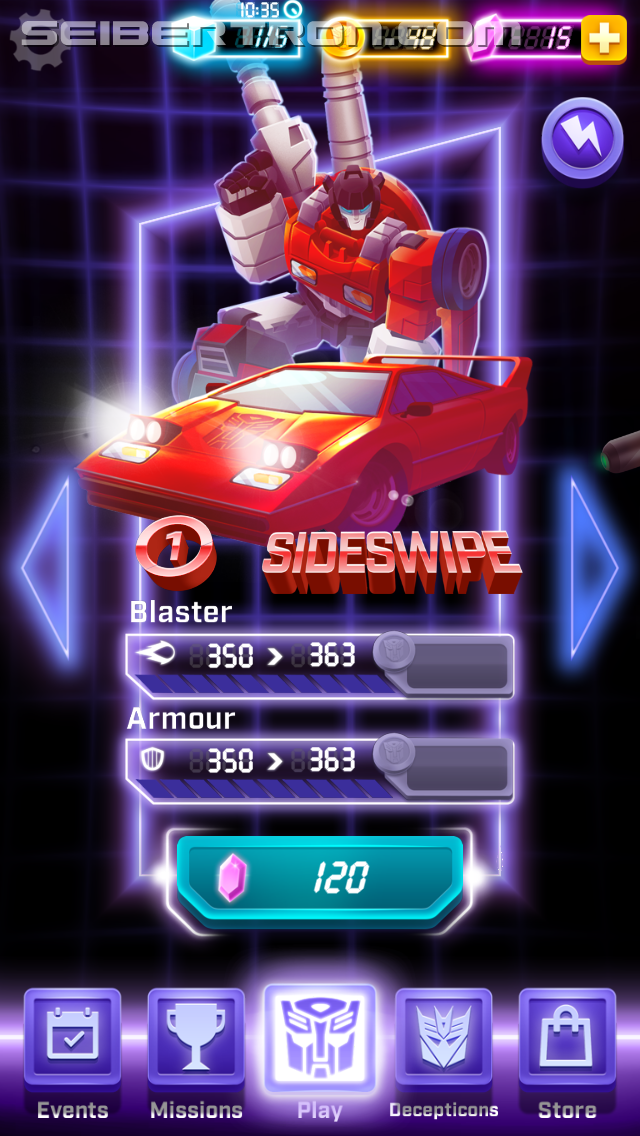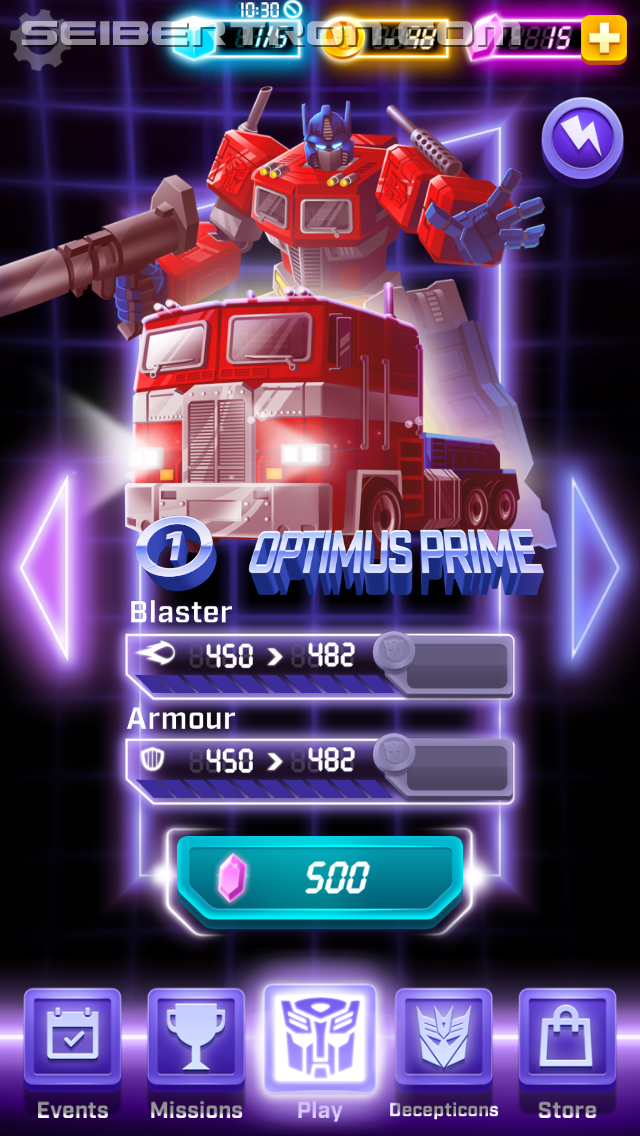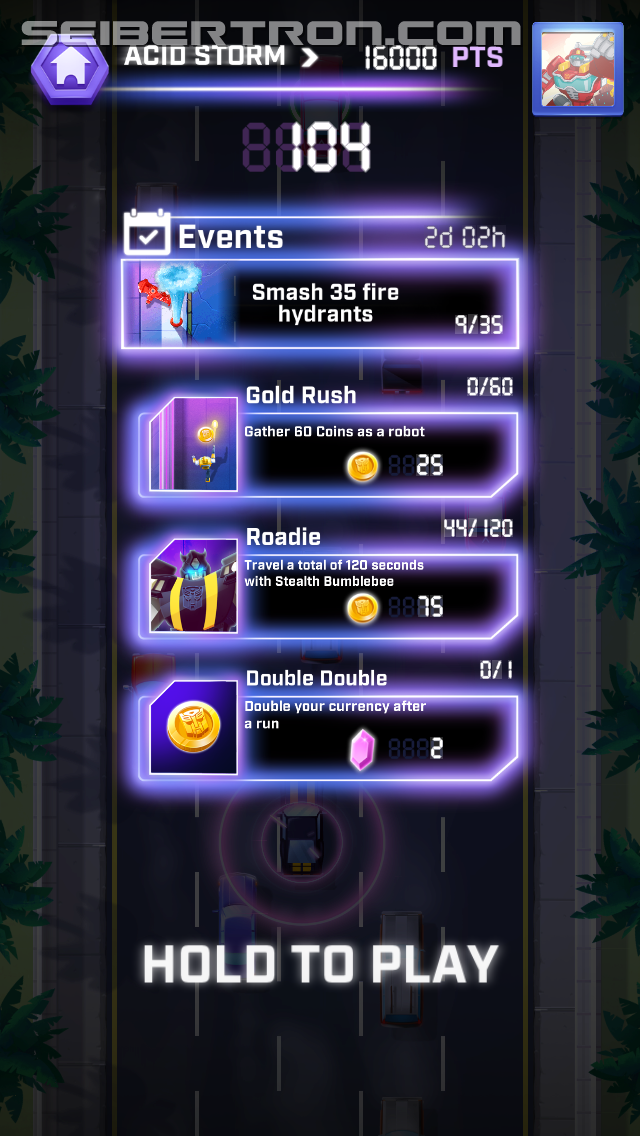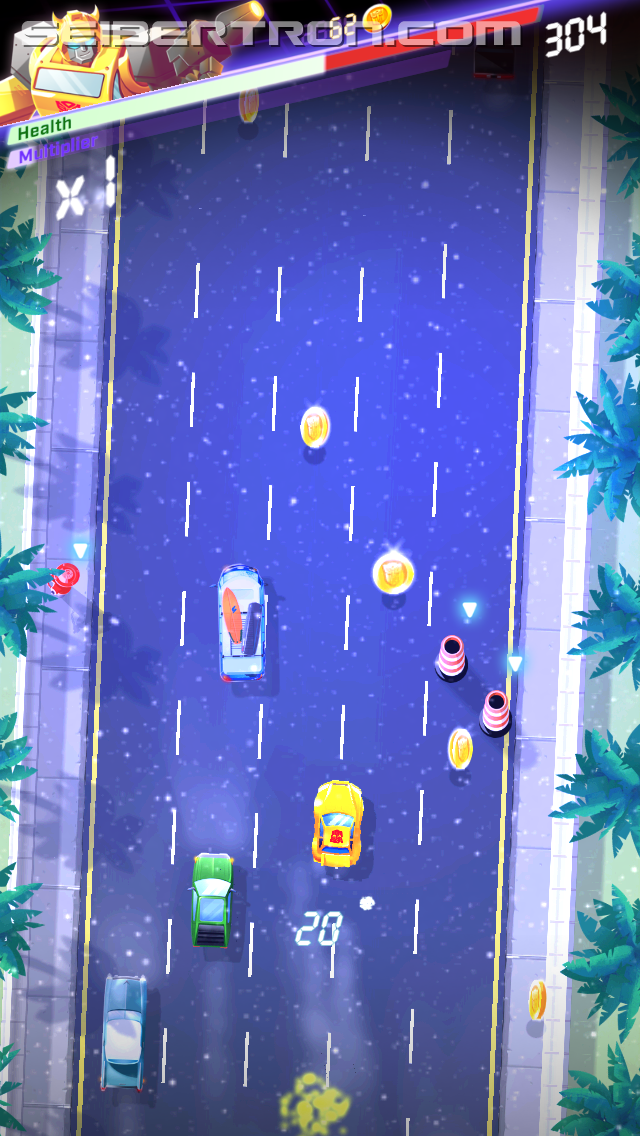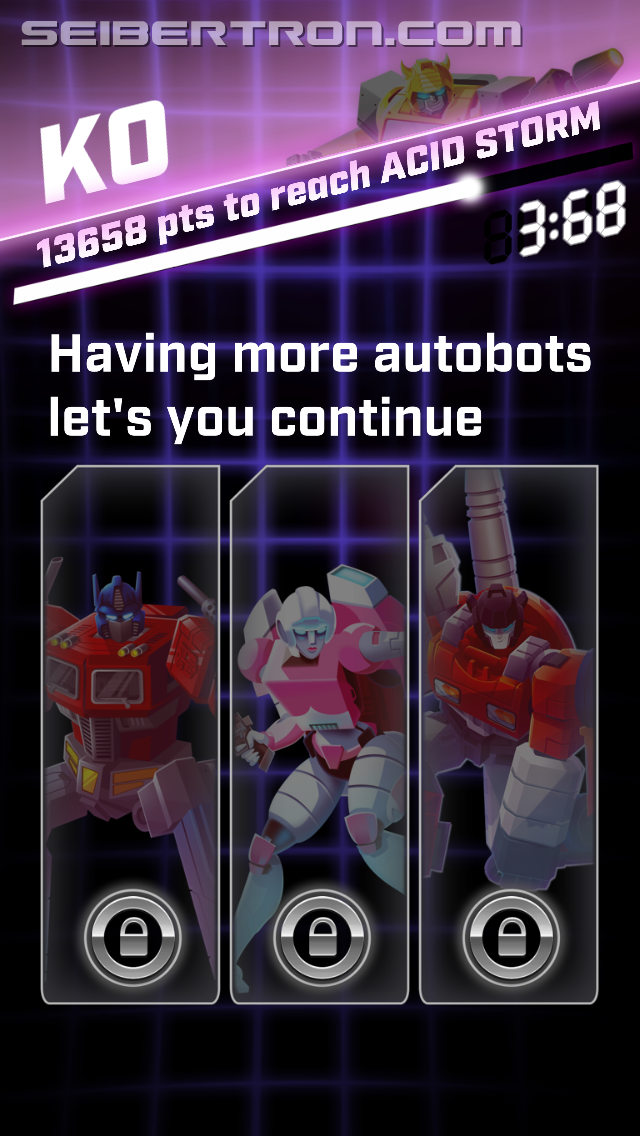 ---
Got Transformers News? Let us know here!
Most Popular Transformers News
Most Recent Transformers News
News Categories:
Toy News
,
Movie Related News
,
Cartoon News
,
Comic Book News
,
Site News
,
Rumors
,
Event News
,
Digital Media News
,
Collectables
,
Game News
,
Sponsor News
,
Site Articles
,
Store News
,
Company News
,
People News
,
Press Releases
,
Sightings
,
Reviews
,
Unlicensed Products News
,
Auctions
,
Transtopia
,
Interviews
,
Knock Offs
,
Collector's Club News
,
Editorials
,
Heavy Metal War
,
Podcast
,
Contests
,
Book News
,
Top Lists
Re: Review of iOS Arcade Game Transformers Bumblebee: Overdrive (1983877)
Posted by
Anonymous
on September 14th, 2018 @ 7:13am CDT
This looks awful.

I hope they lose money from such a fremium piece of junk.
Re: Review of iOS Arcade Game Transformers Bumblebee: Overdrive (1983894)
Posted by
Tommy T.
on September 14th, 2018 @ 10:06am CDT
Eh, I wont br playing it but I noticed this is the second game with the purple forehead seekers. Would love a toy of him
Re: Review of iOS Arcade Game Transformers Bumblebee: Overdrive (1983906)
Posted by
Bouncy X
on September 14th, 2018 @ 11:25am CDT
yeah I tried it the other day, I didn't like it...felt and looked cheap.
Re: Review of iOS Arcade Game Transformers Bumblebee: Overdrive (1983915)
Posted by
Easy Tiger
on September 14th, 2018 @ 11:51am CDT
"Having more Autobots let's you continue"

I don't want to be 'that guy', but this sentence makes me cringe. I couldn't cope with seeing that after every attempt.
Edit: Just noticed everyone's pretty rough on the game so far, so I'll mention the things that I like.
I like the UI, the look of the menus is very nice, and the character art is gorgeous.
I also like the choice of player characters and the use of slightly less well-known deceptions for bosses instead of generic drones or repeating the same famous few.
Re: Review of iOS Arcade Game Transformers Bumblebee: Overdrive (1997945)
Posted by
Nexus Knight
on December 9th, 2018 @ 11:02pm CST
FYI for those who use Google Play Services: Transformers: Bumblebee Overdrive is now on the Google Play Store. Warning: This game will eat away at your time and is insanely addictive.
Screenshot proof below.