Seibertron.com Interviews Colourist Josh Perez!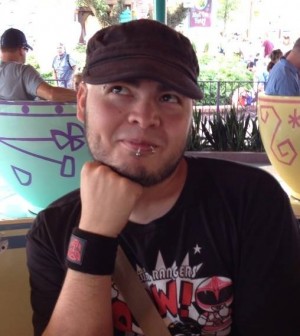 Monday, May 19th, 2014 9:55am CDT
Categories:
Comic Book News
,
Site Articles
,
People News
,
Interviews
Posted by:
Va'al
Views:
79,971
Topic Options: View Discussion · Sign in or Join to reply
We're back here at Seibertron.com with another full-length chat with one of the minds behind the hands behind the Transformers comics offered by IDW Publishing - and it's time to go full colour: ladynuts and gentlebolts, please welcome colourist extraordinaire Josh Perez!

Va'al
- Josh, it's a pleasure to be able to talk to you at last. We've all seen your amazing work on Robots in Disguise, and then the magnificence that was your power-through with the whole of Dark Cybertron, it's only fair we find out more about you! So, to begin from the beginning: when did the Transformers enter your life? What's your first memory?
Josh
- Pleasure is all mine, buddy! Transformers was kinda always there when I was a kid; mostly in the background of a toy visit or seeing some kid playing with "a cool robot that turns into a gun, or a car, or a jet, or a...", and so on. I can't say what my first TF memory was, but I remember when I was about 5, we were sent the TF movie on VHS, and I spent the whole time worrying Bumblebee would die. I mean, the other Autobot deaths, Prime included, were major deals, but once I knew Bee was okay, I was a happy burrito.

Va'al
- I have to say, that's not a feeling we're used to hearing in the fandom these days! Would you say Bumblebee is still your favourite character? Are there version of him that stand out, or that are not worth remembering?
Josh
- He most certainly is still my favorite character! I'm always going to be partial to the G1 Gilvezan Bee, but the Pretender and Action Master Bumblebees are nostalgic favorites. I have the Action Master Bee as a kid, and he was, surprisingly, my only Bee toy from the G1 era. A friend of mine had the Pretender Bee, and the Marvel TF stories made me really like him as a character. Transformers Animated Bee is the only recent Bee I've found myself excited to see. His design is great!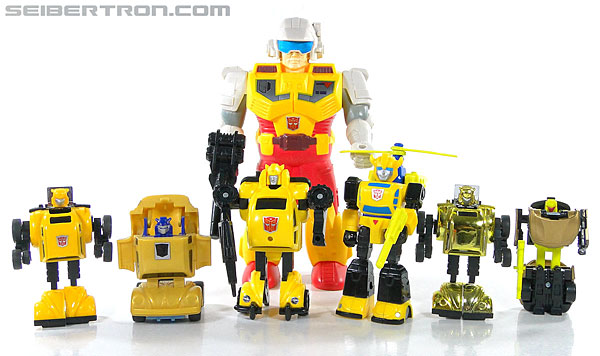 As for forgettable Bees, I think that his movie incarnation hasn't done much to justify the shelf space he tends to take up. I like his design, but you could make him any other Autobot and nothing would really change. I felt the same way about Transformers Prime Bumblebee for a while. He was just a background character (which, honestly, he kinda needed to be after how much the movies shoved him in everyone's faces), but towards the end of Prime he became interesting and I felt his presence was necessary outside of being the guy that beepbooped.
Va'al
- Aha, so the kid appeal character appealed to you as a kid, when that was its intention - I'm sure someone at Hasbro was very happy about that! You mentioned the Marvel Transformers comics just now, were they a regular appointment for you, an avid reader, or were you not that invested in them?
Josh
- I started reading the Marvel comics late in the game - around Matrix Quest. Before I left Germany, I remember seeing Wildman's cover for "The Price of Life", and maaan that cover messed with me head! It was so twisted and different and gorgeous. If it wasn't for that cover, the Marvel books would have just faded out for me when we came to the States.

I remember getting a trade of the first four issues that I would read over and over again at school, and then my dad would take me to a now-out-of-business-but-amazing-at-the-time bookstore called "Keep On Bookin' " where I'd buy back issues and read them through most of my elementary/middle school existence. I also bought issues of G2, but I lent the ones I had to a friend and never got them back..! I was pretty invested in the Marvel stories when I got to the States since we had local comic places all over.
Va'al
- That is quite the unsettling cover, isn't it? And something we almost saw again, relatively recently. But how long did it take you from readingthe comics to making your own doodles and scribbles? Did you start drawing and colouring *on* comics before moving *into* comics?
Josh
- Oh man! I would never have dreamed of defacing those books. I tried to make several Transformer comics as a kid in elementary school; around 4th grade was when I realized I really wanted to be in either comics or animation. In early high school I got to play with Photoshop 5.5 and I started to focus more on learning how to use the program to color artwork.
Va'al
- I see it as interactive enjoyment rather than defacing! So was colouring your first venture into the world of comics creation, or were you into the writing, drawing, inking and such?
Josh
- I was drawing/inking little comics I'd irritate my friends with before I ventured into coloring- and I remember a friend had a short lived/now deleted webcomic that I drew/lettered/storied a few pages of - but luckily those are gone forever because they're prime examples of how to not do anything art, color, letter, or story related to comics, haha! Oh, those days of high school and early college... Professionally speaking, though, coloring was definitely where I began input in comic creation.

Va'al
- I'm sure there was something salvageable in those early ventures, too! (And I'm even more sure that some collector out there would love to get their hands on them.) So we're up to your actual debut as a comics creator: was it with IDW Publishing directly, or did you work with and for others first? How did you rise to technicolour stardom?
Josh
- Back in 2003 my name was suggested to Dreamwave Productions when they needed help coloring their More Than Meets The Eye profile book; I got to color Wheeljack and the Terrorcons/Abominus in issue seven; work started coming in after that!
Va'al
- Yet another Dreamwave-induced artist! Can you remember your first full-length gig in a comic? Anything you are particularly proud of from the earlier stages of your professional career?
Josh
- My first full length comic was after Dreamwave shut down on a comic called "100 Girls" by Adam Gallardo and Todd Demong; another Dreamwave colorist and friend, Cil Chueng, was leaving as colorist because of college or something (sorry, Cil! I forget!) and offered the gig to me.

I can't say I'm too fond of anything I've done back in the Dreamwave days- my contrast was bland and my value colors lacked punch. BUT I have a sweet spot for the profile book pieces I've done for the G1 and Armada MtMtE books; and Energon issue #26 was when I first started working with Alex Milne on actual comic issues, even if they're not my best work, I'm happy with them.
Va'al
- Dreamwave had its peaks, that is definitely true. But we also do have to admit loving your current work on IDW Publishing titles! How did you get into those? How does it feel to be recognised by fans and on the front cover of monthly comics?
Josh
- Alex [Milne] and I had formed a kind of duo after Dreamwave, and when he got work, I got work; I think our first IDW piece was a cover for Spotlight: Kup (I also got Nick's cover for Spotlight: Kup as well); it was a lot of cover work, but then came Megatron: Origin and the Movie Adaptation and stuff.

And now, when people open their RiD books or when they buy the right MtMtE cover, there I am, ruining their experience! ah-hah-hah-hah-hah-hah. But honestly, it's weird- especially now that IDW has been putting colorist credit on their covers... or when really awesome fans tell me they like my work in the books. Never gonna get used to it!
Va'al
- I can assure you that no one's day, experience or comic is ruined with your colours! Not even when you repaint *everyone* to look like Bumblebee. (We have proof, do not deny it.) Before you leave us to return to slave away on art tasks, is there anything we can expect in the future of the Perez verse? Convention appearances, different titles, pencil or ink work, writing?
Josh
- Well, I'll be doing
BotCon
this year, as well as
TFCon
- assuming nothing goes wrong, of course, so stop by and say hi!

Aside from Transformers, I've colored a few new Matt Frank
Godzilla
covers that look pretty snazzy (more on his part, less on mine, haha!), and the team I worked with on
ShiftyLook's/ Namco-Bandai's Bravoman Webcomic
(Matt Moylan and Dax Gordine) are in the planning/design phase for a new, creator-owned book called "Avian Odyssey". You can check out updates at
AvianOdyssey.com
; right now it's design stuff, videos on characters being drawn; very neat!
Va'al
- It sounds like you're ridiculously busy, as usual, so even further thanks for taking the time to chat with us! I think we should let readers know how they can follow your work if they want to, too - wouldn't you agree?
Josh
- But of course! I post a lot of artwork over on
deviantART
and
Tumblr
,
Twitter
- all under "Dyemooch"!
Thanks very much for the chat!
You've heard the man! Make sure to check out Josh's work, including that amazing Starscream print we posted above, chat to him on social media, and until next time, we've been your usual comics creator fix here at Seibertron.com.
Credit(s): Josh Perez, Va'al
---
Got Transformers News? Let us know here!
Most Popular Transformers News
Most Recent Transformers News
News Categories:
Toy News
,
Movie Related News
,
Cartoon News
,
Comic Book News
,
Site News
,
Rumors
,
Event News
,
Digital Media News
,
Collectables
,
Sponsor News
,
Game News
,
Site Articles
,
Store News
,
Company News
,
People News
,
Press Releases
,
Reviews
,
Sightings
,
Unlicensed Products News
,
Auctions
,
Transtopia
,
Interviews
,
Knock Offs
,
Collector's Club News
,
Editorials
,
Heavy Metal War
,
Podcast
,
Contests
,
Book News
,
Top Lists
Re: Seibertron.com Interviews Colourist Josh Perez! (1576706)
Posted by
Stormrider
on May 23rd, 2014 @ 8:58pm CDT
Good interview. Josh, if you are reading this, I am curious how you approach each page and comic. Which Transformers piece was particularly difficult? Which did he enjoy the most?