Seibertron.com Interviews IDW Artist Sara Pitre-Durocher
Saturday, December 19th, 2015 12:24pm CST
Categories:
Comic Book News
,
Site Articles
,
People News
,
Interviews
Posted by:
Va'al
Views:
67,206
Topic Options: View Discussion · Sign in or Join to reply
Seibertron.com returns once more to interview the latest addition to the IDW creative teams, in light of the work that has already appeared and will return in the Spring - Camiens, Cybertronians and other colonists, please welcome Sara Pitre-Durocher, cover artist, interiors on Combiner Hunters and The Transformers, and soon to be appearing on Till All Are One!

Va'al
- Sara, thank you for taking the time to talk to us, even across a screen and at a continent's distance. It's truly a pleasure. I believe the best place to start, for everyone to get to know you, is from the very beginning: how did Transformers first enter your life?
Sara
- My pleasure! Thanks for having me!
I was raised in the late 80s with an older brother so Transformers were constantly a part of my life's background as a kid. I didn't particularly care for them back then (I was more intent on liking different things than my brother, really) but some of the classic scenes from the first few episodes, which he had recorded on tape and played in loop every moment of every day, really left an impression on me. As in I could almost quote the episodes when I watched them many years later.

When Beast Wars came on (well... Beasties, I mean) I was a fan, but Transformers Prime is really what got me hooked on everything Transformers.
Va'al
- That is a peculiar, but also familiar, triple way of getting into the fiction! Was there any other form of the franchise that made into your home, alongside the series? Any toys, comics, stickers, posters - or was that a much later thing too?
Sara
- Oh yeah, it absolutely took over almost instantly. It wasn't long before I started doing research on past Transformers series, animated or otherwise. I watched the '86 movie before watching G1, so that was a bit confusing but amazing at the same time? I read as many old comics as I could get my hands on and caught up with IDW's.

My toy collection is a never-ending work in progress, but I have a few shelves filled up now. My wardrobe didn't escape the giant-robot-makeover, either..! It eventually got to a point where I wanted the franchise to take over my professional life as well.
Va'al
- So during your 'gotta catch em all' time as a fan and researcher of sorts, what was the one thing that stood out? Did you love any of the parts of the franchise specifically (toys over comics, comics over cartoons), or was it all-encompassing?
Sara
- I really had to think about this one and haven't been able to come up with a proper answer, so I suppose that means I just love everything equally? (I almost feel like a parent being asked which of my kids I like the best..!) But really, each part of the franchise satisfies a different need, and I find myself just as excited for a new episode to come out, a new comic, a new figure or new game...! It's just really inspiring to see what's being created with these characters, in whatever shape or form.

In a way I think it's important for me to stay updated on all of these too, to get a vibe of what other fans are into and what they're hoping for next.
Va'al
- It's always good to see that even fans who make it to the professional level remain attached to their nature as fan! In terms of your professional life, how did that come about? Did you set yourself the goal of working with Transformers, and art came later, or did you start as an artist, and brought Transformers into it?
Sara
- I honestly never imagined that my life would ever take this turn. When I decided to pursue art about 13 years ago, my original "plan" was just to work hard, make art, and somehow make a living out of it. I was never working up to an objective or anything.
When I got properly acquainted with Transformers, it's like a little light went off; I HAD to work on it. Anything. And I won't lie, a lot of this has to do with a good sense of timing and just pure luck, since at the time that I got the courage to ask my boss (at Volta, Concept art studio) if it would be possible to look for work for the Transformers Franchise, DeNA's Transformers Legends was just starting its production. It pretty much all stemmed from there; Hasbro, who had seen our work on the game, then contacted us to work on coloring their packaging and marketing art. I art-directed on colors for both projects, and painted quite a lot myself as well.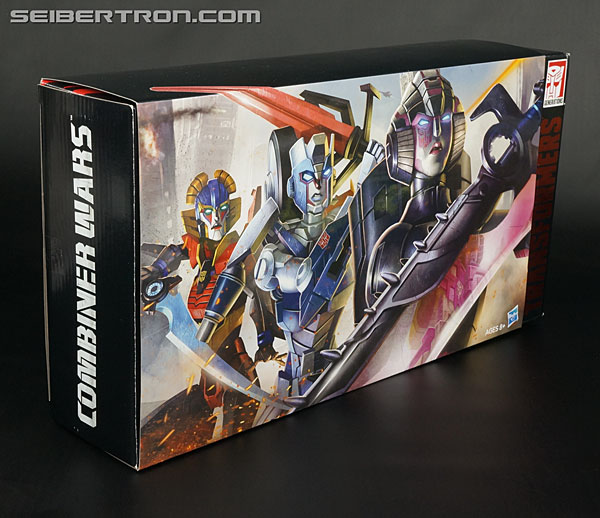 Eventually I set my sights on the comics; at first I just wanted to do variant covers, but when John Barber asked if I'd be interested in doing interior art as well I jumped on the opportunity! So at this point it has really switched around; before, art came first and I introduced Transformers to it, but now I feel like I just want to work for the franchise as much as I can, in any medium.
Va'al
- That is a really cool story, and spanning so many incarnations of the franchise already. As a concept artist, and the hands behind the Torchbearers designs, what is your peak Transformers fan/artist moment?
Sara
- Oh boy, that's a tough one. There are so many moments that have left huge impressions on me, but I think the best is when I walked into the convention center at San Diego Comic Con this summer, and a lot of work I had done in the past year was displayed everywhere at the Hasbro booth. Combiner Hunters premiered at the event as well, so it was just a whole bunch of my Transformers work everywhere at once..! It was kind of overwhelming but...yeah, the best.
Va'al
- So now that you're in the IDW realm, how does it feel to be working with the brand and the people associated with it? Are there any big differences between, say, John Barber and Mairghread Scott (for writing), or Josh Perez and Yamaishi (for colouring)?
Sara
- It's been really great so far, everyone's very supportive and encouraging. I expected to feel like the new kid at school trying to fit in with all the popular kids (and still I kinda do) but they were quick to welcome me to the IDW family! I can't wait to meet everyone in person so we can create our own secret handshakes.
As for John and Mairghread, they both work in a way that makes my life really easy; they give precise scripts and panel descriptions while still giving me some breathing space for my own artistic input. Working with Yamaishi and Josh has been even easier, I just let them work their magic...! They have very strikingly different coloring styles but both manage to bring so much life and emotion through the pages, it's really amazing to see.
Va'al
- So the next thing planned is Till All Are One, continuing the Windblade and ex-colonies stories. What should we expect from the series? Is there anything you can tell us already, or are excited about seeing in print?
Sara
- Not sure how much I can say about the ongoing, but so far I've been loving the diversity of the cast I get to play with. Each colony represented in the new Council of Worlds is so unique and has its own set of values, so there will certainly be some culture clash going on there. It certainly doesn't help that Starscream's still being his usual charming Starscream-y self.
I'm mostly looking forward to the development of that thing we see at the end of
Windblade
. You know the thing. With those characters? Yeah.
Va'al
- Ah, yes, that will be
brutiful
, to say the least! Are there any other projects you're currently working on, or about to take on with the new year - Transformers-related or otherwise?
Sara
- My main project right now is just to adjust to this new lifestyle; working on comics from home is much different from the 8 to 5 office job I'd gotten used to for the past 10 years..! That includes trying to make it to a bunch of conventions next year, and get some prints ready. I really have no idea where to start, but thankfully I have other IDW buddies helping out! Other than that I'm hoping to get a shot at covers for some of the other IDW comics. I'd particularly love to work on a TMNT one, but we'll see!
Va'al
- Sara, we wish you all the best in your shapeshifting robot and mutant turtle-shaped futures! Is there anything you want to add for our readers? Anywhere they can find and follow more of your work?
Sara
- Thank you so much!
There's a Facebook page for my art and other Transformers news, like conventions and commissions and such, at
https://www.facebook.com/spewpew
. I do my best to stay up to date on there, but I'll more often post art on my tumblr account,
spewpew.tumblr.com
, or at my Twitter, @saralepew.
It's mostly really dumb, but hey.
Va'al
- We'll make sure readers know! It has been a pleasure, and thank you for taking the time to have this chat with us. Looking forward to more robots, more stories and more covers in the near future.
Sara
- Awesome, thanks so much!! It was my pleasure!
Make sure to follow Sara's work across the ongoings, and prepare to see her art again in Till All Are One in the new year! Thank you all for reading, and let us know what you think of the interview in the Energon Pub. For Seibertron.com, this is Va'al, signing out.
Credit(s): Sara Pitre-Durocher, Va'al
---
Got Transformers News? Let us know here!
Most Popular Transformers News
Most Recent Transformers News
News Categories:
Toy News
,
Movie Related News
,
Comic Book News
,
Cartoon News
,
Site News
,
Rumors
,
Event News
,
Digital Media News
,
Collectables
,
Game News
,
Sponsor News
,
Site Articles
,
Store News
,
Company News
,
People News
,
Press Releases
,
Sightings
,
Reviews
,
Unlicensed Products News
,
Auctions
,
Transtopia
,
Interviews
,
Knock Offs
,
Collector's Club News
,
Editorials
,
Heavy Metal War
,
Podcast
,
Contests
,
Book News
,
Top Lists
Re: Seibertron.com Interviews IDW Artist Sara Pitre-Durocher (1749046)
Posted by
Randomhero
on December 19th, 2015 @ 1:03pm CST
She's a solid artist with the right colorist. The colorist for combiner hunters did not do her line art justice. I'm really hoping with the end of RID Pricilla can color for her. I think her colors are very close to josh Perez and Johanna and Josh's coloring really made her work on Johns book stand out.