Seibertron.com Interviews IDW Publishing's Tom B. Long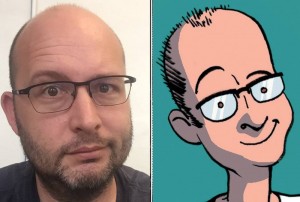 Saturday, July 14th, 2018 8:40am CDT
Categories:
Comic Book News
,
Site Articles
,
People News
,
Interviews
Posted by:
Va'al
Views:
22,049
Topic Options: View Discussion · Sign in or Join to reply
It's been a while since the last time we did this, Seibertronians. And that is mostly down to everything happening on and off-screen right now - but before the end of this narrative universe and creative teams, I thought it would be good to get into at least one more look at the people behind IDW Publishing and the Transformers comics that most of us have come to know and love (or hate, mileage varies of course). And for a turn in the books, we'll be talking to one of the category of comics people that doesn't often get spotlights in the industry at large: lettering and production!
Readers, please welcome one of the staple hands behind most of the current and past IDW Publishing output, whether you knew it or not: Tom B. Long!
Va'al
- Tom, it's a real pleasure to finally get round to talking to you, and thank you for the time given to us on here! I think the easiest way is to start is, well, from the start: how did you come to comics, what's your origin story?
Tom
- I got my start in the industry when I answered a newspaper ad for a weekend pre-press technician job at a local comic publisher. The publisher was Wildstorm Productions where they operated all phases of the production process in-house. My first job was outputting film plates to be sent to the printer in Canada. While there, I learned desktop publishing and the workflow of comic book production. To make myself useful, I also learned lettering and coloring.
Va'al
- Wildstorm! That's a name that hasn't been around for a bit - though topical, as it seems it's making a comeback this year. So were you entirely self-taught on those last two? What made you want to feel 'more useful' as you put it, given that you were already working on the production side?
Tom
- Wildstorm was a busy place with everyone scrambling to get books out on time. Many times we drove a box containing the final films for a comic down to the San Diego International Airport, or Lindbergh Field as it was known then, to buy it a seat on a flight in order to reach the printer before deadline. In that chaos, it helped to be a jack-of-all-trades.
By learning coloring and lettering basics while I worked in the production department, I was able to make editorial changes rather than sending them back to the colorist or letterer, saving valuable time. I can't say I'm self-taught, being a fan of comics, I was motivated to learn, so I sat with the great Wildstorm FX colorists and letterers while they worked and asked lots of questions to pick up the skills.
Va'al
- That sounds frantic, to say the least - but also charming, in a way! Would you say there was one particular comic that you're indebted to, in terms of motivating that process? Or a small choice of them, or perhaps a specific creator (like say, Klein, or Saladino)?
Tom
- Working on the pre-press of the various titles lettered by Comicraft, particularly the Cliffhangers imprint, motivated me to learn lettering. The interesting graphic design that went into their lettering impressed me and I wanted to letter like they did.
Va'al
- Let's move onto more relevant (to our interests, I mean) stuff then: how and when did you start working with Transformers? Was IDW the first venture into the franchise? Or were you a previous fan of the robots?
Tom
- I've been a fan of The Transformers since the TV series debuted. I watched Transformers: The Movie numerous times at the $1 matinee in sleepy Escondido, CA. My first chance to work on the franchise came back in 2006 when IDW first acquired the license. I colored one of the covers for Transformers #0 as well as lettering TF: Beast Wars The Gathering #1.
Va'al
- A colourist too! Is there anything you haven't tried working on for a comics project..? So was the Transformers work something you asked for yourself, or were you assigned it by IDW? And - I realise this may look like a stupid question - was there anything different in your approach, compared to other books?
Tom
- I haven't written, pencilled or inked a comic yet, but there's still time. When IDW first got the license, it was still a very small company so Transformers Beast Wars came to me to letter without me even having to ask. I recall we wanted to play up the mechanical nature of the robots in disguise, so we went with rectangular speech balloons instead of the usual oval ones. IDW has since dropped that for the more conventional balloon.
Va'al
- Would you say there are other differences between your Transformers work and your lettering and production on any other title you currently work or have worked on? If so, do you bring any of it yourself, or does it tend to be an editorial decision?
Tom
- I adjust my lettering/design to fit the art and tone of the various titles I'm assigned. I have a lot of freedom to try different approaches. Unless an editor thinks what i came up with isn't working, I usually get to decide on the look of my lettering. For example, my sound effects for Transformers look more mechanical to evoke the metallic sounds of the characters.
In a title like '68, a zombie comic by Nat Jones and Jay Fotos I had the pleasure to letter, I used very organic, asymmetrical sound effects to evoke the fleshy monster vibe. I adjusted the balloon style, as well, layering the tails over the balloon rather than connect them and used a brush stroke rather than a uniform line to compliment the art.
Va'al
- Do you have a preference either way? Are you more for the mechanical side of design, or the organic flourishes of - say - a Dire Wraith infested Ultra Magnus, as we saw in Rom vs Transformers: Shining Armor?
Tom
- I tend to approach my design logical and mechanical by default so I really enjoy a chance to play loose and organic with lettering to change things up.
Va'al
- And in terms of book production and design - I really enjoyed what you did for the Primacy trilogy books, by the way - what's your approach on those? Is there more editorial influence there, or is it all from your own bag of tricks?
Tom
- Thanks very much, that title was a blast to put together. I get free reign to do a first pass at the design, then the editorial review will fire back with any changes or concerns they have if they don't think what I've come up is working. The Trilogy came together pretty quickly, I recall some of the spot art I used was dropped from the design pages, but for the most part, my original design stayed intact.
Va'al
- And a good thing it did, it looks great! Do you have any favourite books / issues, already published or forthcoming, that you are particularly proud of? I'm thinking one Transformers, and one outside of the robot world.
Tom
- My favorites that I have lettered have to be the Doctor Who: Prisoners of Time series and Transformers: Lost Light. Doctor Who because it pleased my geeky, old heart to work on such a storied sci-fi franchise. And Lost Light because, in addition to the great story, the sheer volume of text and SFX in each issue presented such a unique and rewarding challenge.
Va'al
- Geekery should always be rewarded and enabled, I'd say. Do you have any personal projects, current or upcoming, that you're particularly involved in, or want to briefly talk about before our final section?
Tom
- My current vanity project, Comic Book Nobody, gives a behind the scenes look at the office shenanigans I've experienced (and been guilty of perpetrating) while working in comics. Told in comic strip form no less! I'm posting my rough drafts on twitter with a plan to kickstarter a print version once I finish the final illustrations.
Va'al
- I've been following them with snickers and chuckles, so will definitely look forward to the project continuing!
Okay then, final part before we let you go: short round of either/or questions - ready?
Tom
- Let's do this!
Print or digital?
Print.
OGN or ongoing series
? Ongoing.
Autobots or Decepticons
? Decepticons.
Crack or KRRAAAK
? KRRAAAK.
San Diego or New York
? San Diego.
Car or plane
? Car.
Va'al
- Excellent choices all round! Tom, it has been an absolute pleasure talking to you, and I hope to keep seeing your production work, and very much looking forward to the new personal project!
Before we go, any last words to the readers on Seibertron.com and elsewhere?
Tom
- Thank you, I enjoy your reviews, I look forward to seeing what you think of the IDW universe as the end unfolds.
Final thoughts: Be kind, read comics, stay hydrated!
---
There you have it folks, another interview with a comics creator behind the books we all read and love (and hate, and hate to love, and love to hate), and just in time for the Summer of Transformers – we hope you enjoyed finding out more about the production side of things, and you can follow Long's work on Twitter at
@tombgrfx
. We'll make sure to link to Comic Book Nobody once the Kickstarter is live, too!
Until next time, and make sure to follow those wise words of advice.
Credit(s): Tom B Long
---
Got Transformers News? Let us know here!
Most Popular Transformers News
Most Recent Transformers News
News Categories:
Toy News
,
Movie Related News
,
Cartoon News
,
Comic Book News
,
Site News
,
Rumors
,
Event News
,
Digital Media News
,
Collectables
,
Sponsor News
,
Game News
,
Site Articles
,
Store News
,
Company News
,
People News
,
Press Releases
,
Reviews
,
Sightings
,
Unlicensed Products News
,
Auctions
,
Transtopia
,
Interviews
,
Knock Offs
,
Collector's Club News
,
Editorials
,
Heavy Metal War
,
Podcast
,
Contests
,
Book News
,
Top Lists
Re: Seibertron.com Interviews IDW Publishing's Tom B. Long (1971053)
Posted by
fenrir72
on July 14th, 2018 @ 9:11am CDT
Last quarter earnings had them in the red by $ 2m.
Re: Seibertron.com Interviews IDW Publishing's Tom B. Long (1971057)
Posted by
Va'al
on July 14th, 2018 @ 9:28am CDT
fenrir72 wrote:Last quarter earnings had them in the red by $ 2m.
Good thing you're here to save them all with snark and super clever insults.