Seibertron.com Interviews Livio Ramondelli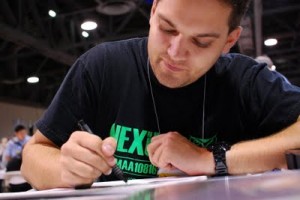 Friday, March 7th, 2014 9:13am CST
Categories:
Comic Book News
,
Site Articles
,
People News
,
Interviews
Posted by:
Va'al
Views:
74,239
Topic Options: View Discussion · Sign in or Join to reply
Continuing in our quest to bother all the creators over at IDW Publishing, and with a severe lack of
Transformers
comics coming out this week, we reached out for one of the biggest names right now, with his very unique style gracing the pages of several comics, from
Autocracy
and
Monstrosity
to
Dark Cybertron
via
Chaos
- ladies and gentlebots, please welcome Livio Ramondelli!
Va'al
- Livio, thank you very much for agreeing to do this. As I've been doing with all out interviews so far, let's start from the very beginning: How did you first discover
The Transformers
? What's your first memory?
Livio
- It's great to speak to you!
I first became aware of the Transformers with the original G1 cartoon. I have pretty sporadic but vivid memories of moments from it here and there. But it always stayed with me. The characters had a huge impact on me. I don't recall the first moment I saw Optimus Prime or Soundwave for example, I just remember them as being a big part of my childhood. When I was a little older, my family would regularly rent the animated movie over and over. Which is an insane concept that the next generation won't understand- you had to RENT a movie from a physical store? And they had a limited number of copies that someone could beat you to at any moment?

But regardless, we rented that movie so often we eventually bought it when I was around 13. Then I really began actively re-watching it and the series as a whole. I'd tape the reruns that aired, trying to assemble a collection of the entire series. It's definitely one of the things, along with Star Wars, that has been with me my entire life.
Va'al
- I remember renting VHS and DVD. I also remember Blockbuster going bankrupt, which felt pretty bad actually.. But back to you and everyone's favourite transforming robots! You got into them as a visual thing, were you ever a toy person? Do you have any personal favourites?
Livio
- I was definitely into the toys as well. To this day I remember which ones I had, and which ones I never got to own. Prime and Soundwave were always my favorite toys, which might factor into why they're my two favorite characters. I thought they were both very clever in how much they did as toys. I'm a huge fan of the current Masterpiece toy line as well. I bought the new Soundwave at BotCon last year, and it sits proudly in my art studio. I just love how they're taking the toys you remember and tweaking them to be even more like the characters, it's a genius move.

I'm still plagued by a few toys that I was never able to own as a kid. I never got a Sharkticon, for example. I always looked enviously at my friends who did.
Va'al
- So would you say you had or still have any particular goals, in terms of toys? Would a Sharkticon be what we call a holy grail of plastic transforming robots to you? Or is there something else you'd really really like in your collection?
Livio
- Of the original era of the toys.. a Sharkticon and Trypticon would probably be my two holy grails. I had Metroplex, but I never had Trypticon. Sometimes when I see some of them out-of-box at a comic convention I look longingly at them for a few moments. It's like looking at missing pieces from my childhood!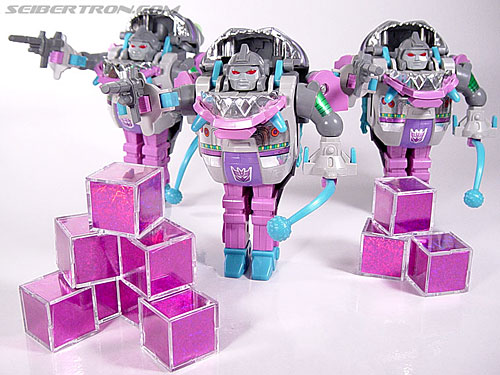 And like everyone, I'm anxious to see where the new Masterpiece series goes and which new figures will be released. I'd love to see a new Galvatron toy closer to the original series. But having Masterpiece Soundwave and the tapes feels so good. The design on Laserbeak and Buzzsaw ( where even the silver armored sections fold in on themselves to create a flat surface) is just mind-blowingly good.
Va'al
- Those are some nifty little birds indeed, I agree. And I've only seen them in hand! We've touched upon you getting into the toys and the franchise as a whole, but how did you make it from there to comics? Were you a fan as you grew up?
Livio
- Yeah, definitely. I loved the original Marvel run. By the time I got to them, a lot of them were already in back issue bins and so I was tracking them down to piece a collection together, the same way I was doing with
Amazing Spider-Man
and
X-Men
and other titles that I loved.

I stopped reading the comics when they sort of dried up in America, but then when Dreamwave got the license I certainly bought those. I thought the art and coloring was beautiful in those early issues. And then after that there were stories I read here and there, like the Jae Lee drawn
G.I. Joe vs Transformers
. Before the license came to IDW!
Va'al
- And that's why should have been a fan growing up across the pond - to quote a certain writer, the series.. never ended. You were clearly a comics reader growing up, but what drew you into drawing yourself? Can you remember the early days of shifting doodling to actual drawing? Was it always a potential career option?
Livio
- I know, I'm jealous of you guys across the pond! I also definitely noticed that a lot of UK readers have more of an affinity for the later G1 characters like Hot Rod and Ultra Magnus. Possibly because they did so much more in the UK run that we didn't get to see for a long time.

And I think most people who read comics try to draw them, really. I think if you're drawn to a creative medium like that you're almost certainly hoping you can one day draw or write them yourself. I don't remember an exact moment when it switched into a possible career, it was basically always a dream that I had and hoped I could do it one day. It still feels very surreal getting to draw these guys, and especially to work with someone like Flint Dille, who was such an architect of the G1 stuff I grew up on.
Va'al
- Ultra Magnus does seem to be one of the latest big favourites, even with the whole 'controversial' take on him by Roberts and Milne, indeed. How would you describe your first venture into comics in general, before hitting the Transformers franchise at IDW? What's the story there?
Livio
- My first venture into comics was one of two very random and lucky moments in my life. After I finished my time in Art school, I was hunting for a job. I was looking into concept art positions for the gaming and movie world. I thought that'd be a steady way to make a living and also be a lot of fun. Comics was sort of always my dream, but I didn't know how realistic it was. One of the blogs I'd check, for fun, was Gelatometti - Jim Lee and Wildstorm's art blog.

They suddenly had a job posting on it, looking for someone to join their team designing the DC Universe Online game. I applied and got hired through the blog, which was my first real gig. It was amazing, since Jim Lee was a huge hero of mine.. and continues to be. I worked there for about 5 years, learning a lot and contributing to a pretty massive game project. It also started me on the path of doing comic conventions across the country.. which lead to IDW.
Va´al
- Aha! Here we are, the juicy stuff. What was your first IDW gig? Did they come for you, or did you pitch something to them?
Livio
- It was very random! I was sitting at an Artist Alley table at Wondercon I believe. Just selling some prints and essentially fan artwork. IDW's head editor Chris Ryall walked by and happened to see my work, and gave me his card. He told me to submit samples. About a week later, I got an E-Mail from Andy Schmidt, who offered me the covers to The Best of Optimus Prime and Best of Megatron trade paperbacks. It was really a dream come true, and I'm very grateful for the chance.

I always suggest to anyone looking to work in comics to start showing your work at Artist Alley tables. Doesn't matter if you've been published! You never know who will walk by.
Va'al
- That's some good advice, right there! So after cover art,
Chaos
,
Autocracy
,
Monstrosity
,
Robots in Disguise
and
Dark Cybertron
, where is the IDW partnership taking you next? Can you talk about anything at all with us, or is it still all under wraps?
Livio
- I can say there's definitely two big projects coming that I'm excited about. Unfortunately I can't reveal details about them yet, which I understand makes for a very frustrating answer!
But as a teaser, and as most people are guessing, I'd say it's very likely that Chris, Flint and I will finish off our trilogy with another series. We should have a lot more information about that soon.

But I'd just like to take a second and thank all the readers for the response we've gotten doing Transformers comics for the last few years. We all really appreciate the support, and we work hard to hopefully give you guys a great ride with the stories we're telling.
Va'al
- And we all really appreciate all of your work as creators! They may not be 'real' comics according to some publishers, but we know there are some really good stories being told. Livio, before we part ways, are there any other last words you'd like to share with our readers?
Livio
- It's been a real pleasure chatting with you! And again, I'd just like to thank everyone out there for supporting the books. If you'd like to check out more of my work you can find me on
deviantArt
,
Twitter
and
Instagram
all with the insanely original handle of LivioRamondelli.
You heard the man, go follow him on various social media platforms - and read some more into Livio's creative process
here
! I extend my thanks to all the readers who have been following us this far, and end by saying there is more to come in our quest to bring you even more insight into the minds and hands of Transformers franchise creators. So keep your optics tuned to Seibertron.com!
Credit(s): Livio Ramondelli, Va'al
---
Got Transformers News? Let us know here!
Most Popular Transformers News
Most Recent Transformers News
News Categories:
Toy News
,
Movie Related News
,
Cartoon News
,
Comic Book News
,
Site News
,
Rumors
,
Event News
,
Digital Media News
,
Collectables
,
Sponsor News
,
Game News
,
Site Articles
,
Store News
,
Company News
,
People News
,
Press Releases
,
Reviews
,
Sightings
,
Unlicensed Products News
,
Auctions
,
Transtopia
,
Interviews
,
Knock Offs
,
Collector's Club News
,
Editorials
,
Heavy Metal War
,
Podcast
,
Contests
,
Book News
,
Top Lists
Re: Seibertron.com Interviews Livio Ramondelli (1555856)
Posted by
triKlops
on March 7th, 2014 @ 11:27am CST
Great interview; I am checking out his Instagram as we speak, excellent run of flicks on there.
Re: Seibertron.com Interviews Livio Ramondelli (1555863)
Posted by
Va'al
on March 7th, 2014 @ 11:48am CST
triKlops wrote:Great interview; I am checking out his Instagram as we speak, excellent run of flicks on there.
Thanks!
There's some really good stuff outside of Transformers too, isn't there?
I mean...
Re: Seibertron.com Interviews Livio Ramondelli (1555869)
Posted by
skidflap
on March 7th, 2014 @ 12:08pm CST
Awesome. I got to meet him last year at a convention here in los angeles. He, Flint Dille and Mairghread Scott signed my autocracy
Re: Seibertron.com Interviews Livio Ramondelli (1555912)
Posted by
Bubbah
on March 7th, 2014 @ 3:39pm CST
I met him last year as well, at a Con in Vegas and I can honestly say he's a true fan of the franchise. Him and I talked Transformers for nearly a half hour. And after talking with him, I'll admit, I'm a much bigger fan of his work than I was before hand. His appreciation and love for these characters brings out an all new side of his art. Definitely one of the nicest guys in the business!
Re: Seibertron.com Interviews Livio Ramondelli (1555918)
Posted by
Va'al
on March 7th, 2014 @ 3:55pm CST
I'm really looking forward to meeting him this summer at Auto Assembly, after the interview and hearing all these comments.
Re: Seibertron.com Interviews Livio Ramondelli (1555919)
Posted by
Bubbah
on March 7th, 2014 @ 3:57pm CST
You won't be disappointed man! I've got nothing but good things to say about him. He is a true fan of fans.
Re: Seibertron.com Interviews Livio Ramondelli (1557628)
Posted by
Vicalliose
on March 14th, 2014 @ 5:15pm CDT
I can't help but say that I just hate this guy's art.

His art looks flat, his designs are blocky and lacking detail, his proportions rival Dreamwave comics, his shading is either too dark to see anything or too bright to see anything (like terrible video game bloom), and his facial expressions range from dull surprise to derpy.

There's plenty of artists who aren't the best that I'll put up with on the IDW team, but when a comic has this guy's art, it just ruins it for me regardless of the writing. It literally hurts my eyes to look at.