Transformers Prime: Season One Blu-ray Review and 2 new promo videos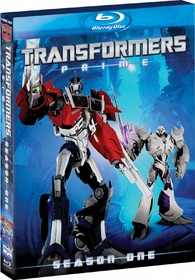 Wednesday, February 15th, 2012 9:21am CST
Categories:
Cartoon News
,
Reviews
,
Digital Media News
Posted by:
El Duque
Views:
88,907
Topic Options: View Discussion · Sign in or Join to reply
Blu-ray.com
has reviewed the soon to be released Transformers Prime: Season One Blur-ray. Click
here
to read their full review, we've posted a few excerpts and images below as well as a couple of new promos that we received directly from Shout! Factory. Transformers Prime: Season One Blu-ray is scheduled to release on March 6th. You can pre-order
Transformers Prime: Season One [Limited Edition]
on
Blu-ray
and
DVD
.
Transformers Prime: Season One's 1080p transfer isn't all that consistently pretty. Certainly, there are moments when the animation sparkles, but aside from its flatness, there are some technical bugaboos that drag it down considerably. First, the image is greatly hindered by what is oftentimes intense banding. Huge chunks of the image often suffer through terrible bouts, with entire backgrounds sometimes reduced to large masses of bands of poor color transitions. Unfortunately, many a line are jagged, and aliasing appears with some frequency, too. As noted, the animation is naturally flat and often looks to have a plastic-like texture to it. There's no real flow on anything but the Transformers themselves; human hair and clothes offer no real movement or textures. Such elements are very much flat and stiff, but that's inherent to the original elements, not a fault of the Blu-ray transfer. On the flip side, those Transformers can look quite good in close-ups; the digital artists have taken the time to create some fairly complex elements within eyes, faces, various exposed gears, and the like. Their metallic exteriors are scratched, dented, dirty, and generally well-abused, but that's mostly the extent of fine detailing. Colors, likewise, are very flat and lack much range outside of basic shades. The yellows, reds, greens, whites, and blues that make up the Autobots are bright but monochromatic. The Decepticons are a bit colder, favoring rather flat shades of purple and gray. It's all relatively simple, but it's that intense banding, frequent jaggies, and occasional aliasing that really hurt this one. The banding is nothing short of an eyesore, so audiences sensitive to that might want to rent before committing to a purchase.
Disc One:

Audio Commentaries: "Darkness Rising, Part 1": Executive Producer Jeff Kline, Hasbro Studios Developer Mike Vogel, Animation Producer Therese Trujillo, and Art Director David Hartman; "Darkness Rising, Part 2": Jeff Kline, Mike Vogel, Therese Trujillo, and David Hartman; "Darkness Rising: Part 3": Hasbro Studios Executive Director Brian Lenard, Actors Tania Gunadi and Ernie Hudson, and Art Director José Lopez; "Darkness Rising, Part 4": Brian Lenard, Tania Gunadi, Ernie Hudson, and José Lopez; "Darkness Rising, Part 5": Composer Brian Tyler; "Masters and Students": Production Manager Mathias Dougherty, Animatic Artist Meghan Burleson, and Production Assistants Nathan Johnson and Jacob Rivera; "Scrapheap": Production Manager Sonya Park, Production Coordinator Meredith Rogers, Production Assistant Kathy Cavanaugh, and Post Supervisor Austin Block.


Disc Two:

Audio Commentaries: "Convoy": Actor Peter Cullen, President of Hasbro Studios Steve Davis, and Producer Rafi Ruthchild; "Predatory": Director Todd Waterman and Actors Sumalee Montano and Josh Keaton.


Disc Three:

Audio Commentary: "Shadowzone": Supervising Director David Hartman, Actor Andy Pessoa, Editor Mike Miles, and Bumblebee.


Disc Four:

Audio Commentaries: "Stronger, Faster": Actor Jeffrey Combs, Writer Mairghread Scott, and Director Shaunt Nigoghossian; "One Shall Fall": Writers Joseph Kuhr and Nicole Dubuc, Director Vinton Heuck, and Character Designer/Prop Designer/Colorist Augusto Barranco; "One Shall Rise, Part 1": Nicole Dubuc, Jospeh Kuhr, Vinton Heuck, and Augusto Barranco; "One Shall Rise, Part 2": Supervising Producer/Head Writer Duane Capizzi, Staff Writer Marsha Griffin, Supervising Color Designer Christophe Vacher, and Background Design Supervisor Vince Toyama; "One Shall Rise, Part 3": Duane Capizi, Staff Writer Steven Melching, Christophe Vacher, and Vince Toyama.
Making-Of Transformers: Prime (1080p, 11:02): An all-too-brief look at the creation of the show, beginning with a look back at the older franchises and moving on to examine the presentation for a new generation, the voice acting, the Transformer cast, the human characters, and the animation.
Toy Featurette (1080p, 16:31): A look at continuing with Transformers lore, creating new characters, characters who didn't make the cut, toy design, and the characters the crew would like to see in the show.
Season 2 Teaser (1080p, 0:20).
Credit(s): Blu-ray.com
---
This article was last modified on Wednesday, February 15th, 2012 11:39am CST
Got Transformers News? Let us know here!
Most Popular Transformers News
Most Recent Transformers News
News Categories:
Toy News
,
Movie Related News
,
Cartoon News
,
Comic Book News
,
Site News
,
Rumors
,
Event News
,
Digital Media News
,
Collectables
,
Game News
,
Sponsor News
,
Site Articles
,
Store News
,
Company News
,
People News
,
Press Releases
,
Sightings
,
Reviews
,
Unlicensed Products News
,
Auctions
,
Transtopia
,
Interviews
,
Knock Offs
,
Collector's Club News
,
Editorials
,
Heavy Metal War
,
Podcast
,
Contests
,
Book News
,
Top Lists
Re: Transformers Prime: Season One Blu-ray Review and 2 new promo videos (1347627)
Posted by
DreamersImperial
on February 15th, 2012 @ 10:17am CST
acchillyaout wrote:...Having Michael Bay add some insight would have provide this series a huge lift...
I hope you equipped your flame shields, because you're gonna catch A LOT of flak for that statement.
I'll respectfully disagree, though. And leave it at that.
Re: Transformers Prime: Season One Blu-ray Review and 2 new promo videos (1347657)
Posted by
Bouncy X
on February 15th, 2012 @ 11:27am CST
i found this on my own and read it last night. gotta say i dont get his complaints about the animation. its gorgeous and awesome animation for a tv series. there are a lot of CGI kids shows out there and many look exactly like what they are, cheaply and quickly produced. but this show looks great and you can tell time and effort is taken.

this and Clone Wars are just beautifuly animated tv series. of course they don't have the finesse of a theatrical release, it be silly and even stupid to expect that at all. all that said i am surprised to see his comments regarding some of the video issues. CGI animation is usually pretty flawless on blu-ray, regardless of the actual quality of the animation...the picture is usually always top notch. and it seems that behind the scenes thing is just the segment from the hasbro special that featured this and G.I. Joe before the shows started. was hoping they might have made something new and longer for this release.

but as far as the picture issues are concerned, hopefully this is a case of a reviewer seeing something i wont notice. but i'm buying it regardless because its indeed an awesome show.
Re: Transformers Prime: Season One Blu-ray Review and 2 new promo videos (1347680)
Posted by
kirbenvost
on February 15th, 2012 @ 12:04pm CST
Banding?
Re: Transformers Prime: Season One Blu-ray Review and 2 new promo videos (1347768)
Posted by
PurdueAv2003
on February 15th, 2012 @ 3:50pm CST
I'm more of a lurker here on Seibertron, but since I'm a bit of a videophile, I'll throw in my two cents.

First off, "Banding" is a color issue that can be caused by either poor rendering or poor display. A good example would be if you are looking at a shaded sphere. The actual image should be a smooth, continuous gradient, without any sign of transition as the grayscale changes around the surface of the sphere. If the sphere was poorly rendered or you have a display (monitor or TV) that has poor color rendering (either by design or improperly calibrated) you will see what look like stripes (or bands) of colors around the sphere. The grayscale is NOT transitioning smoothly, creating hard transition points that look like lines. I haven't seen much of this in Prime, but I also wasn't doing an in-depth review of the video quality. I've seen more with improper light rendering or lower quality renders on background objects than banding.

While I agree there are plenty of rendering errors to be found in Prime, you have to do an apples-to-apples comparison. I agree with the above posters that when you look at other CGI TV shows, Prime is top-notch. However, this reviewer, being a Blu-Ray reviewer, is probably comparing more to the likes of Pixar, which is in a whole different ball park. It sounds like the Blu-Ray transfer should be pretty faithful to the source material, and I am looking to pick this up.