Transformers: Regeneration One #91 - Creator Commentary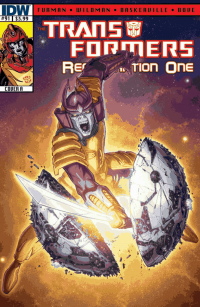 Wednesday, May 15th, 2013 4:37pm CDT
Categories:
Comic Book News
,
People News
,
Interviews
Posted by:
Va'al
Views:
41,391
Topic Options: View Discussion · Sign in or Join to reply
The lovely people behind the
official Transformers Facebook page
have been able to sit down with Simon Furman, and talked about today's release from IDW: ReGeneration One 91! Read the full commentary below, and make sure to pick up a (digital or print) copy. You can also read our review
here
!
TRANSFORMERS: REGENERATION ONE #91—the comic book that continues the original 1984 TRANSFORMERS series, courtesy IDW Publishing and Hasbro—launches an all-new story arc! "DESTINY" part one sets the stage, as BLUDGEON and SOUNDWAVE launch their ultimate assault against the universe, thanks to legendary writer Simon Furman—who we sat down with for a brief chat!—and artist Andrew Wildman. TRANSFORMERS: REGENERATION ONE #91 is out now at comic book stores everywhere, and for download at

https://transformers.comixology.com/

or via the Comixology and iBooks apps on your computer or mobile device)!
PAGE 1: We're on the world of Cresta Superior, with some beetle-like war machines in operation. What was your inspiration on the design of these machines? Did you have a specific look in mind or did you let artist Andrew Wildman design what he thought would work best?

SIMON FURMAN: A lot of the design of Bludgeon's Blitz Engines comes (naturally enough) from Andrew. But of course I threw a bunch of ideas into the mix in the script too. My main requirement was that they in no way appeared humanoid. We went that route in Generation 2 (in which there's a parallel story of Bludgeon and Matrix-infused clone troopers, one of a few G2 elements that are finding their way into the REGENERATION ONE mix… another big one of those says hi this very issue!), and I wanted these to be visually distinct and just generally big, threatening and armed to teeth.

They're siege engines, tanks on legs basically. And Andrew took that and ran with it, creating these almost crab-like mechs that really look like they can just plough through anything (and anyone) in their way. They're going to get a lot of action in #94-95, and to have even the slightest hope of combating them, the Autobots are going to have to wheel out a really BIG gun of their own.
PAGE 2: The machines are slaughtering the humanoid soldiers and breaking their way through into their base. Cresta Superior is a brand new world in TRANSFORMERS. Why create something new instead of using a previously established world for this scene?

SIMON FURMAN: One criticism I've seen leveled at RG1 is that we're very focused down on just three worlds (Cybertron, Earth and Nebulos… and there's a reason for that, trust me, which will become apparent in the final arc), so I took the opportunity to just remind readers that there are other worlds (and other mech species) out there (again, something that will form a big plot-point in the final arc), and lay in the idea that there are vast distances and gulfs of outer space that while maybe mapped aren't well travelled or continually on the Cybertronian radar. Remember, a lot of RG1 (initially) was about Optimus Prime having (disastrously) taken his eye off the ball, allowed his sphere of awareness to focus too much on Cybertron (to the exclusion of all else). The business with Earth (and to an extent Nebulos) is going to turn out to be quite a micro-failing compared to what's been happening out in the wider (macro-) universe.
PAGE 3: Bludgeon and Soundwave are talking, and we're seeing that the machines are called Blitz Engines and are Bludgeon's creations. Tell us about where Bludgeon is coming from in his point of view and how he sees the universe. And what he believes should happen to it.

SIMON FURMAN: Bludgeon's a complex character. He has this whole martial arts style warrior code he adheres to (more or less) that skews his conventional motivations. Bludgeon is much more concerned with his wider legacy and how he'll be regarded (by future generations) than the here and now. So while his current goal seems straightforward (return to Cybertron and the conquest of the same), it's much more layered. Bludgeon believes in predestination, and that if that destiny is not forthcoming he must force the issue. He sees this life as merely stepping-stone to another (greater) destiny, and that makes him incredibly dangerous. Death holds no fear for him. Maybe even attracts him?
PAGE 4: Soundwave and Bludgeon are discussing their future plans, which would appear to involve Thunderwing. Even though Soundwave and Bludgeon are Decepticons and on the same side, are they really fighting for the same common cause or pursuing two very different agendas here?

SIMON FURMAN: There's a certain amount of crossover in Bludgeon's and Soundwave's motivations/goals, but there's also a whole side to what Bludgeon wants that Soundwave isn't privy to. Soundwave is all about keeping Megatron's banner raised over Cybertron, even post-mortem, whereas Bludgeon wants… well, that'd be telling.
PAGE 5: Looking at the aftermath of what Scorponok was doing in the previous issues. Is everything really back to normal on Cybertron? Can these guys just go back to the way things were before events of war took their toll on the population again?

SIMON FURMAN: I think that irrevocable damage has been done by Scorponok's gene-engineering, but it's not insurmountable. Part of the reason I wanted to do that particular arc was to show what a tenuous hold the Autobots have on the "heroic" side of their nature, that (actually) every day is a battle to hold onto the values and moral ideals they live by. (Grimlock, for example, walks that line a little more visibly.) They're supremely powerful beings, appointed guardians/custodians of the entire universe. How could that degree of power, responsibility and status not go to your head? So every day is a struggle to keep on the side of right and virtue, and thanks to Scorponok that struggle is a little tougher, a little more evident.
Credit(s): Simon Furman, Transformers Facebook
---
Got Transformers News? Let us know here!
Most Popular Transformers News
Most Recent Transformers News
News Categories:
Toy News
,
Movie Related News
,
Cartoon News
,
Comic Book News
,
Site News
,
Rumors
,
Event News
,
Digital Media News
,
Collectables
,
Sponsor News
,
Game News
,
Site Articles
,
Store News
,
Company News
,
People News
,
Press Releases
,
Reviews
,
Sightings
,
Unlicensed Products News
,
Auctions
,
Transtopia
,
Interviews
,
Knock Offs
,
Collector's Club News
,
Editorials
,
Heavy Metal War
,
Podcast
,
Contests
,
Book News
,
Top Lists
Re: Transformers: Regeneration One #91 - Creator Commentary (1487639)
Posted by
Henry921
on May 15th, 2013 @ 7:15pm CDT
This issue, man. Holy !@(&% this issue.
Jhiaxus!
And then
the universe has a crack! It's all ending! GAME OVER MAN, GAME OVER.
Re: Transformers: Regeneration One #91 - Creator Commentary (1487751)
Posted by
Rodimus Prime
on May 16th, 2013 @ 12:33pm CDT
...and to have even the slightest hope of combating them, the Autobots are going to have to wheel out a really BIG gun of their own.
Omega Supreme?