Transformers: Robots in Disguise #20 Review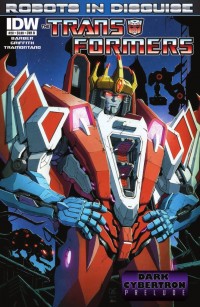 Tuesday, August 6th, 2013 5:40am CDT
Categories:
Comic Book News
,
Reviews
,
Site Articles
Posted by:
Va'al
Views:
45,084
Topic Options: View Discussion · Sign in or Join to reply
Me, me, m-- Rattrap?
(Spoiler free-ish)
Synopsis
NEW CYBERTRON! It's a brand new day—and STARSCREAM is in charge! But running a planet isn't as easy as it looks… if BUMBLEBEE couldn't do it, why does the former DECEPTICON think he can?
]
He has a plan!
Story
Remember how last issue was about Orion Pax and Gorlam Prime? And the one before about the factions now residing outside Iacon and Arcee, and before that it was Shockwave and D(r)eadwing? If you haven't read them yet, you're in luck, as issue 20 still does not advance the plot much!
You're welcome
Starscream really does take centre stage with this issue, and with him arguably being the best character to come out of Robots in Disguise, that is definitely not a bad thing. Barber has swapped his monologue by captions technique by coming out and calling the issue 'Three Monologues', allowing him to let Starscream speak, pretty much to himself, the whole time.
And to cameras!
It feels a little better than the usual floating voices, and there are ways of showing a 'silent audience' like Metalhawk's body which almost justify it. But Screamer-fest aside, very little happens in the issue, except for the introduction of upcoming toy Scoop and potential upcoming toy Rattrap.
Who also has a distinct.. er.. voice
The characterisation and hints at future developments aren't bad, and I enjoyed it more than other issues along the same lines. But the story really did not do much, at all. Rattrap is a peculiar choice, in terms of personality, especially when placed next to Starscream, and Scoop felt almost unnecessary.
Art
Visually, though, it works really well. From Metalhawk's body and the other ..incapacitated characters throughout the issue to the newcomers Rattrap and Scoop, and the play between blacked-out Iacon and the city once power is restored - it's all really good looking. And Griffith shows off his skills on page 6, with some excellent panel work.
Boy, does Starscream love that pose
The lighting differences mentioned above really pop out thanks to Priscilla Tramontano's colouring work. The story progresses from complete darkness in the heart of night to the first lights of dawn, via artificial lighting coming back in operation - and yes, you can feel it in the tones and shades.
J.J. Abrams directed this scene
Shawn Lee's lettering work gets a few particularly creative moments too, which is very nice to see. The three artists working on this issue have done a stellar job to make a fairly static story particularly aesthetically pleasing, and if anything, pick the issue up for the look of it.
Thoughts
Spoilerish ahead
Abandoning the caption monologue was a good strategy, though I'm not sure how I feel about still having the monologues anyway. On the plus side, they fit the character of Starscream perfectly. The art on the issue, also Starscream-centric, is stunning, and if Starscream Starscream, then Starscream Starscream Starscream. So Starscream. Starscream?
Starscream
Starscream-fest aside, though, it does little to the plot other than introduce two-three characters and hint at some stuff, and it then tries to make up for it with the final page reveal - which is nice, but the gimmick is getting a bit tiresome. Still, as I said, I enjoyed it more than previous similar issues, and Starscream really does shine in this.
.
¾
out of
Credit(s): IDW Publishing, Va'al
---
Got Transformers News? Let us know here!
Most Popular Transformers News
Most Recent Transformers News
News Categories:
Toy News
,
Movie Related News
,
Cartoon News
,
Comic Book News
,
Site News
,
Rumors
,
Event News
,
Digital Media News
,
Collectables
,
Sponsor News
,
Game News
,
Site Articles
,
Store News
,
Company News
,
People News
,
Press Releases
,
Reviews
,
Sightings
,
Unlicensed Products News
,
Auctions
,
Transtopia
,
Interviews
,
Knock Offs
,
Collector's Club News
,
Editorials
,
Heavy Metal War
,
Podcast
,
Contests
,
Book News
,
Top Lists
Re: Transformers: Robots in Disguise #20 Review (1509743)
Posted by
1984forever
on August 6th, 2013 @ 10:24am CDT
It sounds like this issue is all about Starscream, and the rest of the characters are just filler... which is how it should be. Fan favorites should get the limelight, while the scores of low interest characters that were introduced after the early days of G1 can be used for crowd building scenes during times of peace, and fodder during times of war.
Re: Transformers: Robots in Disguise #20 Review (1509747)
Posted by
sabrigami
on August 6th, 2013 @ 10:29am CDT
The plot still isn't moving? You would think by this point something would happen but I guess not. There comes a time when you need to stop the endless setup and actually get on with it. Especially since this one doesn't seem to bring the punch even when it actually gets going. I find the characters aren't that interesting either (SS gets a pass here). MTMTE could get away with this glacial story because the characters are so interesting. To have a worthwhile comic you either need the characters or the story and to me this has neither.
The blatant toy advertising in this series is kinda on par with the old comics. Not that I mind. More toys is a good thing in my book. Thing is, I would like toys of the established guys in the story, not some random ones. Has Scoop shown up before this? Who the heck is he? At the same time, I wouldn't mind Rattrap, but that's because I loved Beast Wars
It baffles me has Hasbro seems to avoid toys of the main guys.
*edit* Forgot to ask. Is there a reason SS is getting a new body? He looks fine to me. I mean, story wise other than to advertise the upcoming armada toy
Re: Transformers: Robots in Disguise #20 Review (1509750)
Posted by
Va'al
on August 6th, 2013 @ 10:32am CDT
I don't like using the 'filler' word, but this issue more than any has struck me as just sitting there, not doing much except for the last page, advertising Scoop and introducing another beastformer to the continuity. I did like the dialogue, and I did like Starscream.
But it's, professionally put, all a bit meh.
Re: Transformers: Robots in Disguise #20 Review (1509803)
Posted by
Manterax Prime
on August 6th, 2013 @ 2:08pm CDT
Hasbro, Rattrap, NOW!
Re: Transformers: Robots in Disguise #20 Review (1509809)
Posted by
durroth
on August 6th, 2013 @ 2:38pm CDT
Hasbro, Terrorsaur, now!
Re: Transformers: Robots in Disguise #20 Review (1509916)
Posted by
Henry921
on August 6th, 2013 @ 9:12pm CDT
Hasbro, Tarantulas, now!
Also, good review, Va'al. Think I'll hold off on the trade with this one (as I am wont to do), though I admit you've made me curious about this last page reveal...
Re: Transformers: Robots in Disguise #20 Review (1509929)
Posted by
Manterax Prime
on August 6th, 2013 @ 10:09pm CDT
You know what Hasbro, save yourself the trouble and us the frustration and just release the rest of the main Beast Wars characters in one single wave, aside from Rhinox and Waspinator of course.
Re: Transformers: Robots in Disguise #20 Review (1509932)
Posted by
durroth
on August 6th, 2013 @ 10:19pm CDT
they need to save some characters for the 20th anniversary or 25th anniversary, whichever they choose, beast wars releases
Re: Transformers: Robots in Disguise #20 Review (1510068)
Posted by
1984forever
on August 7th, 2013 @ 1:44pm CDT
WOW, looks like Rattrap is looking out for himself now that there are no allegiances in Iacon! This was the best RiD story I've ever read... until I got to the last page where Wheeljack was shown immersed in some sort of water... or juice. I don't understand why the medics couldn't just throw him up on a table and repair him? It's stupid! It's like a mechanic insisting that he soak your car in a vat of butter before he can fix it.

I'm sooo tired of seeing Transformers walk around smashed up, dented and cracked up. I'm willing to bet money that when Starscream gets his new body it's going to come with dings!