Transformers UK Classics - Interview with James Roberts and Lloyd Young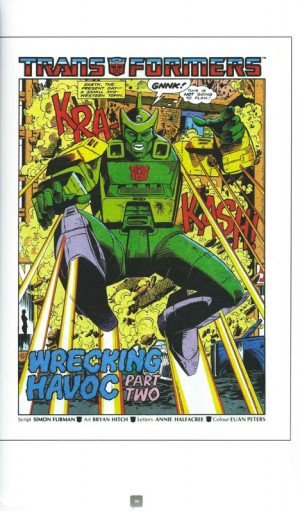 Friday, March 20th, 2015 5:12am CDT
Categories:
Comic Book News
,
People News
,
Interviews
Posted by:
Va'al
Views:
32,319
Topic Options: View Discussion · Sign in or Join to reply
Via a tip from Seibertron.com member
Sabrblade
, and courtesy of fellow Transformers fan
Stuart Webb
, we have a wonderful set of interviews with the minds behind the remastering and repackaging of the Marvel UK G1 comics - now collected into several volumes under Classics UK by IDW - editors James Roberts (texts) and Lloyd Young (images/scans)! You can read the full, detailed, lengthy piece
here
, and some snippets below.
As well as providing the making of text, how involved are you in the development of the book? Do you have a say in things like design, layout and covers as well?

(James Roberts:)

The cover and contents page designs have been constant throughout, and were conceived entirely in-house at IDW. For every edition I'm asked to give Andy Wildman a detailed cover idea (let's face it, no one else involved in the production of the book would have asked for Nightstalker and an Autobot Overlord on the cover of Vol 2). You'll have noticed that with the covers we try to highlight the unique aspects of the UK stories, typically the characters that never featured in the US comics.

I'm responsible for selecting what should go in each volume, from the stories to the non-story scans: posters, letters pages, adverts etc. I re-read the 30 - 40 issues covered by each volume and flag up everything I think would be interesting to fans old and new, such as Transformation pages that trail or tease a big story, or announcements for new toys, or promotion about the original Movie and so on. Letters pages that disclose hitherto unknown 'in universe' facts are worth reprinting, too. I'll choose the front-papers - usually the inside cover of the annual, so that's easy - and the sequencing of the contents.

I'll submit the text - the foreword, the introductory essay, the story intros etc - and notate it to indicate which scans should go where.

At this point I must sing Lloyd Young's praises. The series wouldn't be a tenth as good as it is without him. Lloyd got in touch after Volume 1 and offered to use his complete collection of TFUK issues to provide high-quality scans of all the material that IDW didn't have. He spends hours and hours cleaning up and 'brightening' the strip pages, and digs up all sorts of rare free gifts and original art. I couldn't do any of this without him.

[...]

We're now past the halfway point of the series, how advanced is the work on the remaining three books and do you think we're likely to remain on a one volume a year schedule?

I'd love to be able to do more than one a year, but realistically... it's Volume 6 later this year, and Volume 7 in 2016. Maybe we'll get Volume 8 - the final one - out in 2016 too. I'd like that. As much as I love the project, I want to see it done! I can't relax until all eight volumes are on the shelf. I owe it to fans - and to myself.

As for how advanced work is on the remaining books, I know precisely which issues and annuals will be reprinted, and what special features we'll put in. I keep a list of non-story material we've not yet printed, and it's pretty long. I know exactly what's going in Volume 6. And I have my list of confirmed and prospective interviewees.

Be a huge tease and give us a hint of an exciting and new fact we'll be learning in volume 6.

There's interesting stuff in Volume 6 (did you know that a TF character appeared on the cover of another Marvel UK publication in the late 80s?), but it's in Volume 7 that there's a real revelation. Wait until you find out what was originally planned for after issue 212...
I understand you and James first came into contact about this series via the TMUK forum, had you known each other before this, and what has the process of working with him (and IDW generally) been like?

(Lloyd Young)

As fate would have it, it was only a short time after finding all of the free gifts from the UK series and joining the TMUK forum that I was introduced to the one and only James Roberts. It was prior to Volume 1 of Transformers Classics UK being released and I received an email with an introduction. At the time I probably had to re-read it, it's not often you're approached to contribute to something that's dear to you. After James explained what he was trying to achieve, there was no doubt that I wanted to be involved.

I couldn't do this interview without highlighting the sheer passion that James has put into these books. He really has gone to the ends of earth to interview key contributors in its rich history to dig up information that would have potentially been lost forever. Each time we work on a new volume and I'm hunting around for items to include, I sit back and think, how the bloody hell is James going to fill this issue out? But testament to his unrelenting passion for the series, he does. Quite often, we'll be nearing our cutoff dates to collate everything we need to hand off to the IDW guys, who then stitch the book together, and James will message me at the eleventh hour saying he's found space for one last thing. That 'one last thing' often turns into the 'tenth last thing' but that's what I love about this project, we're always pushing to get the best content we can in.

This is where the guys over at IDW obviously do a great job as well and as James said earlier, are always kind enough to push the page count up if there's more great content to include. As the books lay flat on my table you can visibly see the thickness change from the first few volumes. Without these guys, the books wouldn't happen either. Shout out to Justin Eisinger.

[...]

And finally, you've contributed to an officially licensed Transformers book about the comic you love and have had your name in the credits alongside the great and the good who worked on the original series. On a scale of one to ten, how much of a good feeling is that?

It's nothing short of amazing; I give it a 1984 out of 10 (the year that changed it all for me). What an absolute privilege to contribute to not only something you've loved since childhood, but to have your name in the same publication as the guys who shaped the original series and those who continue to work on the existing stories. I pinch myself from time to time.

During my years working in the games industry, I was also fortunate enough to work on a Transformers game. Although I was working as a 3d artist at the time, my good friend and fellow 3d artist/ photographer Jamie Andy Evans was given the role of advert photographer. Long story short, like a child attempting with their dear life to answer a questions in class, my arm went immediately up. I said to Jamie, "I have to get my face in this game; I don't care what it takes". It's safe to say, I'm now immortalized on a mobile phone billboard. Sadly, Jamie passed away mid way through 2014, far too young and I'll be forever thankful to him for taking those photos. RIP mate.

I'll sign off now by once again thanking James Roberts and IDW, not only for including me in this epic journey of theirs but just because these guys rock it hard for TF's! I'm certainly looking forward to meeting James and the gang in the flesh, we've only been working together for 4 years now after all.
Credit(s): The Solar Pool
---
Got Transformers News? Let us know here!
Most Popular Transformers News
Most Recent Transformers News
News Categories:
Toy News
,
Movie Related News
,
Cartoon News
,
Comic Book News
,
Site News
,
Rumors
,
Event News
,
Digital Media News
,
Collectables
,
Sponsor News
,
Game News
,
Site Articles
,
Store News
,
Company News
,
People News
,
Press Releases
,
Reviews
,
Sightings
,
Unlicensed Products News
,
Auctions
,
Transtopia
,
Interviews
,
Knock Offs
,
Collector's Club News
,
Editorials
,
Heavy Metal War
,
Podcast
,
Contests
,
Book News
,
Top Lists