Twincast / Podcast Episode #282 "Lost and Found"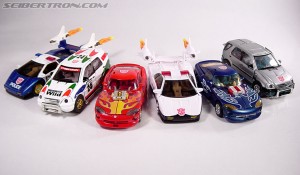 Sunday, August 15th, 2021 11:02am CDT
Categories:
Site News
,
Digital Media News
,
Podcast
Posted by:
xRotorstormx
Views:
69,926
Topic Options: View Discussion · Sign in or Join to reply
The Seibertron.com Twincast / Podcast is back at it again with your host ScottyP and xRotorstormx for another fun filled episode on this Fan First Friday Eve - which thankfully went better than expected when it comes to the amount of
'new' Transformers news that we didn't cover
.
Episode #282 "Lost and Found" is available directly and in our RSS Feed, and should appear on Apple Podcasts, Stitcher Radio and many other Podcatcher sites within 24 to 48 hours of when you see this news post.
Here's what on the agenda:
First up, images have leaked for Kingdom Pipes,

Blue

Bluestreak and Shadow Panther.





Hasbro announced another Fan First Friday event, which brings up a great listener question from Mr. Micromaster in which he asks the crew whether we prefer official reveals or product leaks.





Following up the discussion on product leaks, new listings have been discovered for the Legacy and Studio Series lines for 2022.





ScottyP breaks down his first impressions after getting MPM-12 in hand.





Next up, another great listener question - this time from Tuliodude and our thoughts on Armada Masterpieces.





Mr. Micromaster is back with another listener question, this time about our past Transformers misfortunes.


Closing out this episode is another round of bragging rights.


|
Love us?

Hate us?

Extra Super Love us? Drop us a review on Apple Podcasts or on your favorite podcatcher.
|
|
Want to keep the discussion going? You can do so by simply replying to this post!
|
|
Got a question for the Twincast? Ask the Twincast.
|
---
Got Transformers News? Let us know here!
Most Popular Transformers News
Most Recent Transformers News
News Categories:
Toy News
,
Movie Related News
,
Cartoon News
,
Comic Book News
,
Site News
,
Rumors
,
Event News
,
Digital Media News
,
Collectables
,
Sponsor News
,
Game News
,
Site Articles
,
Store News
,
People News
,
Reviews
,
Company News
,
Sightings
,
Press Releases
,
Unlicensed Products News
,
Auctions
,
Transtopia
,
Interviews
,
Knock Offs
,
Editorials
,
Collector's Club News
,
Podcast
,
Heavy Metal War
,
Contests
,
Book News
,
Top Lists
Re: Twincast / Podcast Episode #282 "Lost and Found" (2113174)
Posted by
Flashwave
on August 16th, 2021 @ 12:14am CDT
Yes please, more Car Robots/RID Stuff.
For me, preferably Generations to MP cause money, but I won't be picky about a Rail Racer.
I assumed at first Senator Crosscut was from his EHobby, but as I recall he was an
ambassador
originally, not a
senator
. Maybe it was a bad transcription on Takara's part
Its Ironic, this year has probably been the best South and Central Indiana has had it for releases. Things have mostly turned up within a few weeks of the first sightings as opposed to a few months. Tonight I saw 2 Rodimus Primes on shelves. (I passed on those as I really don't have much love for the character, but it does look like a good toy. So i dunno) The same Walmart had 4 Ultra Magnuses, not sure if he was a solid case, or packed with Beasty Megs or Galvatron. Thats the 4th time I have seen him. I had Huffer and Airazor the second week they were stateside. My Ark came from a shelf in Bloomington IN Target last weekend, and at the PreOrder Price Target Cancelled on me (159) and not the upped 169. The releases are mostly slowing down, we are back to old stock of Blackarachnia and Warpath (yawn) but its been a great year for us Hoosiers. And all it took was the rest of the world royally sucking.
I have yet to see Slag or Galvatron personally, but I know they have been here.
I have to figures I know of missing. One is a G1 Laserveak sans guns I used to carry around, I loved that little guy for some reason despite not being a Geewunner. Not sure where he went but probably lost him at my Dad's old house long ago. Tthe other is a Botcon Reflector. For some reason I have 2 of the three but the third has gone missing And I am rather bummed about that because I really think the botcon dudes scale better with WfC than the Deuluxes. Hr's gotta be aroubd, but for the life of me I have nott a clue what container he fell into. And his two buddies are kinda missing him.
Maybe he got sent off to that Space Bridge test after all.
Re: Twincast / Podcast Episode #282 "Lost and Found" (2113663)
Posted by
TulioDude
on August 19th, 2021 @ 10:02pm CDT
Thanks for answering my question!
When they do get to make Armada Masterpieces,I hope they make them detailed like those official illustrations.
Out of my lost Transformers Stories,the one I remember is losing
Revenge of The Fallen
Reverb.He fell behind my desk and I was like "I pick him up later",but then he wasn't there anymore.
Day 598 of waiting for
Transformers Armada
Masterpiece news.
Re: Twincast / Podcast Episode #282 "Lost and Found" (2113854)
Posted by
Hydrargyrus
on August 23rd, 2021 @ 11:58am CDT
I'm a little late, but I thought I would join in on the discussion.
During a move a few years back, I lost the gun to
Titans Return
Blurr. No other figures or accessories were lost, just that one gun. Which is a shame, because it has like 50% of the paint for that figure. That being said, I do think he looks just fine despite his lack of paint apps; it's a nice shade of blue on an excellent-looking mold. Anyways, someone else did help pack up the room he was in, so perhaps one day I'll find the gun in a bin of miscellaneous Lego parts or something.
Other than that, I don't think I've truly lost many Transformers, even when I was much younger. I do recall, however, that a few toys ended up with a reputation amongst my brother and me for being frequently 'lost', then found again. I don't know how long we would go before finding them again, but it felt like ages. I believe
Cybertron
Crosswise was one such figure, who I think went missing three or four times.
Flashwave wrote:I assumed at first Senator Crosscut was from his EHobby, but as I recall he was an

ambassador

originally, not a

senator

. Maybe it was a bad transcription on Takara's part
Perhaps he can join the ranks of "Space Mafia" Black Shadow and "Ninja Consultant" Sixshot.
Re: Twincast / Podcast Episode #282 "Lost and Found" (2113866)
Posted by
Tuned Agent
on August 23rd, 2021 @ 12:53pm CDT
Personally, I prefer leaks over official reveals. I'd like to know what's coming as soon as possible so I can make an informed decision (at least, as informed as it can be) on what toys to buy and when. Especially with recent cases of figures getting upstaged almost immediately after being released, like how much of Siege is pointless now (to many fans anyway) after Earthrise and Kingdom. Seriously, if the entire ER lineup had been leaked during Siege, I know a lot of fans would have skipped many of the Cybertronian versions entirely.
That said, I prefer the way that Legacy and Studio Series figures for next year are leaking, where listings for the whole line are found and leakers drop a few verbal details, rather than photos/video reviews getting leaked. That way, we know what's coming without knowing
everything
about what's coming, which I find more interesting than knowing nothing or just finding out everything at once. It leaves room for speculation and excitement about what we know before all is revealed.
At the same time, I do also like images/videos getting leaked shortly before official reveals. Mostly because pre-orders often go live at the same time as the reveals, and if I want to take 5-10 minutes to soak in the reveals and decide what I want, a lot of those pre-orders will have sold out already. Plus, sometimes those preorders seem to be the only way you can reliably (hopefully) get the figure, so if you miss that window, you may have just missed your chance. This can be pretty easily fixed by just revealing the figures some time before pre-orders open.
As for Transformers I've lost, I was always pretty careful not to lose things as a kid, so I don't have many interesting stories. I did lose a missile for one of my TFs once, though, and despite searching high and low for it I couldn't find it anywhere. I actually found it again months later underneath a book/some papers that were on the floor. I figured the cat must have played with it when I wasn't looking and shoved it under there.