IDW The Transformers #42 Review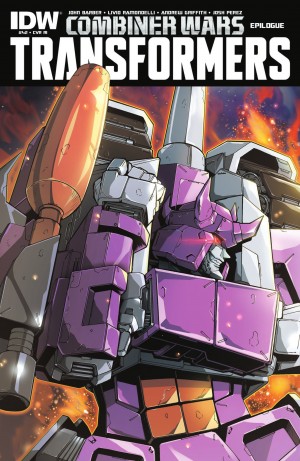 Wednesday, June 17th, 2015 3:22am CDT
Categories:
Comic Book News
,
Reviews
,
Site Articles
Posted by:
Va'al
Views:
28,469
Topic Options: View Discussion · Sign in or Join to reply
The Morals of the Story
(Spoiler free-ish)
Synopsis
THE AFTERMATH! The COMBINER WARS are over, and OPTIMUS PRIME faces the aftermath. Meanwhile on Earth, ARCEE confronts GALVATRON over the fate of two worlds.
Story
Combiner Wars is over. Sort of. There were many plotlines and threads left more or less dangling, some tidier than others, at the end of the fifth chapter of the IDW event. As both John Barber and Mairghread Scott were responsible for the arc, it's only appropriate that Barber takes the reins again in his view of the CW aftermath in his own title.
There are two major plots being explored in this issue, with the focus splitting between Cybertron and Earth once again. On the latter, Arcee and Galvatron have a not really amicable (but more than expected, really) confrontation, allowing all external parties to Prime, Prowl, and Scoop's swift defection to the newly forming Council of Worlds, to catch up and start progressing out of the crossover arc.
The other point of focus, and a magnificently executed one, is Prowl. Prowl and whatever has been chewing at him in the IDWverse. Prowl and his problems with Optimus. Prowl facing his turmoil, and Optimus responding in kind, in an exchange which is just... really well done. I cannot say more than that really, as it has to be followed and read to be fully appreciated.
The issue has all the excellence of early xRID stories, in pacing and dialogue, with the added emotional power of dragging the personal back into the wider scheme of things. Arcee, Prowl and Galvatron obviously take the spotlight, with Prowl above the others - but even Optimus is finally more of a rounded character than he has been at certain turns, and one which confirms the raised eyebrow from past CW issues.
Art
The two plots are complemented by two separate art teams, with a welcome return from artist Andrew Griffith, whose bulky, solid Galvatron and Astrotrain (now with visible mass shifting) bring a good contrast to the edgier, sharper, stealthier Arcee - and which colourist Josh Perez makes sure to give suitable masterful (and toy appropriate) decos to them all, with some dusking, cold lighting surrounding them.
The Prime/Prowl thread, on the other hand, keeps the continuity of Livio Ramondelli, in what is probably his best work so far on a prolonged sequence, and what a sequence it is. His cinematographic sensibilities, take on the angles, shots and choice of pacing to align with Barber's dialogue is the most suited to such a powerful exchange, that we couldn't have asked for better.
Both the sides of the issue, of course, could not carry their voice strongly enough without the work that Tom B. Long brings to the lettering, adding extra font work where characters make more of an impact, and with D.O.C.'s adorable voice. The cover roster this month sees the established Optimus Prime by Griffith and ..Perez? Burcham? (IDW! CREDITS!), the viscerally stunning Casey Coller/Joana Lafuente Prowl vs Optimus, a maniacally beautiful Galvatron (thumbnail) by Naoto Tsutshima and Lei Kagami plus the SDCC exclusive Combiner Hunter Arcee, by Sara Pitre Durocher.
Thoughts
Spoilerish ahead
As I said, we get both a blend of what worked in older, pre Dark Cybertron xRID issues and stories, coupled with the heightened political is personal/personal is political aspects of both Combiner Wars and the general direction that IDW writers seem to be taking of recent, and no punches are held back. Or elbows. Or heads. Literally.
This was a stellar issue, managing to transition effortlessly from the event storyline back into Earth, the Decepticon commune and still deal with the aftermath of some of the major players from both pre- and during Combiner Wars. Transitions which worked from both the writing and the artistic perspectives, and a welcome return to the more political (and personal) side of The Transformers. You do not want to miss it.
.
out of
Credit(s): IDW, Va'al
---
Got Transformers News? Let us know here!
Most Popular Transformers News
Most Recent Transformers News
News Categories:
Toy News
,
Movie Related News
,
Cartoon News
,
Comic Book News
,
Site News
,
Rumors
,
Event News
,
Digital Media News
,
Collectables
,
Sponsor News
,
Game News
,
Site Articles
,
Store News
,
Company News
,
People News
,
Press Releases
,
Reviews
,
Sightings
,
Unlicensed Products News
,
Auctions
,
Transtopia
,
Interviews
,
Knock Offs
,
Collector's Club News
,
Editorials
,
Heavy Metal War
,
Podcast
,
Contests
,
Book News
,
Top Lists
Re: IDW The Transformers #42 Review (1699428)
Posted by
Tigertrack
on June 17th, 2015 @ 9:10am CDT
Nice review Alex! I'm glad CW is over... Mostly. While its getting us awesome toys, I'm finding it to be less than inspiring in its overall telling. I'm looking forward to the world building, the extension to new Cybertroninan colonies. I'll be glad to have some of these guys take a backseat, I hope, in lieu of new characters to focus on. I love Prowl, but I need him to be imprisoned for awhile, and put in the background. Too bad, it doesn't seem entirely like that will happen.
Re: IDW The Transformers #42 Review (1699727)
Posted by
Fireback
on June 18th, 2015 @ 2:20am CDT
Tigertrack wrote:Nice review Alex! I'm glad CW is over... Mostly. While its getting us awesome toys, I'm finding it to be less than inspiring in its overall telling.
- I love Prowl, but I need him to be imprisoned for awhile, and put in the background. Too bad, it doesn't seem entirely like that will happen.
Im Glad "CombinerWars" is over also,
But-- We Shouldn't Be!
Cause (again) CW shoulda been An All-time, top Transformers Saga!
- Im still waiting on A "Prowl-astator" one-shot. Or even A mini
Where they explore that dynamic & the respective ethos that surmize they're gestalt.
& im Still waiting on my Menasor CW one-shot,
& A Bruticus ("Utilitarian") one-shot & A blah, blah etc. etc.
I can't think of another story that failed so bad. Epic Fail!
What was it, like only 7 ishs total?
"CombinerWars" should of went at least till "Devy" came-out.
&
I will NEVER READ ANOTHER Story by MARGIREAD BLAH!
It would of been so sweat to see them do A DC Like event wit "CW"
& accompanied the Toys & story with an 85mnt PG-13 animated (direct to DvD) "CW" movie.
Hasbro should of pushed this ALOT harder.
Im kinda shocked more people aren't Super Disappointed with this.
I also LOVE PROWL & can't wait 4the New "CW" figure.
Esp with the "Optimus Maximus" (or whatever) possibilities..
But I don't think- Prowl's story should be shelved, IMO him & Devy should get their own title.