IDW The Transformers #51 Review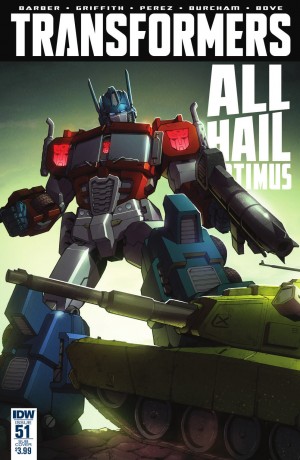 Thursday, March 17th, 2016 3:59am CDT
Categories:
Comic Book News
,
Reviews
,
Site Articles
Posted by:
Tigertrack
Views:
35,016
Topic Options: View Discussion · Sign in or Join to reply
Filling in for Dr. Va'al--news crew and admins have been working very, very hard to get everything back to speed--is me, the old review guy. Here's my take on the 'How can I follow up issue #50?' follow up issue, Transformers #51. *Cracks knuckles* Here we go! Sorry, it's a little tongue and cheek... Va'al will be back.
THE STORY SO FAR…

Last issue dropped the literal and figurative bomb that we've been waiting for. Optimus Prime is freeing Earth from itself. Actually it's a bit more along the lines of trying to repair the damage that the Cybertronian war has done to the planet, and at the same time, to give the Earth and its people a
volun-told
invite to being a part of the Galactic community, establishing a new presence on Earth. Details to be determined. It seemed like a good idea, right?

Sure you are big guy...
And to no one's surprise, the puny earthlings still don't like being told what to do. WE RULE!
TUNE IN FOR!
Excitement abounds as the most important thing to know from this issue is that Superion separates and we have not just an Alpha Bravo sighting, but actual dialogue! Dr. Va'al is pleased, right?

I AM faster than a speeding bul... guess not.
SOME OTHER IMPORTANT HAPPENINGS
The continuation of the Autobot presence on Earth is our main story point (although Alpha Bravo) and how 'we the people' react. The response by Earth's governments has not been to reach out with the olive branch and doves and welcome with man hugs and high fives.
But the Autobots will not let Optimus' vision fail. For some reason they love to follow the big galoot… Trying to show the people of Earth that they are not here to just take over, the Autobots head out to do many things of good and right many wrongs despite danger to themselves-- taking special care to harm no one--. Good stuff, right? Sorry no, humans are like elephants…long memories, and we'll take care of our own thanks. 'Cause we were smart enough to befriend Decepticons, a few times, and that did not go badly at all…at least until those Autobots showed up.
We're good, we got this...

EXTRA! EXTRA! Read all about it!...WIFI to cure disease next!
NEW CHARACTER ALERT[/b]
Aileron, while not entirely new, has really been stepping forward to make herself known. The little Camien has done a lot of work in a little bit of time to 'drive' the story (and the spaceship). Giving us an outside perspective and insight to all of this, she also doesn't quite understand it all, but that doesn't stop her from going a little Evil Gobot Renegade Crasher and being pretty much the opposite of helpful this time. Her growth has been exponential and more than acceptable. A nice compass for 'The Prime'.

*Clearly did not get the memo*
HUMANS HAPPEN

Why so serious?
What is up with these humans? I'm having a hard time understanding some of their actions. Faireborne's on the Autobot's side—- oh no, she's not— wait she's sticking up for them— no wait she's shooting them… And the Earth coalition don't/can't/won't see or believe the obvious message. It's like someone did something to make them mistrust all aliens and transforming robots forever. If only the humans would ever find themselves in a position to actually realize there are some robots, like people, who are good-natured, altruistic, and trustworthy... maybe some day.

I got an idea on how we can get our message across to humans...I saw it in a movie once.
CHECK IT OUT
The art is A-M-A-Z-I-N-G throughout the issue. Superb, wonderful, and a slew of other positive adjectives! Andrew Griffith really has a hold on drawing Optimus,and other bots like Victorion and Jazz.

There are examples all over the issue of beautiful, well-drawn and expressed panels of action and emotion. The robots' and vehicles' details are so well done--not extraneous, and not lacking--. The colors work flawlessly to help convey the mood and setting in every section-- despite having three different colorists working through the book, not a beat was missed--. Excellent story-telling through the art.

FINALS
I'm not sure if I've decided if it was over-the-top, or well done, but the use of many relevant real world issues for the Autobots to help resolve was interesting--and somewhat off-putting for this DETROIT-er for one particular choice of action--. I feel like we are coming back to the 'been there done this' part of the show. Autobots have been on Earth before, they have been scorned by the humans, but helped the humans despite themselves, then they have left, and come back again and helped the humans in spite of themselves, yet again. They've tried to play nice with the humans and things go south. They leave again and come back again. Clearly the destinies of Earth and Cybertronians are intertwined, but I feel like I'm starting to watch a re-run here.
A good issue that expands on Aileron a bit more, but ultimately doesn't do much more than show that the humans still hate and mistrust the Autobots...they'll still shoot 'em, just like yesterday, and last week, do whatever it takes to show that humans DO NOT need Cybertronians. Prime's plan doesn't seem like much of one yet...maybe he needs to spend more time on the re-charge slab to get some more guidance from his dreams. More like, I need to be patient and let the story develop.
4
out of 5
(the art!)
Mr. Tigertrack, what you've just said is one of the most insanely idiotic things I have ever heard. At no point in your rambling, incoherent response were you even close to anything that could be considered a rational thought. Everyone in this room is now dumber for having listened to it. I award you no points, and may God have mercy on your soul.
See, told you..
Credit(s): IDW, Tigertrack
---
Got Transformers News? Let us know here!
Most Popular Transformers News
Most Recent Transformers News
News Categories:
Toy News
,
Movie Related News
,
Cartoon News
,
Comic Book News
,
Site News
,
Rumors
,
Event News
,
Digital Media News
,
Collectables
,
Sponsor News
,
Game News
,
Site Articles
,
Store News
,
Company News
,
People News
,
Press Releases
,
Reviews
,
Sightings
,
Unlicensed Products News
,
Auctions
,
Transtopia
,
Interviews
,
Knock Offs
,
Collector's Club News
,
Editorials
,
Heavy Metal War
,
Podcast
,
Contests
,
Book News
,
Top Lists
Re: IDW The Transformers #51 Review (1773374)
Posted by
Randomhero
on March 17th, 2016 @ 7:13am CDT
I liked it. It was fun and did a lot of stuff I expected and was surprised about.

I'm really conflicted with the humans portrayal though. They allied with the decepticons, were betrayed by them yet the autobots showed up and they're the bad guys. Just doesn't make a lot of sense but I have faith it will all be explored much more. Personally I really want to see Pennington return. He was the one good human out of Spikes Skywatch and man do I hope we someday see Agen Red return.
Re: IDW The Transformers #51 Review (1773399)
Posted by
D-Maximal_Primal
on March 17th, 2016 @ 10:18am CDT
I did like the issue. definitely got down to the business of setting up what has happened since the big 50 and it did a good job of setting up characters for future arcs. Oh and I love Victorion
Re: IDW The Transformers #51 Review (1773448)
Posted by
Randomhero
on March 17th, 2016 @ 1:02pm CDT
D-Maximus_Primal wrote:I did like the issue. definitely got down to the business of setting up what has happened since the big 50 and it did a good job of setting up characters for future arcs. Oh and I love Victorion
Victorion is awesome. I was nervous by how she was originally coming off but she's pretty great. I can't say how happy I am to have Thundercracker joining the Autobots. I've been waiting for that since the ongoing. Never thought that he would have more going on with his personality than starscream.
Also for anyone wondering about "till all are one" I was combing through Twitter and found that Margarid Scott recent said they're working on it. Sounds like it's just been delaid for the foreseeable future.
Re: IDW The Transformers #51 Review (1773451)
Posted by
D-Maximal_Primal
on March 17th, 2016 @ 1:13pm CDT
This comic has given me reason to want the Victorion toy. She is an awesome character! And I have come to love Thundercracker. Still don't have a figure of him yet, but I do really like him.
and thanks for the TAAO update!
Re: IDW The Transformers #51 Review (1773455)
Posted by
Randomhero
on March 17th, 2016 @ 1:22pm CDT
No problem. I was just thinking about it and figured this went "the age of rust" series that was announced and never came out but someone asked her and John barber and she replied and they're working things out. If I had to guess I'd say 'Titans Return' has probably forced them to reevaluate it. Just my personal hunch