IDW Transformers #7 Review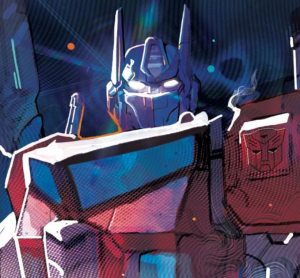 Wednesday, June 12th, 2019 11:13pm CDT
Categories:
Comic Book News
,
Reviews
,
Site Articles
Posted by:
william-james88
Views:
20,197
Topic Options: View Discussion · Sign in or Join to reply
I'm Sorry
A Review of
Transformers

#7
Free of any explicit spoilers, but some are implied.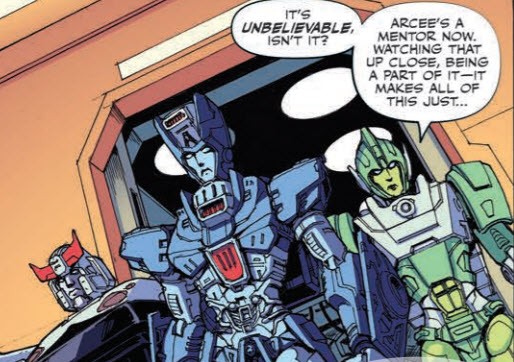 After the interlude showing the relationship between Orion Pax and Megatron in issue 6, we are back in the middle of the detective story. We get a scene straight out of CSI with Ratchet giving the rundown of some autopsy results to Prowl and his gang. The cross promotion here is rich since there are shots where only very detailed Siege toys talk to one another, two being exclusives that aren't even out yet (Greenlight and Ratchet). I am thankful the designs and colours stick with the G1 palettes since there are certain shots of Ratchet and Prowl as talking heads and the colour of their head crests is basically the main thing to identify them with. With colour thus being rather important in this issue, I think Lafuente and Burcham did a good job in that regard.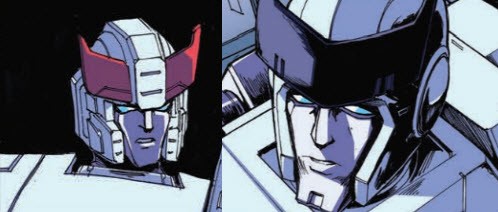 The bulk of the issue, however, follows Bumblebee and while this is the segment that follows the main plot of the series so far, it is by far the most boring. As with other issues, the plot advances at a snail's pace and ultimately you feel like nothing happened in this issue. It may be warranted here more than before since a lot of time is spent with Bumblebee being contemplative and rethinking some recent events that deeply affect him. It was still too slow for my liking, personally.
This issue does a better job at illustrating Cybertron than before. We see more architecture rather than barren landscapes and it feels more lived in than before. I especially like the Cybertronian neon signs We also get actual Transformations shots and we see some characters in their alt modes.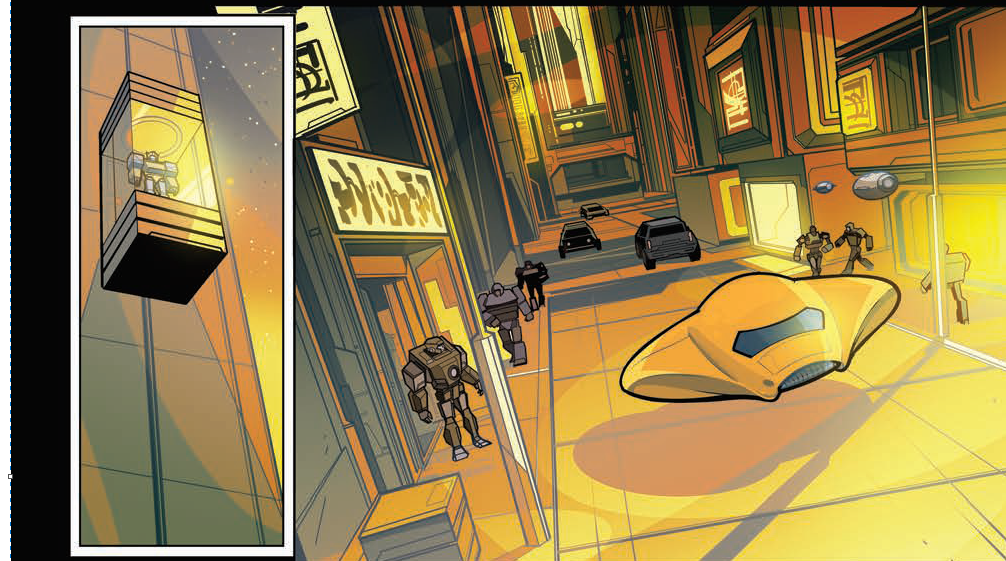 While the story is as lackluster as ever, the inconsistent art only adds issues to the comic. Here we have 3 artists contributing to the book and there is no order to it. Just look at the how the comic is organized:
ANGEL HERNANDEZ (pages 1-3, 7, 10-15)
ANDREW GRIFFITH (pages 4-6, 8-9)
ANNA MALKOVA (pages 16-20)
That means that there are scenes which begin with an artist and end with another, like the conversation between Orion Pax and Bumblebee. While Andrew Griffith is excellent, and gives us some of the best art he has ever done, it only hurts Hernandez by comparison. You can see an example of two shots of Orion from two back to back pages below.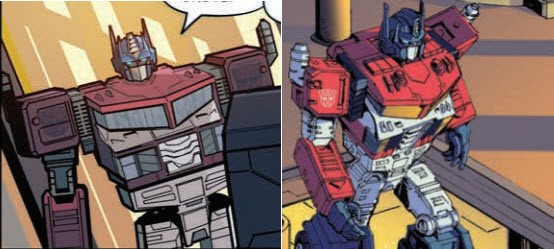 The art clashes a lot, not only in the different artistic styles, but with the backgrounds and how they are muted in some shots and not in others. For some reason, this issue contains the most shots of stairs I have ever seen in a comic since
Secret Avengers 18
and those similar shots and backgrounds made it really noticeable when the artist changed.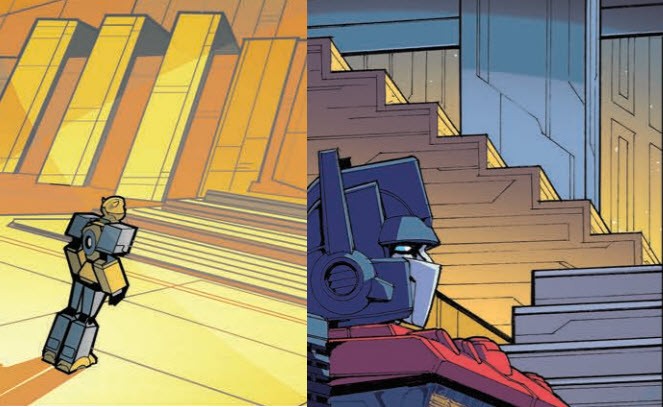 At least the final portion of the book, with Cyclonus, has the same artist throughout it and is isolated enough from the rest of the book to not be as jarring a change. Plus Anna Malkova provides us with some great macabre art, along with an actual Transformation shot.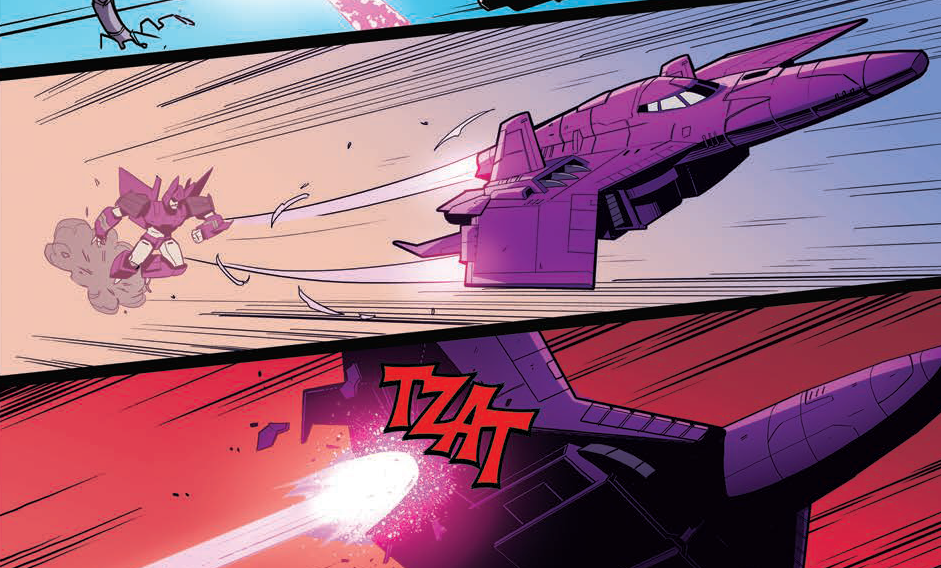 The covers available feature Christian Ward as the main cover artist. We also have covers by Transformers superstars Livio Ramondelli and Guido Guidi.
As always, you can also find images of all of the book's covers along with full credits for the issue in our
Vector Sigma Database page for

Transformers

#7
.
The book is back on track and I do like that we are getting more diverging plots, following different characters. It makes the world feel more alive, which is further shown in (some of) the art. However that means that there is little advancement in either the sub plots or the main plot. Here is hoping we get more Andrew Griffith as the series progresses, he really knocked those Siege designs out of the park.
Final Score
.
1/2
out of
---
This article was last modified on Friday, June 21st, 2019 6:23am CDT
Got Transformers News? Let us know here!
Most Popular Transformers News
Most Recent Transformers News
News Categories:
Toy News
,
Movie Related News
,
Cartoon News
,
Comic Book News
,
Site News
,
Rumors
,
Event News
,
Digital Media News
,
Collectables
,
Sponsor News
,
Game News
,
Site Articles
,
Store News
,
Company News
,
People News
,
Press Releases
,
Reviews
,
Sightings
,
Unlicensed Products News
,
Auctions
,
Transtopia
,
Interviews
,
Knock Offs
,
Collector's Club News
,
Editorials
,
Heavy Metal War
,
Podcast
,
Contests
,
Book News
,
Top Lists
Re: IDW Transformers #7 Review (2024492)
Posted by
Stargrave
on June 13th, 2019 @ 8:09pm CDT
Great stuff, totally in depth thanks so much for this dude. Awesome review!
Re: IDW Transformers #7 Review (2033317)
Posted by
william-james88
on August 5th, 2019 @ 1:55pm CDT

If you read issue 7 (
the last one I reviewed
) and wanted more shots of bots talking while walking up stairs, then you will be tickled pink with this issue. The first few pages are all about stairs and talking.

But that is far from the most boring part, because after Bumblebee and Elita One protect Megatron as he is going up some stairs, we get several pages dedicated to the meeting Megatron attends. This is easily the most exciting scene since the Jedi meetings from the Phantom Menace.
I know comparing something to the Star Wars prequels is old and tired by now, but that is really the best comparison to reading this comic. Not only are the scenes and their pacing ridiculously similar to what we saw in Star Wars Episode 1, but this whole concept of exploring a time before the era we know just brings the comparison home. There was even a scene with a drawn out discussion where the word "Decepticon" is being created before our eyes that reminded me of when Medichlorians were explained to young Anakin.
This same council meeting scene also brought upon loads of complaints from me about this series as a whole and what it was. We have some really deep cuts with an appearance of Heretech, a character only ever seen in the previous IDW universe (I once covered his first appearance
in a special feature
), and I find his appearance aggravating on a narrative/world building level. Is he any different to the character he was (or will become) in the previous IDW comic? Because if he is not, then why should I care about seeing him here. And yet, if this is the same character we know, then what is the point of all this being a new universe anyway? In the end, this series is just an unexplored era of the previous IDW universe through a different lens while adding inconsistencies and boredome, just like the Star Wars prequels.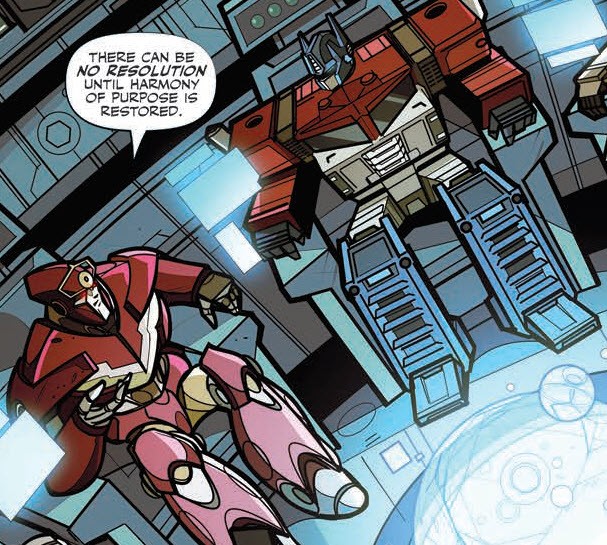 Does that mean this issue is all bad? Well, there is one good aspect with the introduction of Shockwave. Of course, this comes with the reveal that indeed nothing is new here and bad guys are bad while good guys are good, but at least we get Shockwave. And a well written Shockwave at that. I love how he was always a Decepticon simply because that's where his interests lined up more than any loyalty to Megatron himself and we see that here again. I do see the irony in me complimenting how this issue is now becoming completely complacent with the characters as we know them, but there is also a cathartic sense that we can now move on and no longer pretend that we are doing anything different.
Once again, we have 3 artists contributing to the book and there is no order to it. Just look at the how the comic is organized:
ANGEL HERNANDEZ (pages 1-3, 6-13)
ANNA MALKOVA (pages 4-5, 19-20)
BETH MCGUIRE-SMITH (pages 14-18)
I would say my favourite of the bunch was Mcguire-Smith. I liked their depiction of Shockwave and it's the segment of the comic that I felt the colourist (Josh Burcham in this instant) and artist gelled best together. Of course we do also get shots of Siege Megatron's tank mode which looks ridiculous in comic form with the feet sticking out. The fact that the tank barrel isn't included in the drawings only makes it look worse.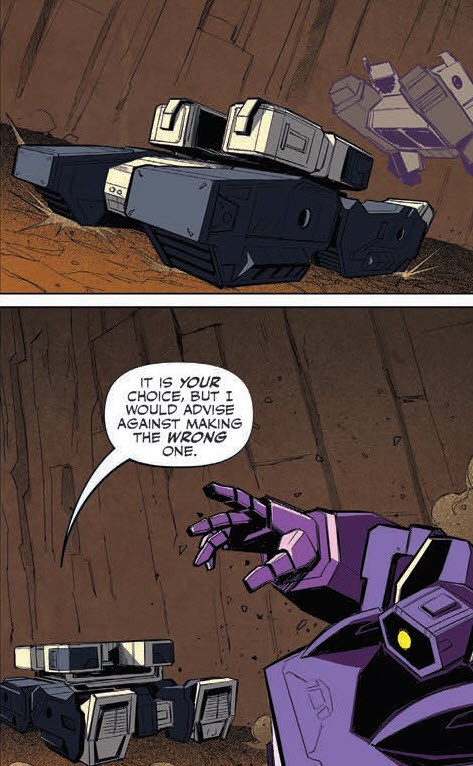 The covers available feature Beth Mcguire-Smith as the main cover artist. Thomas Deer drew the Starscream cover that has been associated to this issue since solicits. This Mohawk artist from near my hometown in Canada has been colouring Transformers comics for a while and it is great to have him contribute a cover. Jeffrey Veregge does the cover for the retailer incentive variant.
As always, you can also find images of all of the book's covers along with full credits for the issue in our
Vector Sigma Database page for

Transformers

#10
.
I didn't like this issue and it highlighted other problems I have with the series as a whole. It just doesn't feel like something worth spending our time and money on, especially when similar themes have been explored before and done better. At the same time, there was some comfort in characters finally showing their true colours and the fact that any pleasantries with this book being "a bold new era" would be put aside. I would have loved something new and exploring themes set up by James Roberts, but if this is what we are getting out of it, might as well just stick to the well known formula of good vs evil. As boring as it sounds, it can't be more boring than this.
Final Score
.
out of