IDW Transformers: Punishment Motion Comic Review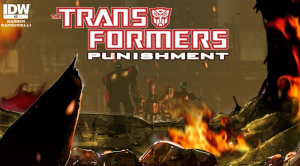 Wednesday, June 25th, 2014 2:31pm CDT
Categories:
Comic Book News
,
Reviews
,
Site Articles
Posted by:
Va'al
Views:
45,715
Topic Options: View Discussion · Sign in or Join to reply
Mere hours after the
official announcement
of the IDW Publishing Transformers: Punishment motion comic on Madefire, here at Seibertron.com we are able to present you with the third comics review of the week, courtesy of the collaboration between
Mkall
(words) and
ScoutBumblebee
(images) - check it out below!
I'd like to start this review off by saying that I typically do not get the premise behind motion comics. To me, they often feel like someone thought of a good cartoon but didn't have the resources to do it properly. Most of them that I've seen aren't much better than comic art manipulated with Adobe Flash Studio. I'm sure that there are better examples out there, but I have not exposed myself to them.

IDW's foray into this medium with Transformers: Punishment, while not dissuading me completely of my notions of motion comics, shows me that there is a way to do it better. It's far from perfect, but I'll touch on that later.

Transformers: Punishment

is written by John Barber and drawn by Livio Ramondelli. Two powerhouses in their respective fields come together to make this book look as nice as it reads. Optimus Prime returns to Cybertron because for whatever reason, Galvatron on Earth just doesn't seem like that big a deal to him? He arrives and immediately decides his original reason to visit isn't as important as some murdered d-list Decepticons. He sets out to find the killer in a style that feels very familiar to MTMTE's Shadowplay series; where the hero (Optimus, in case it wasn't clear) spends several issues chasing a criminal, and lots of collateral damage happens en route.

The feel of this story captures very succinctly the atmosphere that IDW'S

Robots In Disguise

series has been trying to capture; that everyone is trying to come to terms with what they did during The War. There is a lot of Prime narration and introspective that puts a lot of this in context as we begin to see that the Autobots may not have been as heroic as 30 years of propaganda have lead us to believe.

This story is led by Optimus as he investigates. This disappoints me as I was really looking forward to seeing more of Starscream, who in this story is actually a heroic character. There was no sneer to the voice that I imagined in my head as I read his lines. He is generally honest in his desire to see justice done.

There are other characters too. Slug and the Dinobots serve as the needed muscle and occasional foil for Optimus. Windblade is always in the background to counter Prime's 'millions of years of fighting has changed us' mantras, which seem to occur once every issue. Sandstorm is the most curious addition to the story. Whereas the Dinobots are all too willing to fight and kill, Sandstorm does so because it's all he ever knew. Prime confronts him and attempts to get him to change and move past what he did. Will he do so? I suppose that's what was meant at the BotCon panel when it was stated that these events will reverberate in the main comic lines.

The Decepticon presence in this book is minimal (unless you include cadavers). The Firecons appear more to stir the pot than anything else. I would've enjoyed seeing more cons as protagonists. Starscream is for all intents and purposes a good guy and Barricade only speaks when there's exposition to deliver. This is certainly an all-Autobot tale. The overall story arc is nothing unique. It's been told before in other stories wherever war and violence have affected cultures. The killer(s) didn't surprise me, but they may surprise you if you are new to the IDW comics.

Overall I liked the story, despite some distractions both artistic and technical. The writing is good, and the more open nature of this medium allowed the artwork to move the text along and a good speed. I wish this was a 6th issue to allow for more interaction between Optimus, Starscream, and Windblade. This was a fantastic opportunity for old vs new Autobot interaction but it was always cut short because there were more bodies to find.

The artwork in this was done knowing it was for a motion comic, and it shows. Sparks fly, laserbeams cut the air, fires burn with intensity and the lighting is dynamic. My main issue is that because it's a motion comic, there is motion for the sake of it. Sometimes the impact of comic art is to show movement in a static frame. That's because it relies on the reader's imagination to fill in the details. Such impact is lost to me when there's a tiny bit of motion and the impact isn't as big as your mind is telling you it should be. The soundtrack gets disconcerting after a short time, especially when shifting between scenes there is no fade in/out. I like the inclusion of the sound effects, such as the transforming sound and the guns blasting away, but it's lost in the often overpowering driving beat of the music.

I got this because it was free, and I would suggest the same to anyone who enjoys these comics. Personally though, I would've paid to get it in paper.
Credit(s): IDW Publishing, Madefire, Mkall, ScoutBumblebee
---
This article was last modified on Monday, January 25th, 2016 1:54pm CST
Got Transformers News? Let us know here!
Most Popular Transformers News
Most Recent Transformers News
News Categories:
Toy News
,
Movie Related News
,
Cartoon News
,
Comic Book News
,
Site News
,
Rumors
,
Event News
,
Digital Media News
,
Collectables
,
Sponsor News
,
Game News
,
Site Articles
,
Store News
,
Company News
,
People News
,
Press Releases
,
Reviews
,
Sightings
,
Unlicensed Products News
,
Auctions
,
Transtopia
,
Interviews
,
Knock Offs
,
Collector's Club News
,
Editorials
,
Heavy Metal War
,
Podcast
,
Contests
,
Book News
,
Top Lists
Re: IDW Transformers: Punishment Motion Comic Review (1585764)
Posted by
Mkall
on June 25th, 2014 @ 4:23pm CDT
Yweggo wrote:Is that Treadshot? Or the other redeco guy?
He is referred to as Treadshot.
Re: IDW Transformers: Punishment Motion Comic Review (1585807)
Posted by
Black Bumblebee
on June 25th, 2014 @ 7:44pm CDT
There are many things I will do in order to get Transformers exclusives... but infecting my computer with Windows 8 is where I draw the line.
Re: IDW Transformers: Punishment Motion Comic Review (1585884)
Posted by
Tigertrack
on June 26th, 2014 @ 7:19am CDT
Nice review. I'm interested to see more when/if they extend the experience to non-PC people. Sandstorm has always been a character I've wanted to see more from. Nice job Mkall and SBee in support.
Re: IDW Transformers: Punishment Motion Comic Review (1640457)
Posted by
Va'al
on January 18th, 2015 @ 7:34am CST
The other IDW offering for this week sees the print version of the
digital motion comic Tranformers: Punishment
, with art by Livio Ramondelli, and finally at the correct chronological point on the current timeline! Check out a full preview below, and head
here
for the Seibertron.com review.
Transformers: Punishment

John Barber (w) • Livio Ramondelli (a & c)

OPTIMUS PRIME RETURNS TO CYBERTON! And someone is killing Decepticons. PRIME teams with WINDBLADE to uncover the identity of the vigilante… but the answers will uncover darker secrets than anyone expected!

FC • 48 pages • $5.99

Bullet points:

The stage is set for COMBINER WARS!

OPTIMUS PRIME and WINDBLADE on the hunt for a killer!

Will the AUTOBOTS stand up when DECEPTICON lives are at stake?
Re: IDW Transformers: Punishment Motion Comic Review (1641110)
Posted by
steve2275
on January 20th, 2015 @ 9:29am CST
now i can buy this
Re: IDW Transformers: Punishment Motion Comic Review (1641195)
Posted by
Nemesis Maximo
on January 20th, 2015 @ 1:25pm CST
I usuallylike Livio's art, but here it seems like the proportions are off kilter, and the faces are pretty flat. Not his best work IMO.
Re: IDW Transformers: Punishment Motion Comic Review (1641388)
Posted by
MGrotusque
on January 20th, 2015 @ 10:34pm CST
OMG i love that cover.
Re: IDW Transformers: Punishment Motion Comic Review (1641436)
Posted by
Deadput
on January 21st, 2015 @ 2:28am CST
Might just be me but I love the parts in IDW where the Decepticons are not acting like insane psychopaths or just being evil for the sake of being evil unless their DJD, Overlord, Bludgeon,etc.



The war is over and I like Starscream as a bumbling kinda ally but still a schemer.
Re: IDW Transformers: Punishment Motion Comic Review (1641571)
Posted by
kirbenvost
on January 21st, 2015 @ 12:20pm CST
I feel like a jerk saying this, but a lot of the time I really don't like Livio Ramondelli's art. He's gotten a lot better at drawing the characters but everything is just too dark and brooding and there's hardly any expression on the characters' faces. That said, it does work in certain contexts where they're going for that dark, mysterious atmosphere. I guess it's just jarring compared to what we usually see.

But anyway, since this is a one-shot I'm hoping it's included in future trade volumes, so I don't have to worry about picking it up so I don't miss anything.