'Optimus Prime and Me' - The Influence of Transformers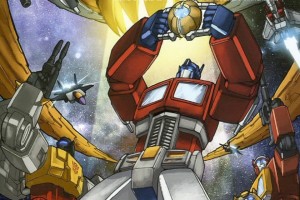 Sunday, May 8th, 2016 3:14pm CDT
Categories:
Comic Book News
,
Digital Media News
Posted by:
Va'al
Views:
28,977
Topic Options: View Discussion · Sign in or Join to reply
The internet is full of talk about our favourite transforming robots, and it's always very welcome to see something that differs from criticism of live action movies or complaints about toy distribution. On this auspicious of dates - on May 8th 32 years ago, Marvel released The Transformers issue #1 - Twincaster
megatronus
points us towards a lovely piece over on
The Atlantic
, touching on feeling out of place, fitting in, the power of fiction, and change, by Juleyka Lantigua-Williams.
For a snippet of the full piece, which you can read in full
here
, head below. To go over some thoughts on the last 30 years of printed Transformers fiction, head back to two years ago and our editorial
here
. What is your Transformers story? Do you have inspirational characters or moments from the franchise's history? Feel free to share if you do!
I first encountered Optimus while scanning afternoon cartoons on the four local channels on our television. It was the mid-1980s and cable was a luxury that few in my neighborhood could afford. I easily dismissed My Little Pony, Care Bears, and G.I. Joe—the standard menu for after-school programming then—once I came upon futuristic robots that shapeshifted on will. There was so much about the idea of being someone other than the person everyone saw that appealed to my nascent sense of wonder.

[...]

I imagined Optimus Prime reaching out to me, reminding me that I carried the All Spark inside me as I faced off against older junior-high-school boys who pressured me; when I sat through puzzling standardized tests that asked indecipherable questions; when a high-school guidance counselor told me I wasn't good enough to attend a prestigious college after I'd been accepted. During those times, and countless more, believing I possessed some of the strength and power of Optimus helped me persevere when the odds seemed insurmountable.
Credit(s): The Atlantic
---
Got Transformers News? Let us know here!
Most Popular Transformers News
Most Recent Transformers News
News Categories:
Toy News
,
Movie Related News
,
Cartoon News
,
Comic Book News
,
Site News
,
Rumors
,
Event News
,
Digital Media News
,
Collectables
,
Sponsor News
,
Game News
,
Site Articles
,
Store News
,
Company News
,
People News
,
Press Releases
,
Reviews
,
Sightings
,
Unlicensed Products News
,
Auctions
,
Transtopia
,
Interviews
,
Knock Offs
,
Collector's Club News
,
Editorials
,
Heavy Metal War
,
Podcast
,
Contests
,
Book News
,
Top Lists
Re: 'Optimus Prime and Me' - The Influence of Transformers (1787832)
Posted by
Kurona
on May 8th, 2016 @ 4:11pm CDT
This was so lovely to read. For the most part Transformers is such a simple series and Optimus such a simple character - but sometimes we don't need something overly complex. Sometimes we need something just this simple, just this basic to influence us. Over all his animated TV series incarnations, Optimus has always in some way symbolized and embodied simple and wonderful values of protecting life and freedom wherever it may be; timeless values that still hold up today. Transformers is essentially a glorified toy advert, let's not kid ourselves; but it still warms my heart that they were able to make such a beloved icon and inspiring character.

tl;dr - optimus is fucking great
Re: 'Optimus Prime and Me' - The Influence of Transformers (1787917)
Posted by
Ultra Markus
on May 8th, 2016 @ 10:06pm CDT
ah! reminds me of my childhood
Re: 'Optimus Prime and Me' - The Influence of Transformers (1787946)
Posted by
fenrir72
on May 8th, 2016 @ 10:43pm CDT
Soundwave's loyalty even to the end (except for the Astrotrain episode)

Starscream's resilience at back stabbing

Megatron's charisma (or fear inspiring) to keep a bunch of overamped mechs into line

Shockwave's intelligence in the comic, so cold and his loyalty to Megs in the show (only logical to wait for the right time to take over)

Optimus ( being like a big brother/leaser template )

Jazz for being cool

Sideswipe and Sunstreaker for being bad@ss

Ultra Magnus for being there when you need him and not bragging about it

Hotrod for being rash, brash and true to himself and trying to find his place under the sun.
Re: 'Optimus Prime and Me' - The Influence of Transformers (1787963)
Posted by
Kurona
on May 8th, 2016 @ 11:05pm CDT
To give a comment that's responding to the actual thread's question and not the news story... honestly, right now I find IDW Megatron and anyone willing to forgive him very inspiring. I kind of find it hard to take stories seriously where the villain doesn't have some sort of benevolent motive that just somehow went wrong or took an extreme somewhere along the road. But Megatron was like that; he did have an honest benevolent nature, he wanted the best for his people and he wanted to take down the corrupt senate - he was just a little bit more extreme and through millions of years of war, he himself became corrupt to the point of killing billions upon billions of people.
And yet, IDW still shows there's some good in him. That there's still some of the innocent miner who loved his species left. That despite the things he's said, the people he's killed and the atrocities he's committed, he is willing to turn over a new leaf and start anew. And there are people who believe him and try to help him.
As a person, I'm... probably what some people would call a little too optimistic. If someone does something wrong, I try and see that action as mislead, or an extreme they shouldn't have gone down... but the intention was good. I'm not religious and I don't believe in any sort of absolute good or absolute evil, so I don't really believe that anyone is naturally evil to their core. Something has happened to them to make them this way and if they could see what they're doing, they wouldn't like it - or they've been lead to think a particular way and are just too innocent to see the wrong in it.
And IDW shows what is quite possibly the most evil, despicable being in their established history... realizing what they've done wrong, regretting certain things they've done, and showing that it's all a result of their good intentions that just got horrifically mislead and corrupted. Megatron right now embodies my ideals and beliefs when so many people would be willing to say the opposite and that some people are just bad and have no good intentions - and if you believe that, I don't like hold anything against you nor am I saying you're incorrect. I mean hell I could be totally wrong for all I know and maybe there
is
an absolute evil; who knows for sure, y'know? But right now I like to believe that at their core, people are just doing what they think is right, and anyone doing something wrong can be helped. IDW shows me that there are other people out there - the writers behind this comic, at least - who also seem to think this and express it through some genius writing and scripting.
So yeah. There we go; my ideals and beliefs on the subject of human nature and good vs evil justified because a comic based on children's toys said "yeah I agree with you fam".
Re: 'Optimus Prime and Me' - The Influence of Transformers (1787975)
Posted by
Rodimus Prime
on May 9th, 2016 @ 12:57am CDT
That was a great article. I grew up with the Marvel Comics, and that is the continuity and version of characters I fall back on to this day. The cartoon was what it was, but the comics were my childhood. I didn't watch much TV when I was a kid, I liked reading and being outside much more. But going back and picking up certain issues once in a while always gives me nostalgic feels. So even though it's not really an answer to the question of the thread, the Marvel Comics also make me feel good, because they remind me of happier times, when I couldn't wait until the next issue was published.