Review and Identification Guide for Knock Off BotCon Mirage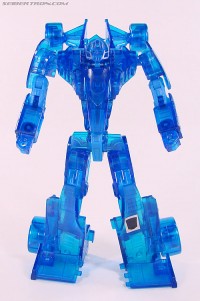 Sunday, November 14th, 2010 2:03pm CST
Categories:
Toy News
,
Reviews
,
Knock Offs
Posted by:
Razorclaw0000
Views:
96,942
Topic Options: View Discussion · Sign in or Join to reply
Seibertron.com member
G1Sizzle
, author of the comparison guide between
Henkei Thundercracker and the Knock Off version
, has posted a review of the Knock Off of Botcon Clear Blue Mirage. G1Sizzle did not have a BotCon version available for comparison, but still made a thorough review based on Classics Mirage, noting all the obvious mold changes. You can view our full gallery of BotCon Mirage
here
.
G1Sizzle wrote:And here is a look at KO Botcon Mirage. I don't have an actual Botcon Mirage to compare him to, but I do have Classics Mirage, Fracture and Drag Strip. All of these molds appear to be alike, so I will be pointing out where KO BC Mirage differs from these molds. This will again be one half review, and one half tutorial.

Here he is next to Classics Mirage. As you can see, the reproduction is 1:1. He's reproduced part-for-part. There don't appear to be any shortcuts taken in this KO. All parts are clear blue plastic with the following exceptions: the ball joint that the head is on, the biceps, the two inner parts of the torso, and the part that connects the thigh and the calf.

I should apologize right off the bat for these pictures not being clearer. My camera is a simple digital camera and isn't made for high quality photos. This is the first difference I noticed between the KO and all the other Mirage molds I own. In the solid piece between the thigh and calf, there are markings. On the KO, there are 2 straight horizontal lines. On the other Mirage molds, there are 3 slanted lines.

Also on the legs, on the upper part of the thigh, there are air intake vents right where the exhaust pipes fold up in bot mode. The KO has 3 vents. The original mold has 4.

I'm not certain if this next difference is also present on the real Botcon Mirage, so maybe somebody who has it can let us know. If you look on the KO BC Mirage's shin, there is a lot of detailing that is not present on Classics Mirage, Drag Strip or Fracture. Also, the dead giveaway is the rubsign. KO BC Mirage has no rubsign.

There is a seam on the outside of the forearm of each Mirage-mold figure. On Mirage, Fracture and Drag Strip, this seem perfectly bisects a detail, making it essentially look like teeth. The legit molds have the seam running straight down the middle. The KO does not. It's rather widely off center.

Here's one that's really easy to spot. The screws on KO BC Mirage are smaller than the screws in any of its mold-mates. The holes are obviously meant for larger screws, but smaller ones are used.

Oopsie! Don't worry too much, though. This is not actually broken. It's just a place in the torso that can be detached. All the other versions of this mold have this too. The reason I point it out is that the one on the KO slides out really easily. It showed up in my mailbox split in two, and it also fell out while I was fiddling with it. The legit figures have never done this for me.

This picture also showcases one of the dealbreakers for this figure, in my eyes. The KO BC Mirage I received cannot hold his gun. The peg on the crossbow is simply larger than the one in his fists. I couldn't get it to peg in on either fist. So when KO BC Mirage transforms, he's going to be weaponless, sadly.

And here they all are together. As you can see, KO BC Mirage does fit in to the classics collection, as long as you don't look closely.

QUALITY: Sadly, Mirage does not live up to the high quality of the Henkei seekers. He's floppy for one thing. His joints are not tight at all. The plastic quality also doesn't feel up to snuff. I realize this is clear plastic, but the Henkei Ghost Starscream KO felt a LOT sturdier than this guy. The looseness of the figure hinders his ability to achieve all the great poses the original Mirage could achieve. Additionally, as I mentioned, he tends to come apart at the waist, and he cannot hold his weapon.

PACKAGING: There is none. No bag, no card. Er go, one of the simplest ways to ensure you are getting a REAL Botcon Mirage is to purchase one bagged. So far, anyway.

One more thing: I don't know if this is true for all of them, but there was a flaw on my KO BC Mirage's face that stemmed from it being improperly removed from the sprue.

In summary, this is only a figure to get if you are planning to get a real one in the future and want it as a placeholder. This will be really easy to spot as a fake in person. If you buy it on eBay or another online source, be sure to get close-up pictures of it. If you want it because you can't afford a Botcon figure, that's fine, but realize you're getting something that is lower than Hasbro quality.
Credit(s): G1Sizzle
---
Got Transformers News? Let us know here!
Most Popular Transformers News
Most Recent Transformers News
News Categories:
Toy News
,
Movie Related News
,
Comic Book News
,
Cartoon News
,
Site News
,
Rumors
,
Event News
,
Digital Media News
,
Collectables
,
Game News
,
Sponsor News
,
Site Articles
,
Store News
,
Company News
,
People News
,
Press Releases
,
Sightings
,
Reviews
,
Unlicensed Products News
,
Auctions
,
Transtopia
,
Interviews
,
Knock Offs
,
Collector's Club News
,
Editorials
,
Heavy Metal War
,
Podcast
,
Contests
,
Book News
,
Top Lists
Re: Review and Identification Guide for Knock Off BotCon Mirage (1146460)
Posted by
Rated X
on November 14th, 2010 @ 4:10pm CST
If you plan on inviting over a bunch of expierenced Transformers collectors to inspect your collection with magnafying glasses, this figure would be ridiculed.

But if youre like me and like to display your favorite figures in a case so your drunken friends can say "Damn you have a bad ass collection" !!! then whats the issue with owning these figures ???

I applaud KO toys for putting this figure out as well as the seekers. Keep up the good work !!!
Re: Review and Identification Guide for Knock Off BotCon Mirage (1146495)
Posted by
Doctor McGrath
on November 14th, 2010 @ 5:19pm CST
I've never bought a KO before but that KO Henkei Thundercracker is calling my name..
Re: Review and Identification Guide for Knock Off BotCon Mirage (1146530)
Posted by
Powered Convoy
on November 14th, 2010 @ 7:48pm CST
Thanks for the info on this!
With that said I hate these KO's and think it's despicable that they're being made. It'd be one thing if they were using new schemes, but trying to recreate them one for one of an existing figure is just lower than low.
I noticed in some pictures the stamping on the KO's feet is different than that of the official item. The KO tries to recreate it, but it has them in the wrong place and there are some other differences there too.
Randy