Scans of Figure King #241 Optimus Prime / Convoy Feature with Interview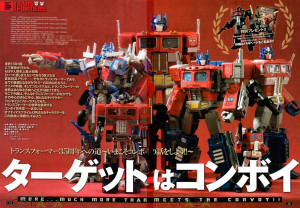 Tuesday, February 27th, 2018 3:39am CST
Categories:
Toy News
,
People News
,
Interviews
Posted by:
Va'al
Views:
26,727
Topic Options: View Discussion · Sign in or Join to reply
Courtesy as has now become customary of Loopaza Mega Store on
Facebook
, we have the full scans of the latest issue of Japanese hobby magazine Figure King #241, featuring a lengthy, 24-page article on the evolution of Autobot / Cybertron leader Optimus Prime - from which we also got the Masterpiece 3.0 rumoured teaser covered
here
- and an interview with the Takara Tomy design team.
Hi-Res Scan Figure King No. 241 Transformers

This month's Figure King's cover a whole story Convoy history.

From the very beginning of 1st G1 Convoy/Optimus Prime to the Power of The Primes series.

Also there's line up of Japanese Studio Series and the interview regarding the new Convoy Project. Will it be the MP Convoy 3.0?

Let's see.
The full interview has been translated by a team of fans over on fellow fansite
TFW2005
, and we've mirrored highlights from the text below. We copiously thank Deruji, Sam. and Timesynch for their invaluable work - you can read it as you run through the images of Optimus Prime / Convoy figures through the years, including the likes of Binaltech, Beast Era, Unicron Trilogy, movie verse and more (maybe even comparing to our own 247
galleries
of him!), and then let us know what you think in the Energon Pub!
Greeting next years 35th anniversary by taking a look at the various Convoys from Transformers' history.
For the planned conclusion at the end of the special, we will hear from the founder, Takara Tomy, according to volunteers from the Transformers Team Development Staff.

Kunihiro Takashi: Joined the company in 1984. He is the only senior member that was involved in the product development since the series' early days.

Hasui Shōgo: Joined the company in 1999. He is mainly responsible for projects with Hasbro. During the start of the movies he proposed concepts.

Kobayashi Hironori: Joined the company in 1999. He joined the series from "Car Robots" onwards. He has been involved in Masterpiece and Binaltech.

Memories of Convoy.

–First everyone, let's hear about your impression from the time you came in contact with the first Convoy.
Kunihiro: I was a student at that time. He wasn't a "Transformer" yet, just Battle Convoy from "Diaclone". I looked at him feeling: "This looks like such a good product~". But then he went to America and the name changed to "Transformers". Then afterwards he returned to Japan. In Japan he was also sold as a "Transformer", which was surprising.

Hasui: That was also my first impression of "Diaclone". Because Battle Convoy appeared in that way as a "Transformer", it was at first something that was a little hard to accept. Although he was a favourite character from "Diaclone"…(laugh). Actually, my attention turned towards "Transformers" when there were new products that weren't from the "Diaclone"-era… Such as Scramble [City] combiners from that point on with those kind of new products. I think what I understood about Convoy at that time was, "Didn't he used to be Battle Convoy?"

Kobayashi: I was also a child that grew up with "Diaclone" and "Microman". Because of that, when I also suddenly saw Convoy, who had returned as a "Transformer", my first impression was, "Heh, don't I know this guy?" (laugh).

Kunihiro: Around what time was that?

Kobayashi: Around the upper grades of elementary school. It was the time when I was slowly growing too old for toys… but, "Transformers" had a story and setting that were totally cool. Therefore, because of that reunion, my feelings turned back to the world of toys. I remember getting the impression that "Diaclone" and "Microman" had returned customised for us.

Hasui: That's right. Convoy, for being the main character or chosen as the key character, had amazing conviction. He felt sufficiently able to stand up to being the presence that gathers the car robots together. The product's gimmick and design matched this as well.

[...]

Let's Make The Ultimate Convoy.

–When the first Masterpiece was released, it made an impact.
Kobayashi: Because it's "Commander Convoy", the symbol of the Transformers, the idea that we wanted to make a monumental item was born. It was a challenge to attempt to make something that completely fixated on a transformation mechanism, because the Masterpiece was an independent project without restrictions, and a chance to use a design that followed the anime more closely.

Hasui: Wanting to release another Convoy with MP-10 was a plan that started through chance, made by the release of Rodimus Convoy. A story came up that when Rodimus Convoy was lined up with MP-1 that there was an uneasy feeling due to the size.

Kobayashi: From the start, the Masterpiece itself was a planned project that was to end after one figure. Afterwards, when I realised that it wouldn't be continued, MP-1 was a little on the large side. It had the image of a 12 inch figure.

Hasui: If we were to make it new anyway, not just Rodimus, but also the following car robots needed to be thought about while being developed. That is why after that item all are unified to a sense of scale. The appeal of Transformers, I think, is that when you line up Convoy and his subordinates together, they look better.

Kunihiro: Anyway, it was the trend to try and give them the responsibility, because the two that joined the company said they liked Transformers.

–In that regard, does the newest "Power of the Primes" version Optimus have the impression of following MP-10's design?
Kunihiro: In the preceding year we had Power Master, and because this was to be another leader class Convoy it was necessary to use a completely different approach. That's why, although we did not have the concept of Orion Pax combining back then, we thought about the challenge of "Can an 'Ultimate Convoy' be made?" Therefore, after thinking whether MP-10 was the most Convoy-like Convoy, we realised he was. With the successful appropriation of the digital data, the head with MP-10 serving as the base, was refined. Because the transformation is different we were able to balance the windows of the chest more skilfully than the MP. We had the strong realisation that… it didn't seem very Power Master-y; on the contrary, didn't it seem to settle into a shape that looked more like a stoic Convoy?
Credit(s): Loopaza
---
Got Transformers News? Let us know here!
Most Popular Transformers News
Most Recent Transformers News
News Categories:
Toy News
,
Movie Related News
,
Cartoon News
,
Comic Book News
,
Site News
,
Rumors
,
Event News
,
Digital Media News
,
Collectables
,
Game News
,
Sponsor News
,
Site Articles
,
Store News
,
Company News
,
People News
,
Press Releases
,
Sightings
,
Reviews
,
Unlicensed Products News
,
Auctions
,
Transtopia
,
Interviews
,
Knock Offs
,
Collector's Club News
,
Editorials
,
Heavy Metal War
,
Podcast
,
Contests
,
Book News
,
Top Lists
Re: Scans of Figure King #241 Optimus Prime / Convoy Feature with Interview (1942780)
Posted by
Rodimus Knight
on February 27th, 2018 @ 7:36am CST
I wish they'd release stuff like this here. I love seeing these items altogether like this.
Re: Scans of Figure King #241 Optimus Prime / Convoy Feature with Interview (1942890)
Posted by
Chriphord
on February 27th, 2018 @ 3:49pm CST
They've got WFC Optimus and FoC Optimus in the each other's boxes.
Re: Scans of Figure King #241 Optimus Prime / Convoy Feature with Interview (1942950)
Posted by
Acesmcgee
on February 27th, 2018 @ 7:36pm CST
That was cool, thanks for to the news crew for finding something like this. (or whomever sent it to them) Just like said above, I love the little timeline for the figures, there are a few on there I will be looking up to find out more about them. I'm not super familiar with the Japanese product, but I'm having fun learning heh. But yeah, they had something similar to this in the back of my MP Ultra Magnus directions as well I believe, but of course it was all Magnus.