Seibertron.com interview with Greg Gaub, organizer of CybCon 2010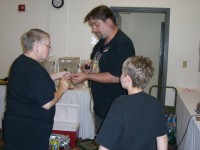 Monday, March 15th, 2010 9:15pm CDT
Categories:
Event News
,
Site Articles
,
People News
,
Interviews
Posted by:
Delicon
Views:
78,676
Topic Options: View Discussion · Sign in or Join to reply
If you're here visiting Seibertron.com, chances are you're a Transformers fan. Transformers fans come in all shapes and sizes and express their fandom in all sorts of unique ways. Of course, an increasingly popular form of celebrating "TF love" has been attending Transformers conventions. That's something that isn't easy for everyone to do, especially if a TF convention hasn't taken place around where you live. However, for Transfans in the Northwest US, there is a surprisingly affordable convention that has been running for several years now. We caught up with the organizer of that convention, Greg Gaub and asked him some questions about his annual event.
Delicon:
Hello, loyal Seibertronians. It is my honor today to be able to speak with Greg Gaub, the organizer of the annual Transformers convention known as
CybCon
. Greg, thanks so much for your time.

Greg Gaub:
Not a problem. Happy to contribute.

Delicon:
I guess it's probably best to start from the start. For those who are unfamiliar, what exactly is "CybCon" and how did it come to be?
Greg Gaub:
CybCon, short for The Cybertronian Conference, is a gathering of fans of The Transformers of all kinds. It started as a mailing list, in about 1997, which was intended for local fans, but has fans from all over the world on it. A couple years after the mailing list, which was very strong at the time, I decided that I was tired of missing BotCons due to the expense of going, and so invited locals to my house for a get together on BotCon weekend. We did the BBQ and toy run thing for a couple years, which was fun, but then we decided to make it more convenient for more people by having it in a meeting room and making it more of an open invitation. It kept growing from there.
Delicon:
Wow, talk about an "underground movement." So, how many years was this at your own house before you took it to a larger stage?
Greg Gaub:
3 years in total. The first two were great, but for whatever reason, the third year was a flop. Only Richard Mistron showed up that time, who had become a partner of sorts with his contact with Zobovor who made us some cool toys. Because of the poor showing that year, we decided to make it a real event for people to look forward to, rather than a "BBQ at Greg's house."
Delicon:
That makes sense. So, what steps did you take to make it more of a real convention and not just a small informal gathering?
Greg Gaub:
It wasn't hard. I located a rentable room in the city, Auburn, and then rented it for a good date and spread the word. I live in Auburn, WA, which is where it all started. We moved to Tacoma when we outgrew the places in Auburn.
Delicon:
I noticed that you have been in Tacoma for a few years now, will that be your permanent home from here on out?
Greg Gaub:
Since we moved to a large ballroom in Tacoma, we haven't exceeded its capacity. We've been there since 2006, and I don't expect, or want to grow out of it.
Delicon:
Approximately how many people attended CybCon when you first started and approximately how many people do you average now?
Greg Gaub:
Well, the BBQ at Greg's House version topped out at like...8 people I think. Maybe 7, I forget. We average between 60-80 people these days. I don't think we've broken 100 people at the convention, but last year I had just over 100 registered people. Some didn't show for whatever reason.
Delicon:
What you mentioned earlier regarding your reasons forstarting CybCon was very interesting. A big criticism that many people have about the larger conventions is the pricing. Even when an event such as BotCon comes within reasonable distance of a Transformer
fan's hometown, many people feel that they really have to drop a lot of money to be able to fully participate in the event. CybCon, on the other hand seems incredibly affordable. Can you explain how you manage to make that happen?
Greg Gaub:
CybCon is priced specifically to cover my costs. The primary cost is that of the hall for the event. Then pizza and other food items we include. My intention is only to break even on the costs and for everyone to have a good time.
Delicon:
I was amazed to see that for as little $5 someone could attend CybCon and not only have their lunch covered but also be entered in a raffle. That's pretty unheard of, honestly.
Greg Gaub:
The dealers help a lot. I also do an auction sometimes to help cover costs, but lately we've have enough attendance that it hasn't been necessary.
Delicon:
Okay, so walk us through what a Transformers fan can expect to encounter when he/she attends CybCon. Other than the dealer tables and having the company of other fans, what events are going on?
Greg Gaub:
It's actually a pretty crazy day of fun. From the time people enter and start perusing the dealer tables, I'm running raffles every hour on the half hour, sometimes more. I, or a helper, am also running various activities for people to enjoy, from toy transforming "races" to trivia contests and video game battles. There's also usually a display table of some kind showing cool artwork or rare and interesting toys. Sometimes people come, buy, and leave, but usually they stick around and enjoy the day. Lunch is often an interruption to get through. [laughs]
Delicon:
What is the farthest someone has traveled to come to CybCon? I know this started as a "local event" but as you have said, it has grown quite a bit over the years. Do you find that you're starting to get people coming in from all over?
Greg Gaub:
The farthest was CrazySteve, hands down. He did our exclusive toys for a couple years, and finally was in the country during the time of the 'con, so he came. I believe he took a bus from somewhere in the middle of the country. Many states farther than anyone else had come. We get regulars from Oregon, Canada, and Eastern Washington, though.
Delicon:
You've mentioned the magic word for a lot of fans and that's "exclusives." Do you currently offer any exclusive toys?
Greg Gaub:
The toys are interesting. They are often a last minute thing. For all but one year so far, we've had something made by someone in enough numbers to call it an exclusive toy. One year we only had one figure, which went at auction. Usually the toy sales pay for the toys themselves. At this point, we do not have an exclusive
for 2010. But that doesn't mean we won't. Anyone out there who wants to have their name on a convention exclusive toy, feel free to contact me. You won't be making a profit, unfortunately but your efforts will be much appreciated.

Delicon:
Okay, so now that our viewers have a good concept of what CybCon is all about, what would they need to do if they wish to come, as either just a normal entrant or a dealer?
Greg Gaub:
Easy as 1 2 3. Fill out the registration form, send in their money, and come. They can do #2 last, but they have to do #1 or they can't come.
Delicon:
Fair enough. As we stated in an earlier story, you were gracious enough to offer a special discount to the viewers of Seibertron.com. Can you explain what it is and what they need to do to get it?
Greg Gaub:
I've extended the Early-Bird pricing just for your readers until the end of March. They need to put the code "SEIBCON10" in the comments of the registration form and I will send them instructions on how to pay the appropriate price.
Delicon:
To clarify, the early bird pricing is just $5 for regular registrants and only $25 for dealers? Also, they are not to pay until after they register if they are taking advantage of this deal?
Greg Gaub:
That is correct. After Martch 31st, the price will go up for them to the current normal pre-pay prices of $10 and $30 for attendees and dealers, respectively.

Delicon:
I have to say, that's still quite a bargain. Well Greg, I think you've covered the bases pretty well here. Is there anything else that you'd like to add before we go?
Greg Gaub:
Only a reminder that CybCon is all about the fans and having fun and that I hope everyone in the area who has held off coming for some reason finally makes it a point to come. They won't be disappointed.
Delicon:
Care to refresh everyone of the time and place for CybCon 10 one last time?
Greg Gaub:
Sure! CybCon 2010 will take place on August 21st, from 10am to 5pm, at the King Oscar Hotel and Convention Center Tacoma, at 8820 and 8726 South Hosmer. The convention center is in the back.
Once again, on behalf of myself and the rest of the staff of Seibertron.com, I'd like to thank Greg for his time spent with us today. If anyone reading this interview has questions of their own regarding CybCon 2010, feel free to post them in our Energon Pub forums. Greg would be more than happy to answer them for you.
If you haven't yet, be sure to check out the official CybCon 2010 page at
http://www.ggaub.com/tf/cybcon2010.html
or by clicking
here
.
For more coverage of CybCon 2010 and everything else Transformers-related, stay right here at
Seibertron.com
, the ultimate Transformers resource!
Credit(s): Greg Gaub, CybCon 2010
---
This article was last modified on Monday, March 15th, 2010 9:46pm CDT
Got Transformers News? Let us know here!
Most Popular Transformers News
Most Recent Transformers News
News Categories:
Toy News
,
Movie Related News
,
Cartoon News
,
Comic Book News
,
Site News
,
Rumors
,
Event News
,
Digital Media News
,
Collectables
,
Sponsor News
,
Game News
,
Site Articles
,
Store News
,
People News
,
Reviews
,
Company News
,
Sightings
,
Press Releases
,
Unlicensed Products News
,
Auctions
,
Transtopia
,
Interviews
,
Knock Offs
,
Editorials
,
Collector's Club News
,
Podcast
,
Heavy Metal War
,
Contests
,
Book News
,
Top Lists
Re: Seibertron.com interview with Greg Gaub, organizer of CybCon 2010 (1054849)
Posted by
Barrelass
on March 16th, 2010 @ 1:40am CDT
If you are in the area and have never attended, just do it, it is a great time, and Greg really does a great job. Really good/social local group of collectors (even though we may not be too active on the boards recently). Last year was the first year that I attended, and it was definately nice to put a few more faces to names/screen names/avitars. Fansproject rep was there with their display (any chances of this happening again this year Greg?) and I think damn near all of us walked away with a Shaddow Commander set at a very reasonable price.

And who knows, if you attend, maybe next year your picture will appear in the interview article like my backside and bald head did this year.
Re: Seibertron.com interview with Greg Gaub, organizer of CybCon 2010 (1055015)
Posted by
GregGaub
on March 16th, 2010 @ 3:14pm CDT
I haven't heard anything from FansProject, but you never know. I would expect one or more dealers to have some of their stuff, though.