Transformers: More Than Meets The Eye #18 Creator Commentary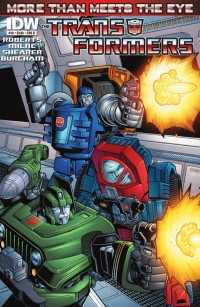 Wednesday, June 19th, 2013 3:18pm CDT
Categories:
Comic Book News
,
People News
,
Interviews
Posted by:
Va'al
Views:
25,368
Topic Options: View Discussion · Sign in or Join to reply
The
official Transformers Facebook page
were able to sit down with writer James Roberts to discuss today's release of
More Than Meets the Eye
#18! Check out the full commentary of the first five pages of this fast-paced issue mirrored below, for your convenience.
TRANSFORMERS: MORE THAN MEETS THE EYE #18 — the new comic book from IDW Publishing and Hasbro— kicks the epic "REMAIN IN LIGHT" story into overdrive! With Rodimus and his crew under attack on the surface of the long-lost Luna-1, the starship Lost Light is under attack! The acclaimed creative team of writer James Roberts and artist Alex Milne hold nothing back—and we had a chance to talk to James! MTMTE #18 issues is available at comic book stores everywhere and for downloaded at

https://transformers.comixology.com/

or via the Comixology and iBooks apps on your computer or mobile device!
PAGE 1: Tell us about the Legislators, your initial ideas for them and their final design.

JAMES ROBERTS: It's a little difficult to give a full answer without spoiling the rest of the issue, so for now I'll say that when I wrote issue #2, when the Legislators first appeared, I knew they'd reappear in "Remain in Light," and I knew that the three we saw chasing Skids were part of an army. They've not been called Legislators in the comic yet, you know. The name slipped out there when their design appeared in the back of the first MTMTE trade...

In issue #18 we see that there are a number of variations in the basic Legislator design—the one in Swerve's bar is "Legislator Mark II" in the script.

I knew from the outset that they should carry swords and that they should be blind. I originally asked for them to have no eyes at all, but Alex [Milne]—because he's good at this—convinced me of a way to make them look cooler, which was to have the suggestion of eyes—sort of these sinister indentations ("Sinister Indentations" sounds like a pretentious story title).

And, you know, sometimes you need a good "clone army"-type enemy for these epic, end-of-the-world stories, especially when in the crew of the Lost Light you've got over 200 heroes at your disposal. It's not enough to have a single bad guy: he needs thousands of crazed, sword-wielding, fire-breathing soldiers... with sinister indentations.
PAGE 2: Swerve's bar literally fights back! Is this one of those scenes you always wanted to show but never had the opportunity to do so until now?

JAMES ROBERTS: Actually, the idea came pretty late in the day. I usually have a very clear idea how scenes and plots and issues are going to play out, but in this instance I don't know if I'd worked out how Swerve was going to escape from the Legislator. Possibly he was going to be saved by the wider Lost Light battle spilling into the bar and giving him an opportunity to get away. The main point of the scene in earlier drafts was to show the bar being shot to pieces, because I thought it would give the story an emotional kick.

I've said it lots of times, so forgive me, but "Remain in Light" is conceived as an end-of-season story, and having the Legislator blow up Swerve's bar is like tearing apart a familiar set, one that you've become accustomed to over the course of the "season." Something like that can work particularly well when the location in question represents safety/security for the characters, because it feels like a violation.
PAGE 3: Swerve unleashes his new toy—best gun ever! Where did this come from, it takes Swerve to a whole new level.

JAMES ROBERTS: That was a good day, when that idea popped into my head. I was with my two year old son at a noisy play area at a garden center, surrounded by dozens of hyperactive toddlers jumping into ball pits and throwing padded bricks everywhere, and I thought of it. Rung would have a field day with that train of thought.

There's a whole page of the script—literally, an entire page—dedicated to describing what I'd like the gun to look like, because I was so keen for that scene to work. Of course, the scene only really gels—to me, at least—because the weapon was made by Brainstorm, who would do that sort of thing, and because we've established that Swerve is not a good shot. Plus the fact that he only has three fingers on each hand helps, because in some weird way it's the equivalent of a child getting to grips, literally, with manipulating complex objects.

There was a character in British SF comic 2000AD, Rogue Trooper, who had a weapon implanted with a "biochip"—basically, his gun had a personality. Maybe that's where we'll go with Swerve: one barman and his talking gun versus the rest of the universe.
PAGE 4: The rest of the Lost Light crew are engaging other Legislators around the ship. It's almost like facing Overlord all over again, but with one coming at them when another has fallen. Do these guys really have much of a chance?

JAMES ROBERTS: The Legislators are a force to be reckoned with—if you were fighting them one-to-one, there'd be no guarantee that you'd win. But a whole army of them? That's what made the story exciting, for me: they're an army. And as we'll see, there are a LOT of them on Luna 1.

They're like ants swarming the ship, and again that played into the "end-of-season" vibe, and that sense of somewhere safe becoming the opposite. I liked the contrast with Overlord, too: then, it was just one person against everyone else, and so the fight was largely static. He stood there and fought the crew. Here, the enemy is everywhere, so the fight is everywhere, so there's lots going on at once. I wanted to highlight that by cutting to lots of different locations throughout the ship, and by showing a variety of familiar characters fighting to survive.

And of course Alex and [colorist] Josh [Burcham] visualize it all perfectly. I can't overstate how essential, how integral these two geniuses are to the MTMTE experience.
PAGE 5: Skids and his story has always been there from the start of the series. Are all of the answers to his story now forth moving in a big way?

JAMES ROBERTS: In short: yes. Before "Remain in Light" is out, you'll find out what the deal is with Skids. We'll revisit key scenes from earlier issues, and—fingers crossed!—everything will be tied together with a big blue bow.
Credit(s): Transformers Facebook, James Roberts
---
Got Transformers News? Let us know here!
Most Popular Transformers News
Most Recent Transformers News
News Categories:
Toy News
,
Movie Related News
,
Cartoon News
,
Comic Book News
,
Site News
,
Rumors
,
Event News
,
Digital Media News
,
Collectables
,
Game News
,
Sponsor News
,
Site Articles
,
Store News
,
Company News
,
People News
,
Press Releases
,
Sightings
,
Reviews
,
Unlicensed Products News
,
Auctions
,
Transtopia
,
Interviews
,
Knock Offs
,
Collector's Club News
,
Editorials
,
Heavy Metal War
,
Podcast
,
Contests
,
Book News
,
Top Lists
Re: Transformers: More Than Meets The Eye #18 Creator Commentary (1497180)
Posted by
craggy
on June 21st, 2013 @ 7:19pm CDT
Va'al wrote:

sabrigami wrote:In other news I just read a twitter post by Roberts saying that there is a very disturbing panel near the end. wonder what that could be about. I'm worried now, he's pretty twisted

There are several. But I think I know which one he's talking about.
the first one? or the second?
That could have ended a book, quite easily. Then they have the ball-bearings to go and give us a bunch more pages! There were at least 3 "endings" here, but unlike Peter Jackson, they get better as they go on, with each giving more things to look forward to, and the final panel making us really eager to see next issue, and still inspiring intrique, whilst also dialling it back a little from something quite seriously disturbing that's happened not long before.
also: Rung is awesome.