IDW Transformers Post-Revolution - Barber, Scott and Roberts Interview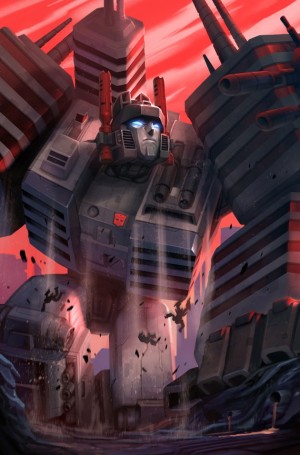 Monday, July 25th, 2016 2:21pm CDT
Categories:
Comic Book News
,
People News
,
Interviews
Posted by:
Va'al
Views:
30,502
Topic Options: View Discussion · Sign in or Join to reply
Sometimes news slips a little through the net, especially during events like San Diego Comic Con - but as we covered on the Seibertron.com stream for the IDW Publishing panel (check it out again
here
),
ComicsAlliance
also went a little further with the three Transformers scribes on the future of the current ongoings post-Revolution event: John Barber, Mairghread Scott and James Roberts!
As we said, a lot was known, but there are some extra tidbits in the interview - which you can read in full
here
- that may have been missed during the panel. Take a look below!

ComicsAlliance: Since it's the one that's set on Earth, it seems like the post-Revolution combined universe is probably going to affect your book more than the others. How do you go about integrating the history of the Transformers on Earth into all of those disparate stories?

John Barber: In a macro sense, the GI Joe comic hasn't really delved into the deep history of Earth and of the universe the way Transformers has, so there's not a whole lot of back-time that's irreconcilable. There were big Earth-shattering events that have happened in Transformers, and to a lesser degree, in GI Joe, so maybe there's some squinting that needs to be done to make it all fit, but… I mean, we don't name-check real-world tragedies in the comics with a great regularity. That doesn't mean those tragedies didn't happen, or wouldn't have impacted the characters, it just doesn't necessarily come up in the midst of a story focused on tracking down Tomax or Galvatron or whatever.


[...]

CA: With Ore-13 being such a big part of major Transformers stories like "Dark Cybertron," is this something that's been planned for the past few years, or did it just line up that way as something that could be mixed into the larger universe?

JB: That's a complicated one to answer… Ore-13 is why the Transformers are on Earth. Ore-13 is on Earth because Shockwave put it there. Shockwave put it there (on Earth specifically) because, it seems, Galvatron (inadvertently) crashed the Enigma of Combination on Earth — the Enigma is a super-ancient Cybertronian relic.

So, what that all means is, going forth from "All Hail Optimus," Ore-13 was playing a role. Revolution sort of focuses that a little tighter, and it made sense to highlight it thematically because it was something Simon and E.J. planted right from the beginning of Transformers comics at IDW, which was the beginning of IDW's relationship with Hasbro.

So, it's not like we did "Dark Cybertron" knowing inevitably that three years later we'd have Revolution, but the function of Ore-13 didn't really change that much.

CA: Considering that More Than Meets The Eye has taken place almost entirely in the far reaches of space, will the restructuring of the post-Revolution universe affect your story, James? Will one of those side-quests take your crew to Earth at some point soon?

James Roberts: Well, MTMTE gets in on the action with a Revolution tie-in featuring the Scavengers, who are kind of the alternative main cast. That's an Earth-based story. Nick Roche and I are co-writing for the first time since 2010's Last Stand of the Wreckers, so even if we weren't getting an opportunity to pit the world's worst Decepticons against the likes of MASK and GI Joe, it would still feel like an event for us.

Post-Revolution, there are no plans for the main MTMTE cast to travel to Earth… but then that's unsurprising, considering the situation they find themselves in at the end of MTMTE #55, which marks the end of what we're calling the Season 2 finale, 'The Dying of the Light.'

The post-Revolution universe is just that, though — a universe. And there are opportunities, should I wish to take them, to play around in the new, enlarged sandpit even though, as you say, the Lost Light and its crew are far away from Earth.

[...]

Season 3, as it plays out in the pages of Lost Light, is going to take everybody in some very strange directions. The quest for the Knights is going to much more at the forefront than it has been to date. There's an urgency about it now that perhaps wasn't there before. Different characters — and I'd being careful not to give anything away, because who knows who we'll be focusing on in the future — will find themselves weighing up their loyalties and their priorities as we start to turn our attention, in small but significant ways, to the end of the quest.

CA: Chronicling political machinations and culture clash through the medium of robots that turn into cars seems like a tricky proposition, but it's something that's been at the center of the Transformers books set on Cybertron for quite a while now. How do you approach it to make it work without seeming silly — or at least, unintentionally silly?

MS: Science fiction has always been a place to talk about human issues that are a bit too touchy to explore with actual human characters. Police brutality, political and religious extremism, government corruption and overreach, bigotry, poverty, crime, these are all things our readers are confronted with every day. To act like Transformers, who are so like us, wouldn't face the same challenges is disingenuous to the characters. To act like our book is supposed to teach some kind of set morality to our readers is disingenuous to our readers.

Instead we're trying to build interesting, exciting stories that are real enough to feel like they matter without getting too bogged down in the 'realness' of any actual event. Turning into cars and planes is just as big a part of our characters as anything else. And it's fun! There's no reason to get rid of it just so we can feel "ripped from the headlines!"

That's why an artist like Sara Pitre-Durocher is so critical to TAAO. She brings a humanity to our characters that lets our readers decide for themselves what the "right thing" is. But she also draws amazing action that keeps you turning the page. We want you to get an exhilarating story in every issue of Transformers: Till All Are One. If after you put it down, you think back to it when something happens in real life, so much the better.
Credit(s): ComicsAlliance
---
Got Transformers News? Let us know here!
Most Popular Transformers News
Most Recent Transformers News
News Categories:
Toy News
,
Movie Related News
,
Cartoon News
,
Comic Book News
,
Site News
,
Rumors
,
Event News
,
Digital Media News
,
Collectables
,
Game News
,
Sponsor News
,
Site Articles
,
Store News
,
Company News
,
People News
,
Press Releases
,
Sightings
,
Reviews
,
Unlicensed Products News
,
Auctions
,
Transtopia
,
Interviews
,
Knock Offs
,
Collector's Club News
,
Editorials
,
Heavy Metal War
,
Podcast
,
Contests
,
Book News
,
Top Lists
Re: IDW Transformers Post-Revolution - Barber, Scott and Roberts Interview (1809063)
Posted by
Randomhero
on July 25th, 2016 @ 2:43pm CDT
Wasn't this interview already covered over the weekend? All the quotes are from the SDCC interview from like Saturday or Friday
Re: IDW Transformers Post-Revolution - Barber, Scott and Roberts Interview (1809068)
Posted by
Va'al
on July 25th, 2016 @ 2:50pm CDT
Randomhero wrote:Wasn't this interview already covered over the weekend? All the quotes are from the SDCC interview from like Saturday or Friday
I keep looking for a news post, but can't find one. Help?
Re: IDW Transformers Post-Revolution - Barber, Scott and Roberts Interview (1809118)
Posted by
Broadside27
on July 25th, 2016 @ 5:10pm CDT
Rodimus looks awesome!
Re: IDW Transformers Post-Revolution - Barber, Scott and Roberts Interview (1809313)
Posted by
Allenspurs
on July 26th, 2016 @ 12:34pm CDT
It was obvious the mtmte entry of revolution would feature the scavengers as soon as I saw the grimlock cover art. It's makes perfect sense not to mess with the main cast
Re: IDW Transformers Post-Revolution - Barber, Scott and Roberts Interview (1809317)
Posted by
Kurona
on July 26th, 2016 @ 12:37pm CDT
MTMTE generally gets off scot-free from big franchise things like this (very minimal involvement in CW aside from dropping off the protectobots; a lot less to-sell-toys syndrome aside from Crosscut making a few appearances here and there; and now this), so that does make sense. I actually kind of like the idea of the Scavengers being used for this sort of stuff; doesn't interfere with whatever the main plot has going on, they're enjoyable in their own right and randomly popping into whatever's going on fits them very well.
Re: IDW Transformers Post-Revolution - Barber, Scott and Roberts Interview (1812233)
Posted by
D-Maximal_Primal
on August 4th, 2016 @ 8:36pm CDT
I'm excited for the Lost Light series. Like to know the reason behind the new Rodimus paint job. Also like using the scavengers for revolution. Great choice, maybe bring Grimlock closer to his Dinobots