Interview With Transformers Prime Writer / Producer Jeff Kline - Possible Unicron in Prime?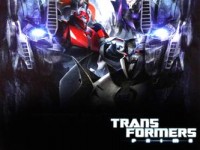 Tuesday, June 14th, 2011 6:32am CDT
Categories:
Cartoon News
,
Interviews
Posted by:
LOST Cybertronian
Views:
56,099
Topic Options: View Discussion · Sign in or Join to reply
Toonzone
caught up with Tranformers Prime writer and producer Jeff Kline at Botcon 2011 and sat down for an interview. He talks about his work on both Prime and G.I. Joe Renegades and suggests that we might see Unicron in Tranformers Prime at some point. Below is the Transformers Prime excerpts from the interview. You can read the whole thing
here
.
Toonzone wrote:Saturday at the 2011 BotCon at the Pasadena Convention Center, Toonzone News was able to catch up with Transformers: Prime and G.I. Joe: Renegades writer and executive producer, Jeff Kline, to talk about his work on those shows as well as the future of G.I. Joe: Renegades . A veteran of animated shows, Kline has previously worked on such projects as Men In Black: The Animated Series, Godzilla: The Series, and Big Guy and Rusty The Boy Robot.

TZN: In Transformers: Prime, it was an interesting decision to put Megatron out of action for about half the season. But it did open up a lot of character development for Starscream. Why did you decide to go that direction?

JEFF KLINE: Quite honestly, that's the exact reason we went that direction. It was to allow for more time to develop characters that maybe hadn't been as well developed, especially our new characters that hadn't been introduced before in the universe. When you have Megatron and Optimus together, it's really hard not to focus on that relationship. We spent a lot of time with them. It almost required that we get rid of one of them for a little while to spend some time with the other characters.

TZN: At the Transformers: Prime season premiere event you noted that you wanted to keep the Autobot cast size small to give the advantage to the Decepticons. At the same time, it did not make much sense to me for Wheeljack to come and go from the Autobot team while the Autobots are in the middle of a war and need as many troops as possible. Why have Wheeljack leave when the Autobots need him more than ever?

JEFF KLINE: Because we thought that was true to Wheeljack's personality and then we could bring him back. We're like the Native Americans. We waste nothing of the buffalo. Everything that you've seen up to this point will eventually be used again. The most time and cost extensive part of CG is the upfront builds. If we built it, we're going to find a way to re-use it.

TZN: How does the collaboration and writing process with Duane Capizzi, Bob Orci, and Alex Kurtzman work, and how involved are Orci and Kurtzman in the writing process?

JEFF KLINE: Kurtzman and Orci are so much more involved than I ever thought they would be. The way it really started when we first got together to do Prime, there wasn't really a Hasbro Studios. There was some executives that had been hired and there was this need to be on the air a year later but there wasn't any other infrastructure. So for the first month or so, literally Duane Capizzi, myself, Therese Trujillo (our animation producer), [and] Dave Hartman were working out of Orci's and Kurtzman's lobby on the Universal lot. We would literally just spend at least a couple of hours a day sitting in a room just throwing around story stuff with them and some of the other people at their company. And that continued for quite a while and then we brought on four full time writers that first season: Joe Kuhr, Nicole Dubuc, Steve Melching, [and] Marsha Griffin. That was kind of the next step. We spent a lot of time and continue to spend a lot of time in writers' rooms breaking story. Most animated series do not have the luxury of a writing staff. It's mostly maybe one or two story editors and freelancers. But because the mythology of Transformers was so deep, there's twenty five years of it – the little book they handed me was six hundred pages of "These Are The Rules" – we had the movies and we didn't want to contradict anything. It really required everybody who was going to be involved sitting around at the beginning really talking through where we want to go, what we want to do. [Orci and Kurtzman] were involved in every step of that process. And the main involvement – they approve all the artwork, they are much more involved than I ever would have believed when someone first told me that they were going to do the show.

TZN: Hasbro is now producing their own shows in terms of the Transformers and G.I. Joe franchises. What is this process like now compared to when you've worked on other big franchises like Men In Black and Godzilla? Is it different at all?

JEFF KLINE: It's more similar than not. I would say the one place it's different is—and I'm not a toy expert—it would seem that Hasbro for a number of their brands has created this mythology behind them that pre-exists me or pre-exists anybody buying the toy. When you buy the toy, you already get kind of story whether it's on the back of the package. There was so much more stuff to pull from on Transformers than there had been on even on some of those other franchises. Part of that is those twenty five years, but I would say the biggest difference to me as opposed to some of the other shows where the toy company is really only involved in making toys, these guys have lived with the brand for a lot of years. They are an incredible resource for us. Whenever we have questions, whenever we run big concepts by them, because they know them better than us: which characters the fans tend to associate with, what are they hearing on their e-mail chains. So they're more partner than probably any other toy company I've ever worked with.

TZN: In Prime, a new interesting character is the human antagonist Silas voiced by Clancy Brown. Going forward what can we expect Silas involving himself in the Autobot and Decepticon conflict?

JEFF KLINE: You are definitely going to see more Silas. I'm not going to tell you where it's going, because it's definitely pretty cool. But again, if we built it, we're using it. And if they turn into a zombie, we're going to use it again.

TZN: What writer gets credit for the Ghostbusters references in Prime?

JEFF KLINE: I believe Marsha Griffin actually wrote most of that riff, and I believe Duane [Capizzi] re-wrote a little bit of it. But I believe he would throw that to Marsha.

TZN: Regarding the Unicron references and the "blood of Unicron," does that mean there is a CGI model being built for Unicron that we could ever glimpse at some point; in a flashback maybe?

JEFF KLINE: Hmm, let's see; we talk about it. I would say that we try to pay off almost everything that we talk about in some way, shape, or form.

TZN: I thought it was a great choice to begin with a five part miniseries which was evocative of a lot of cartoons in the 1980's, especially Transformers in the 80's. What was it like, basically starting with a feature length movie for the show at the beginning, and is it something you would like to do again with the show moving forward?

JEFF KLINE: I think Kurtzman and Orci came on maybe around Labor Day 2009, and the idea was to get on the air before the end of 2010. Most CG shows, even a lot of simple one, have a two year production cycle – Kung Fu Panda's of the world and such. So we had half the time to do a CG show – the most complicated one ever attempted for television, quite honestly. So knowing we had to get on the air in 2010, the idea of getting on with 13 episodes was impossible. We decided if we could get on with a miniseries—maybe it will be three episodes, maybe it will be five—and then pick up the series a month or two later and give the other studio time to catch up. Again, a lot of your initial expensive time is spent on that upfront buildup. I think literally the day before the first part of that miniseries aired was the day the network got it, maybe three or four days before. Polygon is our Japanese [animation] studio, and they're incredible. They're the only guys that could have pulled this off. But the miniseries grew out of both necessity, but then once we had it we were like, "Oh, let's really blow it out. Let's make it five. Can we do five by the end of the year?" "No, but let's try anyway."

TZN: And you did it.

JEFF KLINE: And we did it, which means now they expect it from us every year. That was stupid.

TZN: So would we see another miniseries again at some point?

JEFF KLINE: I don't think we'd do five episodes, but you are definitely going to have multi-parters coming up. Already, if you look at the storytelling there are groups of episodes you could put together and that are thematically related. It's important that each episode live on its own. You want people to be able to come to the show as new viewers at any point during your airing and be able to catch up and be interested. But we like telling complicated stories. We like showing growth of character over time. We like turning a really important piece of Transformers mythology into something more than a one-off. So I think within the body of the season we build toward in our minds, something of a miniseries at the end of every season.

TZN: As a writer and producer, what do you prefer: a longer season of twenty six episodes where you get to tell a fuller, longer story arc but is more work or a more lean and abbreviated thirteen episode season?

JEFF KLINE: I always prefer more. It's the thing where once you're in the middle of it, you're damning yourself for wanting more, because those last couple [episodes] are always the hardest. But knowing you have twenty six, you can actually roll character stuff out slowly and actually grow relationships; that's always better. Also, it's easier to get the best crew because you are offering more episodes. It's easier to work a slightly better deal with your post house because you're guaranteeing them more episodes. Every penny is onscreen. The more episodes you know you are going to do up front, the better you are going to be all around.
Credit(s): Toonzone
---
This article was last modified on Tuesday, June 14th, 2011 2:42pm CDT
Got Transformers News? Let us know here!
Most Popular Transformers News
Most Recent Transformers News
News Categories:
Toy News
,
Movie Related News
,
Cartoon News
,
Comic Book News
,
Site News
,
Rumors
,
Event News
,
Digital Media News
,
Collectables
,
Game News
,
Sponsor News
,
Site Articles
,
Store News
,
Company News
,
People News
,
Press Releases
,
Sightings
,
Reviews
,
Unlicensed Products News
,
Auctions
,
Transtopia
,
Interviews
,
Knock Offs
,
Collector's Club News
,
Editorials
,
Heavy Metal War
,
Podcast
,
Contests
,
Book News
,
Top Lists
Re: Interview With Transformers Prime Writer / Producer Jeff Kline - Possible Unicron in Prime? (1239192)
Posted by
Captziltoid
on June 14th, 2011 @ 7:58am CDT
hmmm. very interesting stuff. unicron would be cool to see in a tf prime version. i just hope theres many more seasons to come. i love this show.
Re: Interview With Transformers Prime Writer / Producer Jeff Kline - Possible Unicron in Prime? (1239195)
Posted by
griftimus prime
on June 14th, 2011 @ 8:07am CDT
like he has not been bastardized enough in recent years.
Re: Interview With Transformers Prime Writer / Producer Jeff Kline - Possible Unicron in Prime? (1239201)
Posted by
It Is Him
on June 14th, 2011 @ 8:18am CDT
Jeff Kline sounds like a real cool guy.
Re: Interview With Transformers Prime Writer / Producer Jeff Kline - Possible Unicron in Prime? (1239209)
Posted by
#1 Signal Lancer fan
on June 14th, 2011 @ 8:47am CDT
I just hope they do him good like in G1 and Armada, and not make him horrible like Energon