Transformers Earth Wars Event The Operative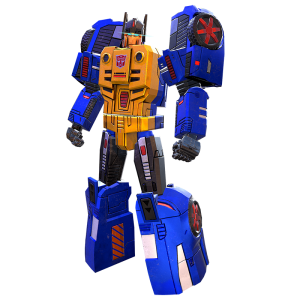 Wednesday, September 11th, 2019 10:13AM CDT
Category:
Game News
Posted by:
Stargrave
Views:
12,533
Topic Options: View Discussion · Sign in or Join to reply
Tool boxes full of shards galore in this weekend's event! Be sure to check the update for the latest on Combiner base defenses, upcoming chip upgrades, and profiles on fan favorite Punch/Counterpunch! Look us up in the alliances and join team Seibertron in the fight against these Decepticon hordes. With your help we can win the Earth Wars! Share your wins and woes in the forum and as always stay tuned to Seibertron for the ultimate in Transformers news!
Coming Soon: Combiner Beacon and Gmetal!
Bah-weep-graaaaagnah wheep nini bong!
Combiner Beacon
and
Gmetal
are coming soon to the game!
The Operative
Take part in this weekend's event to win:
- Up to
30 Tool Boxes*
- Up to
3,000 Prime Core Shards
- Up to
30,000 Spark
*Each contains a random
Kremzeek Battle Booster, 4-Star, 3-Star
or
Premium Shards.
Event type
: Individual Totaliser
Start Date
: 13/09/19 10:00 UTC
End Date
: 16/09/19 10:00 UTC
Prestige Allowed
: 30
Bonus Experience
:
Triple XP
How to Participate?
Reach HQ

Level 4!

Tap the

Event button

!
Select an

Event Battle Zone

to fight in!
Win your battle and gather Battle Points!
Collect prizes!
Event Battle Zones
Totaliser Prizes
* Each
Tool Box
contains one of the following rewards:
Coming Soon: Gmetal
Get ready for a brand new
Power Core
tier to bring your bots and defenses to the next level!
Gmetal
is a new rarity of power cores entirely, more powerful than bronze, silver and even gold!
Power Cores
of this tier can be obtained by two means:
Both

Bot Gmetal Chip

and

Building Gmetal Chip

will be available to buy in the shop using

Prime Core shards

There is also a small chance to obtain a random

Gmetal Power Core

from a duplicate 4-Star bot
Gmetal
level Cores are currently available for all the cores we have at the moment except time-limited Cores (XP Core & Golden Lagoon Core) with a maximum level of 20.
Gmetal Cores
will go live with a content push this Thursday.
New Building: Combiner Beacon
Protect your base with a new defensive building - the
Combiner Beacon
! Assign a Combiner to defend your base and choose the defensive ability you wish to be used on defense.
The
Combiner Beacon
is only available at one level and will be unlocked once you reach
HQ level 16
in the defense section of the shop.
Steps to use a Combiner on defense:
[*]Assign one ability you've unlocked in the Combiner Lab.
[*]Tap the
Combiner Beacon
building and assign the Combiner you'd like to use on defense.
[*]Charge the
Combiner Beacon
for 24 hours with 10
Ore-13
(note: you cannot reassign a Combiner while the
Combiner Beacon
is charged)[*]You can double the duration of the charge by spending more
Ore-13
Notes:
The Combiner will automatically appear amongst your other outpost bots and it will not affect the timing of the battle.
The Combiner stats while on defense will be affected by the Combiner Beacon same as normal Outpost bots are weaker in the outpost. The Combiner will have 30% of his total health but 100% of its damage.

Ore-13

Harvesting will be boosted from 1.25 per hour to 1.60 per hour.
Check out last week's Twitch stream to see our team showcase this new powerhouse of an outpost!
https://www.twitch.tv/videos/477225256
(around 00:32)
Combiner Beacon
will be available after a content push this Thursday!
New Bots: Punch & Counterpunch
Two new bots are joining the
Earth Wars
at the end of the current saga!
Punch walks a tightrope - balancing his own somewhat paranoid persona with that of his hair-trigger alter-ego, Counterpunch.
Though outwardly he seems calm and in control, Punch is a tightly wound ball of insecurities, doubts and fears - certain that any moment he'll be exposed as a double-agent. Punch minutely measures his words, judging when to speak (if at all) and how much to say.
Nevertheless, there's a stoic and grim determination about him to see the job through, no matter what the personal cost to Punch's immortal Spark.
So complete is Punch's masquerade, his alter-ego Counterpunch is as much a Decepticon as the most committed and zealous of Megatron's acolytes. A talented actor with chameleon-like instincts, Counterpunch is every inch the merciless and violent character he purports to be.
The deception is sometimes so complete, he actually deceives himself - believing that Counterpunch is the real him and Punch the faction-flipped creation.
It allows Punch/Counterpunch to indulge his darker instincts with impunity, and though - thus far - he has remained loyal to the Autobots, many have cause to wonder whose cause he truly serves.
Covert Operation:
You get undercover for 10 seconds and throw EMP grenades at defences dealing damage over time and disabling them for some seconds.
Under Investigation
Here is the issue reported that we've been investigating:
Superion/

Devastator

are displayed as a grey dot in battle.

We identified this issue since the latest update. It's a visual issue and it's not likely to affect the gameplay. In most cases, this issue should only happen in the very first battle after the update and they should be visible from 2nd battle. This may get fixed if you visit the combiner lab.
Bug Fixes / Improvements
The following bug fixes/improvements are coming to the game soon.
5-Star

Silverbolt/Thundercracker

: The damage over time effect from the special ability could be stacked multiple times on a single target.

This is no longer the case.



G1 Power Cores

Graphic issue

We fixed the background color for the following G1 cores:

Hot Spot, Ironhide, Ratchet

and

Wheeljack's

G1 Core Icon.



Nexus Prime Core

Improvement

We have increased the % of additional damage your Combiner deals, when you deploy the equipped bot before your Combiner.
When the bot equipped is in battle, Combiners on defense now receive additional damage.
The % of protection against raid damage remains the same.
Twitch
There will be no stream this Thursday.
We'll be back
LIVE Thursday, September 19th @4pm UTC
!
Follow us on Twitch

Twitter

Facebook
Instagram
YouTube

Twitch
Please keep in mind that any of the information in this newsletter could be subject to change without notice.
Copyright © 2019 Space Ape Games. All Rights Reserved.
TRANSFORMERS and all related characters are trademarks of Hasbro and are used with permission.
© 2015 Hasbro. All Rights Reserved.
Privacy Policy
|
Terms of Service
|
Credit(s): Space Ape
Most Popular Transformers News
Most Recent Transformers News
News Categories:
Toy News
,
Movie Related News
,
Comic Book News
,
Cartoon News
,
Site News
,
Rumors
,
Event News
,
Digital Media News
,
Collectables
,
Game News
,
Sponsor News
,
Site Articles
,
Store News
,
Company News
,
People News
,
Press Releases
,
Sightings
,
Reviews
,
Unlicensed Products News
,
Auctions
,
Transtopia
,
Interviews
,
Knock Offs
,
Editorials
,
Collector's Club News
,
Heavy Metal War
,
Podcast
,
Contests
,
Book News
,
Top Lists