HobbyLink Japan Sponsor News (HLJ) with MP- 46 Blackarachnia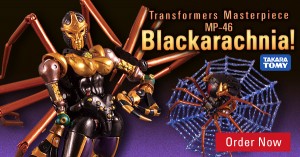 Friday, May 17th, 2019 10:47AM CDT
Category:
Sponsor News
Posted by:
ZeroWolf
Views:
10,544
Topic Options: View Discussion · Sign in or Join to reply
Hot Preorders
SG-35 Transformers Siege Thundercracker by Takara Tomy
Thundercracker's knee joints have been redesigned for better flexion for a wider range of poses!
SG-34 Transformers Siege Barricade by Takara Tomy
The Decepticon Barricade joins the Transformers Siege linuep and can transform into police-car mode!
SG-33 Transformers Siege Powertrain & Highjump by Takara Tomy
Powertrain and Highjump can each transform from robot mode to vehicle mode, and can join together, too!
Daiei 30cm Series Barugon by X Plus
The main antagonist of 1966's "Gamera vs. Barugon" gets a new Daiei 30cm figure from X Plus with an extendable tongue!
Diaclone DA-38 Warudaraider (Bug Head) by Takara Tomy
The Warudaraider can be combined as you like to create your own one-of-a-kind fighting mech, as well as with the Waruder Suit to make it bigger, meaner and faster!
Diaclone DA-39 Powered System Maneuver Epsilon by Takara Tomy
The Maneuver Epsilon comes with six different weapons so you can customize it into your own personal one-of-a-kind war machine!
figma Corrin (Female) (Fire Emblem Fates) by Good Smile Company
If you missed the amazing figma Corrin, then now's your chance to add her to your collection!
Little Armory (LM003) Montague Paratrooper by Tomytec
Build a bike for your 1/12 scale action figures to ride with Tomytec's newest Little Armory addition!
figma McCree (Overwatch) by Good Smile Company
McCree joins the figma team with his Peacekeeper, a flashbang, a cigar, a removable cape, and more!
MODEROID ARIEL with Flight Unit by Good Smile Company
ARIEL's new MODEROID features a rotary cannon, a flight unit, two varieties of hair, her helmet, a special stand and decals!Just Arrived In Stock
NieR:Automata Bring Arts YoRHa No. 9 Model S by Square Enix
The Bring Arts version of 9S features his weapons, a hacking effect part, interchangeable faces and much more!
S.H.Figuarts Ant (Ant-Man and the Wasp) by Bandai
Don't leave your S.H.Figuarts Ant-Man stranded without a ride, get him his very own ant!
Street Fighter V: Action Figure M. Bison (Vega) Battle Costume by Nauts
Storm Collectibles brings us an amazing figure of M. Bison (a.k.a. Vega) from "Street Fighter V" in his battle uniform!
Figure-rise Effect Burst Effect (Space Pink) by Bandai
Bandai's new Figure-rise Effect Burst comes with a base and pole arm to give you more freedom in setting up your action scenes!
Polynian FLL Iana (Gray flesh) by Daibadi Production
Daibadi brings us the adorable Polynian FLL Iana with a gray skin tone!
1/12 Hellboy by 1000TOYS
At 1/12-scale, this highly posable Hellboy is a massive 19cm tall -- order him for your own collection today!
Credit(s): Hobby Link Japan
Most Popular Transformers News
Most Recent Transformers News
News Categories:
Toy News
,
Movie Related News
,
Comic Book News
,
Cartoon News
,
Site News
,
Rumors
,
Event News
,
Digital Media News
,
Collectables
,
Game News
,
Sponsor News
,
Store News
,
Site Articles
,
Company News
,
People News
,
Press Releases
,
Sightings
,
Reviews
,
Unlicensed Products News
,
Auctions
,
Transtopia
,
Interviews
,
Knock Offs
,
Editorials
,
Collector's Club News
,
Heavy Metal War
,
Podcast
,
Contests
,
Book News
,
Top Lists
Re: HobbyLink Japan Sponsor News (HLJ) with MP- 46 Blackarachnia (2023085)
Posted by
william-james88
on May 31st, 2019 @ 9:08am CDT
Hot Preorders
1/72 ZOIDS: RZ-007 Shield Liger DCS-J by Kotobukiya
 The Shield Liger comes roaring in with excellent power and performance, re-designed with most parts, such as the armor and frames, in newly molded colors!
SDCC2019 DARK SOULS: Crystal Lizard Light Up Statue by Gecco
The Crystal Lizard is equipped with an LED gimmick so it'll light up and add a soft blue glow to your surroundings!
1/6 ULTRAMAN SUIT Ver7 (Anime Version) by Three Zero
This incredible figure comes in at a whopping 1/6 scale and features over 40 articulate joints with metal parts!
Hyper Function LBX Achilles by Bandai
The Hyper Function LBX Achilles features a cloak made of fabric, and the cloak's motion can be easily reproduced thanks to the movable mount!
MPM-8 Transformers Masterpiece Megatron by Takara Tomy
Masterpiece Megatron is finally here, with an impressive amount of detail in both his vehicle and robot forms!
Figure-rise Standard Kamen Rider W Kits by Bandai
Cyclone Joker, Heatmetal, and Luna Trigger from "Kamen Rider W" all get the kit treatment from Bandai!
1/100 VF-1 (A/J/S) Battroid Multiplex by Wave
If you're a fan of Battroid mode, then Wave has a new kit for you, buildable in either the A, J or S variant!
1/100 VF-1 (A/J/S) Fighter Multiplex by Wave
Build your own VF-1 Fighter Valkyrie in its A, J or S variants with this new kit from Wave!
Chopper Robo TV Animation 20th Anniversary One Piece Stampede Color Ver. Set by Bandai
This special kit comes with all the bots you need to form Giant Chopper Robo, and comes in a special color!
Figure-rise Standard Ultraman Suit Ver 7.3 (Fully Armed) by Bandai
Made with glossy red and rich silver plastics, no painting is necessary, and an LED unit is included to make his eyes glow!
New 30 Minutes Missions by Bandai
Expand your 30MM army with the newest soldiers and accessory parts from Bandai!
V.F.G. Macross Delta VF-31D Skuld by Aoshima
The VF-31D Skuld from "Maross Delta" joins the Variable Fighter Girl (V.F.G.) lineup of snap-fit kits!Just Arrived In Stock
Megami Device BULLET KNIGHTS Launcher by Kotobukiya
Bullet Knights Launcher is the latest member of the Megami Device family from Kotobukiya, equipped with her huge launcher and shield, ready to defend!
MODEROID ARIEL C-TYPE by Good Smile Company
Good Smile's newest MODEROID set includes ARIEL, her sword, her shield, two varieties of hair, her helmet, a special stand and even decals!
S.H.MonsterArts Godzilla (2019) (Godzilla: King of the Monsters) by Bandai
Sculpted by monster-master Yuji Sakai, this figure of Godzilla can even lift his head to the skies and emit light from his mouth with the included effect part!
SSSS.Gridman: Max Combine DX Full Power Gridman by Good Smile Company
Good Smile's Max Combine DX Full Power Gridman is getting a second release by popular demand!
KERORO Damashii Keroro Robo UC by Bandai
Keroro Robo from "Sgt. Frog" finally gets an action figure release, and it comes with a tiny Keroro pilot, too!
ARTFX Venom PVC by Kotobukiya
Venom comes perched atop a New York City building, seizing one of Spidey's cast webs and ready to rumble!
Frame Arms Girl Hresvelgr Bikini Armor Ver. by Kotobukiya
The lovely Frame Arms Girl Hresvelgr shows off her new bikini-style armor in this newest kit!
NXEDGE STYLE (Mashin Unit) Ryujinmaru by Bandai
Ryujinmaru from "Majin Eiyuden Wataru" gets a super-deformed NXEDGE STYLE figure, complete with his Dragon Sword in hand!
SG-23 Transformers Siege Prowl by Takara Tomy
Prowl can transform between his police patrol car and robot forms, and the light bar can be mounted to his weapon when in robot mode!
SG-22 Transformers Siege Chromia by Takara Tomy
Chromia joins Takara Tomy's Transformers Siege lineup, featuring a battle-damaged paint job to give her extra detail!
Re: HobbyLink Japan Sponsor News (HLJ) with MP- 46 Blackarachnia (2023698)
Posted by
ZeroWolf
on June 7th, 2019 @ 5:05am CDT
Hot Preorders
MP-47 Transformers Masterpiece Hound by Takara Tomy
Hound finally joins the Transformers Masterpiece figure lineup, with a cartoon-accurate design, and a Jeep mode supervised by Fiat Chrysler!
MP13 Transformers Masterpiece Soundwave by Takara Tomy
Masterpiece Soundwave is back in action with his flunky Condor, fully transformable between his cassette and bird forms!
Transformers TCV Series by Takara Tomy
Don't miss the newest action figures in the "Transformers: Cyberverse" lineup!
1/35 Kisei Kushiki by Kotobukiya
Recreate the action of "Border Break" with this new kit of Kisei Kushiki featuring accurate proportions to the game and plenty of weapons, too!
Desktop Army Little Armory by MegaHouse
The ladies of Little Armory are teaming up with MegaHouse for a new Desktop Army lineup, and come with their weapons, of course!
Variable Action Heroes One Piece Roronoa Zoro by MegaHouse
Variable Action Heroes Zoro is back by popular demand with his three swords for plenty of posing fun!
MEISHO MOVIE REALIZATION Samurai Kylo Ren by Bandai
Kylo Ren gets a samurai armor redesign for Bandai's Meisho Movie Realization series!
Nendoroid D.Va: Academy Skin Edition (Overwatch) by Good Smile Company
D.Va is back in Nendoroid form and cuter than ever in her school uniform!
Diaclone DA-40 Trivers Tri-Dasher (Special Ver.) by Takara Tomy
From the new Trivers series, Tri-Dasher can transform into three different modes and comes with a Diaclone member and plenty of weapons, too!
Diaclone DA-41 Female Member Set by Takara Tomy
This set includes four female Diaclone members, as well as a Road Viper!
SG-37 Transformers Siege Galaxy Upgrade Optimus Prime by Takara Tomy
Optimus Prime is nicely detailed and measures 27cm long in vehicle mode!
SG-36 Transformers Siege Autobot Impactor by Takara Tomy
Impactor is ready for action, and features 5mm holes so he's easy to equip with other armor or effect parts!Just Arrived In Stock
MAFEX Deadpool by Medicom Toy
Marvel's legendary Merc with a Mouth is every bit as posable as it's legally possible to be and comes with three interchangeable expressions, his swords, and more!
MAFEX Evangelion Unit-01 by Medicom Toy
Standing an impressive 19cm tall measured to the top of its shoulder armor, Eva Unit-01 is incredibly flexible for action-packed posing, and comes loaded with its trademark weapons!
Parfom Evangelion Unit-01: Awakened Ver. (Rebuild of Evangelion) by Phat Company
The Parfom's unique articulation allow the EVA01 to be posed in all sorts of scenes from the series, and the color scheme from the movie has been faithfully preserved!
Parfom Evangelion Unit-01 (Rebuild of Evangelion) by Phat Company
The Eva Unit-01's mouth has been specially articulated and the head can be moved out forward, allowing you to pose the unit in Berserk Mode!
Re: HobbyLink Japan Sponsor News (HLJ) with MP- 46 Blackarachnia (2024536)
Posted by
ZeroWolf
on June 14th, 2019 @ 3:41am CDT
Hot Preorders
MAFEX Harley Quinn Suicide Squad by Medicom
Fan-favorite Harley Quinn gets a MAFEX re-release from Medicom, armed with a mallet, a baseball bat and a pistol!
MAFEX Joker Ver.2.0 The Dark Knight by Medicom
Medicom's Joker is back in action with an RPG, an UZI, a handgun, three knives, three single playing cards and a fan of cards, and a lead pipe!
Tekkaman Blade by Evolution Toy
Evolution Toys is bringing us a new series of "Tekkaman" action figures starting with D-Boy (Takaya Aiba) as Tekkaman Blade!
GRAND ACTION BIGSIZE MODEL Great Mazinger by Evolution Toy
Great Mazinger measures about 45cm tall, features die-cast parts, and comes with parts for his Drill Pressure Punch, Backspin Kick, and much more!
1/12 DEVIL MAY CRY 5 Nero by Sentinel
Nero is highly posable and features a coat made out of real fabric, interchangeable expressions, hand parts, weapons and other accessories!
Nendoroid Amiya (Arknights) by Good Smile Company
Amiya is cute as can be in Nendoroid form, with three expressions, Ego Absorption effect parts and her violin!
Metalboy Combattler V by Metal Box
This small but highly detailed resin kit will be 12cm tall when assembled, and comes with his Choudenji YoYo and more!
Monster Hunter Ukiyo-e Style Bags and Apparel by Capcom
These unique collector's items combine traditional Japanese ukiyo-e art with giant monsters!Just Arrived In Stock
Super Mini-Pla Tenku Gattai Jet Icarus by Bandai
This Super Mini-Pla from "Jetman" includes all 5 of its Jet Machines that combine to create both the Icarus Harken and Jet Icarus!
Hyper Solid Series Shin Godzilla PVC by Art Spirits
Art Spirits' fantastic Hyper Solid (Chou Gekizou) Series Shin Godzilla is roughly 30cm tall and comes with an optional head part!
figma D.Va (Overwatch) by Good Smile Company
figma D.Va comes with a Light Gun, a bubble gum bubble, a smartphone, and an alternate head part featuring the hat from the animated short!
MODEROID Armed Mazinkaiser Go-Valiant by Good Smile Company
Next up in the "MODEROID" series is the Mazinkaiser covered in armor, the Go-Valiant! Both the Mazinkaiser and armor parts set are included.
MAFEX Evil Gwenpool by Medicom
Marvel's Evil Gwenpool gets a MAFEX figure release, with different body parts and facial parts than the original MAFEX Gwenpool!
Crossframe Girl GaoGaiGar by Kotobukiya
The magnificent GaoGaiGar from "GaoGaiGar: King of Braves" gets turned into a winsome girl thanks to the Crossframe Girl model-kit lineup from Kotobukiya!
MAFEX Alien by Medicom
The legendary Alien "Big Chap" from the first "Alien" film is a big 20.5cm tall, and carefully sculpted to reflect his unique appearance!
Dynamite Action! Grendizer & Spazers Set by Evolution Toy
The mighty Grendizer rejoins the Dynamite Action figure lineup with lots of his iconic weapons and plenty of interchangeable hands!
Re: HobbyLink Japan Sponsor News (HLJ) with MP- 46 Blackarachnia (2025331)
Posted by
ZeroWolf
on June 21st, 2019 @ 5:38am CDT
Hot Preorders
Amazing Yamaguchi No.013 Iron Man Bleeding Edge Armor by Kaiyodo
Kaiyodo's insanely popular Amazing Yamaguchi Iron Man is returning for another round of action-packed release this September!
Final Fantasy: Bring Arts Sephiroth Another Form Ver. by Square Enix
Sephiroth joins the Bring Arts action figure series in his one-winged appearnce from the "Kingdom Hearts" series!
NieR:Automata: Bring Arts Devola & Popola by Square Enix
Devola and Popola have been created with soft materials to capture the beauty of the characters without sacrificing poseability!
1/12 Little Armory (LD023) Shoot House A by Tomytec
Expand your Little Armory collection or give your action figures a new place to play with this sniper house style kit!
52TOYS BeastBOX BB-10 RUMBLEBEAT by 52Toys
This little guy can transform from a 5cm cube into one heck of a colorful parrot, and comes with an attachable perch to stand on!
52TOYS BeastBOX BB-06BA BLUE ARMOR by 52Toys
Featured in stunning dark and sharp black and blue, this guy can transform into a rhino with a police motif!
Dress Up Parts Crash & Side Mantle by Kotobukiya
Customize your Frame Arms Girls or other Kotobukiya kits even more with these new cape accessory parts!
HEXA GEAR Booster Pack 004 Multi Pod by Kotobukiya
The latest Hexa Gear Booster Pack is inspired by the popular retractable cockpit from Bulkarm a, and can hold even the largest Governor models!
Nendoroid Winter Soldier: Infinity Edition by Good Smile Company
The Winter Soldier joins the Nendoroid Infinity War fray, with Rocket by his side!
Megami Device SOL Road Runner by Kotobukiya
Popular Megami Device fighter SOL Road Runner is back for a re-release this November!
ZW25 Zoids Wild Beast Liger by Takara Tomy
The lion-type Beast Liger will be ready to join the hunt next month!
ZW26 Zoids Wild Cannon Bull by Takara Tomy
The buffalo-type Cannon Bull is armed to the teeth with 9 cannons mounted on its back!Just Arrived In Stock
Transformers Masterpiece MP-36 Megatron by Takara Tomy
MP-36 Megatron is back in stock -- don't miss this chance to add him to your collection!
MAFEX Flash Justice League by Medicom
The Fastest Man Alive is ready to show off his speed in the MAFEX lineup!
Gigantic Arms 07 Lucifer's Wing by Kotobukiya
The Gigantic Arms Lucifer's Wing can be worn by most Frame Arms Girls and Megami Device figures, or transform into other modes for solo posing!
Berserk Fuhrer Repackage Ver. by Kotobukiya
Kotobukiya brings back their amazing 1/72 Highend Master Model kit of the fan-favourite Berserk Fuhrer!
BULLET KNIGHTS Lancer by Kotobukiya
Bullet Knights Lancer will stand out above the rest with her huge shield and lance, which can also become a flying mecha-bike for her to ride on!
Figure-rise Standard Kamen Rider Ex-Aid Action Gamer Level 2 by Bandai
Bandai has taken extra care to fully recreate Ex-Aid's characteristic coloring, with stickers to finish him off with the proper markings, too!
Frame Arms Girl Weapon Set Jinrai Ver. by Kotobukiya
Frame Arms Girl Jinrai gets a new release, in a new color, together with weapons in new colors too!
SD Cross Silhouette Shin Getter by Bandai
SD Cross Silhouette Shin Getter is armed with his massive Getter Tomahawk and Getter Battle Wing!